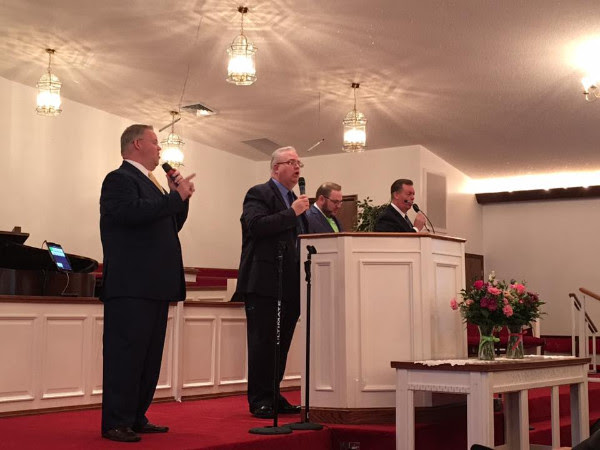 Nashville, TN  Family Music Group artist, the Old Time Preachers Quartet, recently completed a successful debut tour that took them to Florida. The very first official concert, for what is quickly becoming one of Gospel music's hottest new groups, was held at the WGJM Sharathon in Jacksonville, FL. "Despite a few storms, the crowd was strong and enthusiastic.  The spirit in the house was wonderful," stated Les Butler, baritone/piano player for the Old Time Preachers Quartet.
The quartet then headed to Winter Haven to be at the Westwood Missionary Baptist Church, where the concert was streamed live. Butler states, "The most important thing that happened during the weekend happened on Saturday night.  A gentleman came forward to give his heart to the Lord!  That's the very reason the 4 of us got together to begin with."
A good crowd was on hand Sunday morning as the Old Time Preachers Quartet sang at Eastern Avenue Baptist Church in St.Cloud, Florida. After the group sang, they lived up to their name as Les Butler preached.
They returned that evening and brought the house down with more, great traditional quartet singing. The preaching baton was handed off to Lee McNeill, who besides singing lead for the quartet, is also a preacher. Adding to the special memories of their debut tour was a guest appearance that night by songwriter Lance Carpenter. Lance has written numerous top Gospel hits including the Singing News Song of the Year, "I Have Not Forgotten." Several years ago while writing another one of his hit songs, "He Will Remember Me," Lance had a serendipitous moment as he was diagnosed with Dementia. Now, deep into this disease, the Old Time Preachers Quartet brought him on stage to honor Lance. Just like the title of his biggest hit, Lance has not forgotten what God has done for him. Although his memory is mostly gone, he sang, "What A Day That Will Be," and Lance looked into the lens of a camera in the crowd and said, "I'm glad I'm saved." There wasn't a dry eye in the house. God moved in and it became a moment that we'll never forget.  The moment was caught on film by someone in the crowd, which fans can see by going to www.facebook.com/oldtimepreachersquartet/videos/1531205980518356/.
The response from their debut tour was overwhelming. The quartet was invited back to every church they visited as well as receiving numerous invitations from other churches. "All of the guys have received text messages and emails from people who were with us in Florida, letting us know what a special time they had. That means a lot. Our tenor singer, Jeremy Ballinger, was unable to go with us due to a revival in which he was preaching. Tim Owens, formerly with the Inspirations, pitched hit for him and did a fantastic job. This was truly a special trip and we are looking forward to what God has in store for this group," added group bass vocalist, Mike Holcomb.
Upon returning home, they found out their first ever radio single, "The Old Time Way," landed in the Singing News Top New Release and Pick Hit charts. The Old Time Preachers Quartet recently released their debut album which is available on the Butler Music Group website and on Amazon. Only a few open dates remain open in 2016 and nine dates are open for 2017. Be watching their facebook each Monday for new, behind the scenes video of the quartet. To contact the Old Time Preachers Quartet, go to www.butlermusicgroup.com or call (615) 218-0517. You can also follow them on their Facebook page, www.facebook.com/oldtimepreachersquartet.
Find More Southern Gospel News HERE