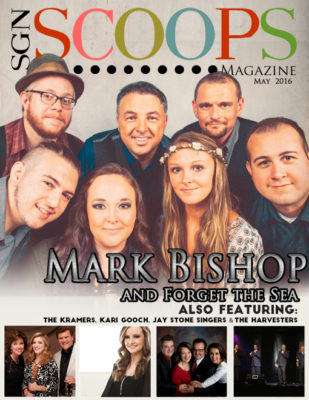 Welcome to the May issue of SGNScoops Magazine! It certainly is merry here as we officially meet Mark Bishop and Forget the Sea in a feature by Marcie Gray. "'I have been amazed to see the young people that are enjoying this more traditional music. Somewhere along the way, Folk music has become cool again and that has opened the door for what we do to be accepted in more circles than some of the music that I was singing before. I am rooted in Southern Gospel and even in Bluegrass-type Gospel music to some degree, so Traditional, Folk and Americana music is a very close cousin to all of that.  In the end though, musical styles aside, it's all about Who you are singing about. That crosses all ages, races and demographics.'" – Mark Bishop.
Jaquita Lindsey talks to the Jay Stone Singers and Erin Stevens gives her Younger Perspective on Kari Gooch.
Don't miss the Spring Break photography by Craig Harris, the Kramers feature by Justin Gilmore and the Harvesters history by Charlie Griffin. Meet the Future of Southern Gospel by Robert York, DJ Richard Hyssong by Vonda Easley, and Lindsey Graham by Jennifer Campbell, while Randall Hamm reviews new music.
All this plus regular articles by Dusty Wells, Selena Day, Laurette Willis and Roger Barkley Jr. New writer Nathan Kistler takes us to Washington DC at this critical time in US history. All this and more!
Don't miss this edition. Join us in celebrating the new generation of Southern Gospel! Read the May 2016 Edition of SGNScoops here. Download here.
Find Southern Gospel News HERE