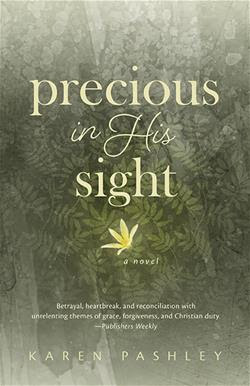 The debut novel, "Precious in His Sight," from Karen Pashley has reached the #1 spot on Amazon's Christian Fiction best-sellers list.  In an additional rare feat for a new author, Pashley landed a review from Publisher's Weekly which described the novel as "well written" with an "overall message of hope and renewal."  The book has also been endorsed by New York Times  bestselling author, Denise Jackson, wife of country superstar, Alan Jackson. Because the novel delves deeply into a marriage that has been shattered by adultery, the book has stirred some controversy as it shows the viewpoint of not just the wife, but the mistress and the cheating husband. All the characters are eventually tested with life and death decisions, which result in a decidedly pro-life response, as well as significant plot twists that Jackson says will "keep you glued to the pages."
"'Precious in His Sight' is a modern day Bible story," says Jackson.  "Karen uses a fictional story to retell the greatest story ever told –that with God all things are possible, and that love covers a multitude of sins. This is a story of a family who faces the overwhelming heartbreak and consequences of infidelity, and how each family member ultimately chooses forgiveness, mercy and love. This book will ignite a longing in your spirit to know the One who loves us unconditionally –no matter who we are or what we've done."
Before it was published, "Precious in His Sight" won 1st place at the Blue Ridge Christian Writer's Conference. The bulk of the novel was written over seven years ago, but Pashley put the book on the back burner while raising her four daughters.  Like her novel's heroine – Sugar Brennan – Karen, herself, had to go through many trials to find out that God could turn something awful into something beautiful.
"Over the years, I shared life, children, and the ups and downs of building a business with my entrepreneurial husband," says Pashley. "I grieved the loss of a baby, home-schooled our four daughters, battled a frustrating incurable illness, and just last year, clung to God like never before when addiction became part of our family's vocabulary. I like to communicate through anecdotes, life lessons, and testimonies. I speak with passion, humor, and honesty. My goal is to help people fill up their faith tanks, and hit the refresh button in their souls."
Pashley has battled Meniere's Disease for many years, an illness that left her deteriorated to the point where she could barely function because of the extreme dizziness. She lost most of the hearing in one ear, and suffered with constant nausea and fatigue. Sudden violent bouts of vertigo would slam her to the floor and reduce her to a sweat-drenched, vomiting wreck curled up for hours unable to move. In spite of the unpredictability of the disease, she found hope in the midst of despair.
"I learned in those dark, horrific moments that my Lord Jesus had not abandoned me," says Pashley. "He, too, knew the anguish of physical torture, and He was with me in that pit. The experience taught me things about myself I wouldn't have known otherwise. And it humbled me, and has given me an extraordinary gratitude for the gift of health."
In addition to speaking and writing, Pashley is an accomplished foodie who founded "Girls Dine In," a monthly gathering that is part supper club, part cooking class where she brings women together for great food and fellowship in the Nashville area. Whether cooking or writing or speaking, Pashley has her finger on the pulse of what women need, and she believes "Precious in His Sight" will resonate with women in a real way.
"The life of a Christian is not all peaches and cream, nor should it be," says Pashley. "But when we bend down and pick up the bricks of hardship, one by one, and apply the cement of the Holy Spirit to them, we are building an impenetrable wall of faith that cannot be constructed any other way. We must work with God rather than running from Him in our hardships. We must never lose our hope. Storms will come. We shouldn't fear them. With God, we can persevere with dignity and joy."
More News HERE