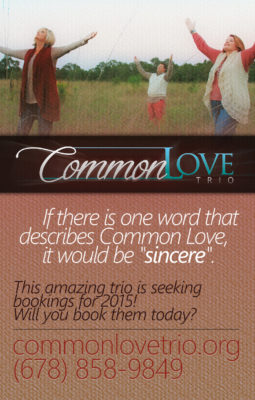 The Common Love Trio is a new mixed group out of Douglasville, Georgia. This traditional-sounding trio consists of Todd Johnson, Misty Herring and Susan Brown. They currently have a pre-release available which highlights the songs "Look For Me At Jesus' Feet" and "Even In The Valley."
We appreciate Common Love Trio answering our SGN Scoops Fast Five!
SGN Scoops: Tell us about your group.
CLT: If there is one word that describes Common Love Trio, it would be" sincere". Each member of this Southern Gospel singing group is sincere in their love for the Lord, sincere in their love for the music they sing, and sincere in their need to spread the word to others through their music.
The rich tradition that Common Love Trio has established sets them apart as one of the most talented mixed groups in Southern Gospel Music. With heartfelt songs and wonderful lyrics of traditionally based songs, talented vocalists and wonderful musicians, and a genuine heart for the people touched by their music, Common Love Trio knows what it takes to maintain a thankful heart. The Common Love Trio ministry team welcomes you to learn more about them:
It is a privilege to have Rev. Todd Johnson as a vital part of the Common Love Trio ministry team. Todd served as Pastor of a large Atlanta metro church. After serving as Pastor, Todd began singing with the Robert Vine Trio for several years. Todd's renditions of inspirational songs are delivered with a special anointing that can be felt throughout the audience. You'll be blessed when you see and hear him. He and his wife Cortia, along with their two dogs, live in Douglasville Georgia.
It is a privilege to have Misty Herring as a vital part of the Common Love Trio Ministry team. Misty is a wonderful singer who shares her heart in song each time she steps on stage. Misty has been singing all her life and sang several years with her family group. Misty Herring brings a wonderful vocal blend to the Common Love Trio as well as a servant's heart. You will be truly blessed when you see and hear her. Misty resides in Canton Georgia with her family.
It is a privilege to have Susan Brown as a vital part of the Common Love Trio Ministry team. Susan is a wonderful vocalist and delivers a special anointing when she sings. Susan adds a wonderful touch of class to the Common Love Trio and seeks to please God each time she steps on stage. Susan is a true woman of God and seeks to carry out the call on her life to minister through song. You do not want to miss seeing and hearing Susan Brown as she ministers in song, you will truly be blessed.
SGN Scoops:Tell us something amazing that God has done in your ministry…. Explain
CLT: Common Love Trio formed in the latter part of 2014 -2015. In beginning our formation there were many needs within the ministry we were praying for. Specifically, we began seeking God for direction on the purchase of our sound equipment. I called my good friend Mike LeFevre and began sharing my heart with him regarding our need for sound equipment. It was beautiful how God had already orchestrated and divinely planned for our needs to be met. Needless to say, God provided our sound equipment through Mike and the quality of the equipment far exceeded our expectation.
SGN Scoops: Tell us a funny road story.
CLT: It is never a dull moment on the bus with Misty and Susan! God truly knew what he was doing when he formed Common Love. Last year we were headed to Tifton Georgia to sing at the SESGMC (South Eastern Southern Gospel Music Conference). As I was driving the coach, Misty noticed a piece of hair on my right ear. Eagerly she desired to pull the piece of hair off my ear, reluctantly I allowed her to use a pair of tweezers. Misty started to grab the small piece of hair and instead grabbed my ear with the pair of tweezers almost pulling my ear off. Boy that hurt! Needless to say she got the piece of hair.
SGN Scoops: Do you have some goals for the ministry for 2015? What are they?
CLT: We have several goals:
– As a gospel music ministry to become familiar with as many churches and cultures represented in the surrounding eight states that we travel. GA, TN, FL, AL, MS, KY, NC, SC
– Create a presentation of the Gospel through song that uplifts and encourages the body of Christ as well as the non-believer.
– Establish a Common Love between each attendee of our concerts that exemplifies the LOVE of Christ by being transparent on the stage and off the stage.
– Establish more bookings for 2015-2016
SGN Scoops: When out on the road, what is the Common Love Trio's favorite restaurant?
CLT:Â We love Cracker Barrel!
For more information on Common Love Trio's schedule for 2015, visit their website at http://commonlovetrio.org/
For booking information please contact Todd Johnson: Office 678-324-0303 or Cell 678-858-9849
More news