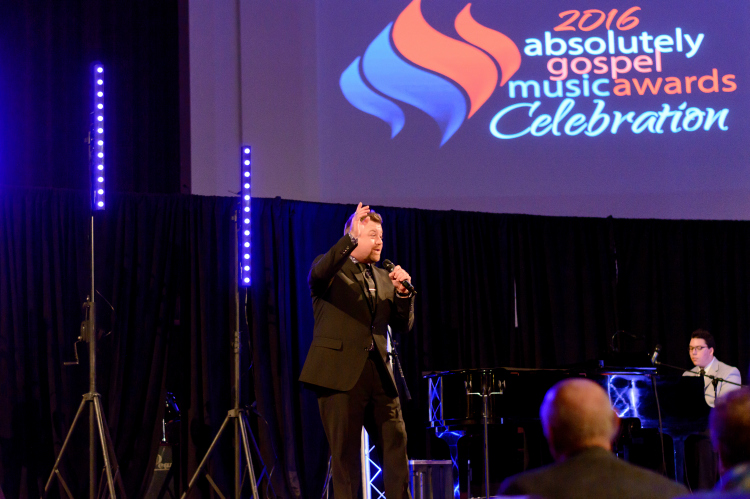 Nashville, Tennessee – The 2016 Absolutely Gospel Music Ovation Awards were handed out last night at a special concert celebration in Nashville, Tennessee. Karen Peck & New River and the Jim Brady Trio were named the big winners.
Perennial favorite Karen Peck & New River took home an impressive three trophies. The group was awarded Mixed Group of the Year and Album of the Year for the Grammy-nominated Pray Now. In addition, the group won its fifth consecutive and seventh career Song of the Year title for "Pray Now" (written by group owner Karen Peck Gooch along with Dave Clark and Michael Farren).
New artist the Jim Brady Trio was also awarded three AGM Awards last night, including Breakthrough Artist of the Year and Traditional Song of the Year for their #1 hit single "Steppin' Out In Faith" (written by group members Jim and Melissa Brady). Group founder Jim Brady was also awarded Songwriter of the Year (Artist) for the third time in his career.
It was a year of threes, as many winners this year took home their third career AGM Awards in several categories. In addition to the aforementioned Brady, Michael English won his third Male Vocalist of the Year title, Gordon Mote took home his third Musician of the Year trophy, songwriter Kenna West won her third Songwriter of the Year (Professional) award, The Talleys were honored with a third Progressive Recording of the Year award, and engineer Kevin Ward took home a third Engineer of the Year title this year.
Additional artists and individuals who won multiple awards throughout the evening included Wilburn & Wilburn, Michael English, Wayne Haun, Kenna West, and The Isaacs' Ben Isaacs.
One of the biggest awards of the evening – 2015 Pacesetter Award – was handed to the Heritage of Gold Reunion Tour which features Gold City, Jay Parrack and Vocal Event, the LeFevre Quartet, Steve Ladd, and Wilburn & Wilburn.
The staff of AbsolutelyGospel.com and the Unthank family were proud to award the Susan Unthank Memorial Award to Kelly Nelon Clark. This award honors women who have worked in this field of music and made a resounding impact on Southern Gospel music.
The event was hosted by Gordon Mote and Josh Singletary. The evening featured show-shopping performances from the Michael English, Gold City, The Talleys, Jeff & Sheri Easter, Jim Brady Trio, The Nelons, Gordon Mote, Wilburn & Wilburn, Amber Nelon Thompson, 11th Hour, The Browders, HIGHROAD, The Williamsons, and Steve Ladd.
The Absolutely Gospel Music Awards are an annual award handed out each year by the staff at AbsolutelyGospel.com. Each January, the staff and select media representative decide upon the nominees in over twenty categories. In February of that year, the readers of the site are then allowed to vote for their favorites in 12 categories. This is the fifteenth year the awards have been in existence.
2016 Absolutely Gospel Music Award Winners:
Song of the Year: "Pray Now" – Karen Peck & New River (written by Dave Clark, Michael Farren, and Karen Peck Gooch)
Album of the Year: Pray Now – Karen Peck & New River (produced by Wayne Haun)
Pacesetter: Heritage of Gold Reunion Tour (featuring Gold City, Jay Parrack & Vocal Event, LeFevre Quartet, Steve Ladd, and Wilburn & Wilburn)
Breakthrough Artist of the Year: Jim Brady Trio
Male Vocalist of the Year: Michael English
Female Vocalist of the Year: Amber Nelon Thompson (The Nelons)
Male Group of the Year: Booth Brothers
Female Group of the Year: Sisters
Mixed Group of the Year: Karen Peck & New River
Songwriter of the Year (Artist): Jim Brady (Jim Brady Trio)
Songwriter of the Year (Professional): Kenna West
Producer of the Year (Artist): Ben Isaacs (The Isaacs)
Producer of the Year (Professional): Wayne Haun
Country Song of the Year: "Jesus Loves You" – Jeff & Sheri Easter (written by Sheri Easter and Kenna West)
Country Recording of the Year: Shoulders – Wilburn & Wilburn (produced by Ben Isaacs, Jonathan Wilburn, and Jordan Wilburn)
Special Event Project of the Year: Live at Daywind Studios – Tribute (produced by Scott Godsey)
Music Video of the Year: "Waiting For You to Get Home" – The Browders (directed by Patrick Tohill)
Fan Favorite Artist of the Year: Michael English
Susan Unthank Memorial Award: Kelly Nelon Clark