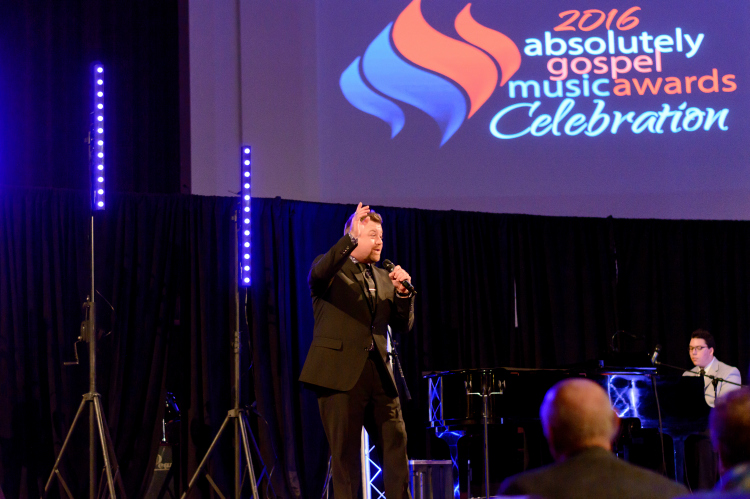 Nashville, Tennessee (April 28,2016) The very talented Gospel artist, Steve Ladd, recently performed at the 2016 Absolutely Gospel Music Awards with his show stopping performance of the classic "One More River".
Steve commented, "What an honor to perform with the best of the best among my peers and to spend time with so many of my singing friends. Thank you Absolutely Gospel for the opportunity to perform at such an impressive program commemorating the successes of artists and ministries in Southern Gospel Music."
Among the awards handed out on that exciting April 12th evening was the Pacesetter Award won for the  Heritage of God Tour consisting of Gold City, Steve Ladd, Wilburn & Wilburn, LeFevre Quartet, and Jay Parrick.
Ladd mentioned, "Singing with Gold City was some of the most exciting days of my career, so I am thrilled to be a part of a tour that is considered a pacesetter in our industry."
If you would like to interview Steve Ladd contact AG Publicity at info@agpublicity.com  .
To learn more about Steve Ladd go to http://steveladdmusic.com .
Follow Steve on FaceBook at https://www.facebook.com/SteveLaddMusic and Twitter at https://twitter.com/SteveLaddMusic .
For booking Steve call 256-266-1149.
####
About Steve Ladd
Ladd's newest project On My Own was produced by award winning co-producers Michael Sykes and Michael English, and is a power-house of music for all tastes. And although the last few years Ladd has been nominated for "New Artist of the Year", has had two Top 40 Singles, toured with Gaither Vocal Band member Michael English and is featured with the Stamps Quartet on Alan Jackson's newest "Precious Memories" CD, he feels most used when working with Candy Christmas' Bridge Ministry to the Homeless on Tuesday nights in the Nashville area. Steve, his wife and two children are also ministry partners with Compassion International.
While the beginning of an extraordinary journey started with his family, evolved into being an integral part of some of the most award-winning Christian ensembles, the last few years as a solo artist have proven the Lord's faithfulness in his family, his ministry, and his life. And although there is a team of support, partners and prayers behind Ladd and his ministry, he is very thankful to walk where the Spirit leads, "On His Own".
More news