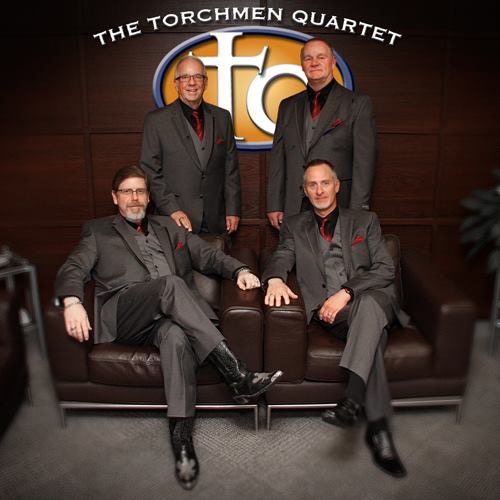 The Torchmen have long been holders of the light of Jesus, showing many the way to eternal life. Based in St. Catharines, Ontario, Canada, this quartet has sung all over their country and others, earning fans and respect as straight-ahead, no holds barred, Southern Gospel vocalists with a strong message of abundant life through faith in God.
I received their latest album some time ago and have listened to it again and again, even through the Christmas season. This recording reminded me of why I started listening to Christian music many years ago. It also sparked an interest in what might be the future sound of the Torchmen.
Lead singer Jeff Tritton, who just keeps getting better through the years, starts off the album with "Good News." I recognized the introduction immediately from an album of the same title recorded by The Nations. Tritton does the song justice, with a nod to songwriter James Tomen in the delivery. My absolute favorite Jeff Tritton song is "There Is A Fountain," one of two Jim Brady songs on the project. The other Brady song is, "He's Made A Change," where Tritton really outdoes himself in the second verse.

Vocalist Jon Hisey, who joined the group when I first got into Southern Gospel, is proof that bass singers get even better with time. He is featured on the title track, "Run Through The Gates," a Rebecca Peck tune sung in a happy minor key, if there is such a thing, with Jewish overtones. "The Cross Was His Own," took me back in time again, as it was sung by the Hoppers in the 1990's. Hisey does an outstanding job on this vocal. Hisey also shows his traditional quartet chops in "Shout And Shine."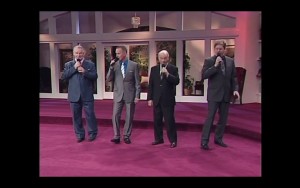 Mike Moran is the cornerstone of The Torchmen, though I guess he would quickly tell you that Jesus is the Cornerstone. I have watched and listened to Moran for many years and have appreciated the depth of his faith that experience has brought. His vocals are as distinctive as his emcee work. On this CD, he mostly lets the younger guys have the feature parts, except in two places. Moran does a terrific vocal in the first verse of "He Made A Change," and then he takes over a song that again took me back in time. Mark Lanier wrote, "The Ground Is Level At Jesus' Feet" many years ago, and it was performed by Perfect Heart. The Torchmen do an exemplary job on this one, highlighted by Moran's expressive baritone.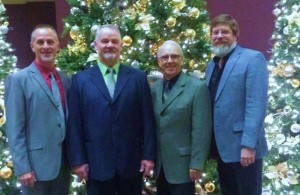 I've left the tenor singer, Sandy MacGregor, to the end, as I feel that this album features perhaps his best vocals to date. Wait until you hear MacGregor sing, "He's All I Need," made popular by Garry Sheppard of the Kingsmen. Another song that took me back in time, MacGregor treats these lovely lyrics with the tenderness and assurance they need. (Sandy, you blew me away with this one!) Then he sings a song later on the album that made me laugh out loud. Amy Grant recorded an album called Age To Age that I think I wore out in the 1980's. A song that on the surface is cute and fun but on a deeper level makes you think about where you are in your Christian walk, "Fat Baby," is performed with humour and deftness by MacGregor. Well done!
It is obvious why this recording took me back in time, although it is quite possible that many of today's fans won't recognize some of the older tunes. For instance, the closing number, "Don't Thank Us, Thank Jesus," was recorded by the Cathedrals in the '70's, but I'm sure they did it in concert when I was fortunate to hear them live in the mid-to-late '80's. I enjoyed this trip back to the time when my interest was first caught by Christian music.
The reason this album is a possible look to the future, is the number of songs given to Tritton. In fact, the tunes I would suggest for radio all have Tritton solos. "I Stand In Awe" is a worship anthem which features Tritton and MacGregor; "Fight To The Finish" is a peppy country gospel tune with Tritton on solo; "My Faith Is Built On A Rock" and "There Is A Fountain," are maybe not quite as radio-styled, but are both great examples of Tritton's vocal ease.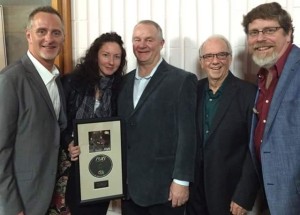 My personal favorite of the album is "I Stand In Awe," written by Glen Bates. Great lyrics: "To think the God of miracles could make one out of me." And also, "That You who knew no sin would die to clothe me in Your righteousness…I Stand In Awe." This song will lift your heart to the Throne of God. All the songs in this recording will encourage and uplift you. I like the mix of worship flavour, country twang and traditional quartet sounds on this album. Torchmen fans, you will enjoy this addition to your music collection.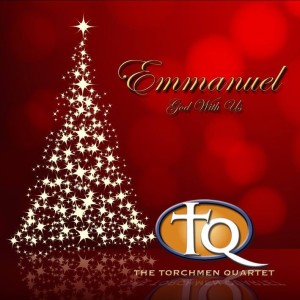 Run Through The Gates was awarded as Southern Gospel Album of the Year at the GMA Canada Covenant Awards in November 2015. The Torchmen have been honored with several Covenant awards over the years.They have long been recognized as one of Canada's top quartets and have made many appearances at the National Quartet Convention.
The Torchmen also just released a Christmas album this past November, a seasonal recording that was long awaited by their fans.
I don't often review albums; I usually leave that to the experts. However, this is an album worth listening to and worth radio air-play. For your copy, visit www.torchqt.com.com or on Facebook at https://www.facebook.com/The-Torchmen-Quartet-384116794997601/