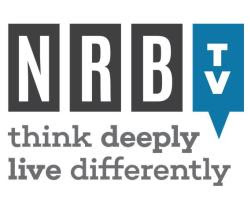 Christian television channel NRB Network has rebranded and changed its name to NRBTV. The channel, which began broadcasting on DIRECTV on December 21, 2005, presents biblically-faithful programming from well-respected Christian pastors, apologists, and teachers including Ravi Zacharias, John MacArthur, R.C. Sproul, Todd Friel, Kay Arthur, David Jeremiah, and Frank Turek.
NRBTV's new logo was introduced on-air and online this week and features the tagline "Think deeply. Live differently." A revamped website provides viewers streamlined access to live streaming, broadcast schedules, and program information.
"The new branding reflects the vision we've had for our channel since its inception," said NRBTV President and CEO Troy A. Miller who spearheaded the channel's launch ten years ago. "We want to provide thought-provoking, Christ-centered TV programming that encourages viewers to go beyond surface-level thinking about their faith. Our goal is to help people understand, apply, and share God's Word boldly in a culture where it is attacked and mocked. The new brand identity simply helps us communicate our message more effectively with a more modern design," said Miller.