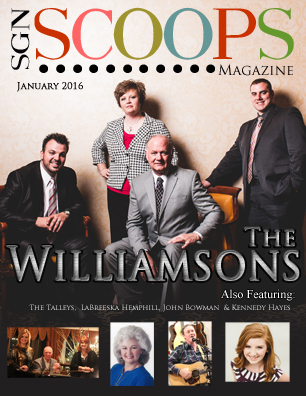 Nashville, TN (January 11, 2016) Coming off a breakout year that included their first #1 song, "Shout," Butler Music Group Management artists, the Williamsons, lost no momentum as they entered the new year. Quickly becoming one of the most exciting artists to watch in Gospel music, the Williamsons are featured on the January cover of SGN Scoops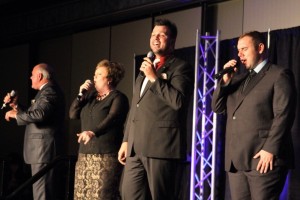 Magazine.
The article is written by Jaquita Lindsey of 11th Hour. "I met them a little over a year ago and right off became a fan of their music. Not only have they become one of my favorite groups, they are truly some of my favorite people to be around. You can tell exactly where their hearts are, which is definitely on Christ." The article goes on to share some of the milestones the group had in 2015 including award nominations, hit songs, and new music videos. "The Number One song was special. We were the first group from Oklahoma to ever have a #1 song on the Singing News charts," stated Donnie Williamson.
"Fans of Gospel Music will really enjoy reading this article and getting to know why so people across the nation are falling in love with the Williamsons. As one of the hottest groups from coast to coast right now, I think it was fitting for them to be the first artist featured on the cover of SGN Scoops Magazine for 2016. I believe they are going to be trendsetters and one of the groups to pay attention to this coming year," added Les Butler, President of Butler Music Group.
To read the full article, go to www.sgnscoops.com. If you'd like to stay tuned in with the Williamsons and what's happening in their ministry, go to www.williamsonsmusic.com.
About Butler Music Group
Based in Nashville, Tennessee, Butler Music Group provides professional management and consulting services to Southern Gospel and Bluegrass artists including Eighth Day, Heaven's Mountain Band, Kramer's, Tammy Jones Robinette and Williamson's.
BMG subsidiary, Family Music Group, is the label and radio promotion division of BMG. Label or Radio Promotion artists include the Williamsons, Canton Junction, Hagees, Matt Hagee, Jimmy Fortune, Oak Ridge Boys, Dunaways, and many others.
Les Butler has been actively involved in Southern Gospel Music for over 37 years as a musician, producer, manager, former publisher of the Singing News, and as a nationally syndicated radio host. Butler started Butler Music Group in 1978, and purchased Family Music Group in 2003. He is a past March of Dimes AIR award, as well as winner of the Paul Heil Broadcasting Award in 2011. Butler's syndicated radio show, Les Butler and Friends, is heard across America and abroad. Butler's playing and production credits include Palmetto State Quartet, Steeles, Dunaways, Crabb Family, Easter Brothers, Marksmen Quartet, Earl Scruggs, Bowling Family, Jimmy Fortune, Marty Raybon, and many more. Butler's publishing companies are Hurry-Up Publishing/BMI and Hush Jean/ASCAP. He continues to host Harmony Road TV, a nationally televised Southern Gospel TV show, and he has recently started hosting a daily Southern and Bluegrass Gospel video blog at southerngospel365.com.
For more news visit SGN Scoops on Facebook.