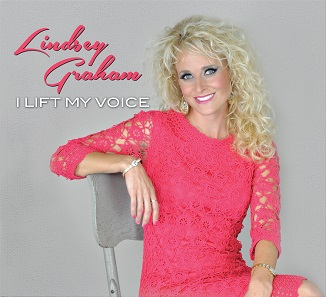 Estero, Florida (December 10, 2015) Gifted musician and singer Lindsey Graham has released her new CD I Lift My Voice. Produced by Jason Webb and recorded in Nashville, Tenn, this new project is going to turn heads in the Gospel music world.
I Lift My Voice features eleven exciting songs including "Most Holy Lamb", "A Little More Love", and a Lindsey Graham original "God Declared You Holy".
Describing the song penned by herself Lindsey explains, "This song was inspired by Beth Moore's Bible Study on Daniel. If we are born again then God has declared us holy and expects us to live in such a way as to reflect His holiness. In our Babylonian-like culture God's children are called to be in the world but not of it, living victorious and abundant Christian lives in the power of Christ Jesus. Where Satan cannot have your soul he seeks to make you ineffective for the cause of Christ. However, to this we may say, 'Greater is He that is in me than he that is in the world!' It is from this perspective I wrote God Declared You Holy."
Continuing about her new album Lindsey commented, "I am so excited about this album. So many exceptionally talented individuals participated in the making of this project and I believe it is reflected in the final product. Psalm 98:4 says, "Make a joyful noise to the LORD!" This album is an invitation for ALL to sing along, making a joyful noise of praise to the living God. I Lift My Voice for He is worthy"
Song List:
Most Holy Lamb
A Little More Love
Jesus Christ Is In This Place
God Declared You Holy
No Greater Song
Speak Your Name
Glorious Savior
More Than Conquerors
He Who Is Mighty
Heaven Bound
Remember My Name
Get your copy NOW at www.lindseygrahamministries.com for $15 plus S/H.
Find More Southern Gospel News Here