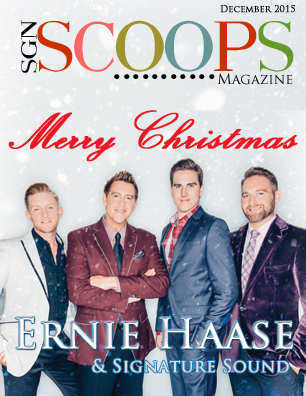 Merry Christmas! Welcome to the December issue of SGNScoops Magazine. We hope you enjoy the many festive and inspiring features we have for you this month.
Ernie Haase and Signature Sound grace our cover and these gentlemen are all dressed up for the season. Craig Harris talks to each member and finds out details you likely never knew about the popular quartet.
We remember the gracious Faye Speer and also Paul Roark. We pay tribute to our own Lou Wills Hildreth who is retiring.
Other artists you will meet include Josh Feemstra of Legacy Five, Josh Allen of the Allen Family, author Bethany Baker and the Mattingly Family.
We have artists' Christmas prayers, Christmas devotionals, CD reviews, the DJ Spotlight and the Texas Gospel Music Hall of Fame.
Read the list of 2015 Diamond Award winners in the Creekside Wrap Up.
Enjoy our monthly writers Dusty Wells, Kelly Nelon Clark, Sherry Anne, Lou Wills Hildreth, Roger Barkley Jr., Selena Day, Lou Wills Hildreth, and David Staton.
So much more and everything is sprinkled with Christmas spirit!
Thank you so much for reading SGN Scoops. On behalf of the entire Scoops team, Merry Christmas from the Publisher, Rob Patz and the Editor, Lorraine Walker.
May your heart be illuminated by the light of God's Son, His greatest Gift to us. John 3:16.
Like Us On Facebook Here