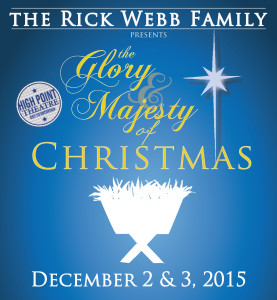 For the past seven years, The Rick Webb Family has had the honor of presenting the Glory and Majesty of Christmas at the Blue Gate Theater in Shipshewana, Indiana. With many "sold out" performances of this simple, yet profound production, it easily became an event that was anticipated each year. The Webbs are thrilled to announce that they will be presenting the Glory and Majesty of Christmas in their hometown of High Point, North Carolina at the
High Point Theatre on December 2 & 3, 2015.
The Glory and Majesty of Christmas is a narration of the Luke 2 story of Jesus's birth, portrayed by a cast of thirty actors and classical dancers, with music by the internationally acclaimed Rick Webb Family intermingled throughout the production. Written by Derric Johnson, 25 year creative director for Walt Disney World, this spectacular presentation of the Christmas Story has been performed over 50 times, in theaters all over the United States and now for the first time, at the High Point Theatre!
The living nativity includes the crèche along with the village townspeople who bring their best to the Christ child. And yes "even the smallest gift is great when given in love."
For this exclusive High Point Theater production, joining the talents of the Rick Webb Family will be an exquisite performance by the High Point Ballet and the Fine Arts Department of Wesleyan Christian Academy.
Special guest appearance by High Point legend, Pedro Silva.
Allow the simplicity and grandeur of the greatest story ever told to prepare your heart through the Glory and Majesty of Christmas!
To learn more about the Glory and Majesty of Christmas, visit:
www.GloryandMajestyOnline.com
To learn more about the Rick Webb Family, visit:
www.RickWebbFamily.com
Find More Southern Gospel News Here