The SGN Scoops' Top 100 for October 2015
1 Williamsons      Shout
2 Browders      Time Machine
3 Kingsmen      Cross Of Grace
4 Hyssongs      Lead Me To The Rock
5 Tim Livingston      More Than Enough
6 Higher Ground      A Hill A Cross A Place Called Calvary
7 Joseph Habedank      The Beauty Of The Blood
8 Bev McCann     I've Seen What God Can Do
9 Wilbanks      Song Of The Redeemed
10 Greater Vision      Put Out The Fire
11 Changed 4 Â  Â  Â I'm A Believer
12 Karen Peck and New River      Pray Now
13 Terry Collins      I Need To Pray
14 Josh And Ashley Franks      You Got What I Deserved
15 McKameys      I Have A Home
16 Gold City      Power Of The Cross
17 Bowling Family      One Glorious Moment Of Faith
18 Mark Bishop      He Can See My Tomorrow
19 Jim Sheldon      I'm Going Home
20 Shellem Cline      Halfway Down The Aisle
21 Barry Rowland and Deliverance      Our Third Day
22 David Haynes      One More Mile
23 Sunday Drive      American Heroes
24 Brian Free and Assurance      Where There's A Will He Has A Way
25 Hoskins Family      Eternity
26 Akins      Revive Us Again
27 11th Hour Jesus      Is In The House
28 Big Mo      One
29 Canton Junction      Weep No More
30 Richie Rose Walk      With My Jesus
31 Debra Perry and Jaiden's Call      Caught Up
32 Sounds Of Victory      You're Always There
33 Booth Brothers      Happy Rhythm
34 Kingdom Heirs      Just Preach It
35 Rachel Taylor      Live Loud
36 Amber Nelon Thompson      Another Time Another Place
37 New Hearts      God's Country
38 Legacy Five      Who Is This Man
39 Watts, Rowsey and Bean      Faith
40 Kingdom Heirs      The Chain Gang
41 Calebs Crossing      Raised On Amazing Grace
42 Red Roots      Beautiful Storm
43 Whisnants      Worry Ends Where Faith Begins
44 Campbell and Rowley      There's Still A Cross
45 Rod Truman      Almost Home
46 Wards     Bible Revival
47 Zane and Donna King      Anything
48 Fowlers      Too Close To The Mirror
49 Triumphant      Living In Harmony
50 New Ground      I Can Still Pray Through
51 Freemans      Unwanted Crowns
52 Guardians      Somebody Prays
53 Chosen Vessels      He Outstretched His Arms For Me
54 Debbie Seagraves       Dream Big
55 Jay Parrack and Vocal Event      Sometimes He Whispers
56 Lori Jonathan Trio      No One Ever Loved Me Like Jesus
57 Ball Brothers      It's Gonna Be A Good Day
58 Mark Trammell Quartet      God's Been Faithful
59 LeFevre Quartet      He Left No Stone Unturned
60 Conners      He's Always There
61 Georgia      That's Why I Love Him So
62 Lorraine Howard      Dreamer
63 Booth Brothers      Touch Of The Master's Hand
64 Gaither Vocal Band      Jesus Gave Me Water
65 Rita Broyles      New Journey Home
66 Scotts      Grace And Mercy
67 Pauline Patterson      Middle Of A Miracle
68 Charlie May      It's Time To Send The Singers In
69 Dunaways      Mercy Built A Bridge
70 McCray Dove Band      They Wouldn't Forgive Me
71 Meadow      Lane Praise The Lord
72 Conners      There's A Beautiful Home
73 Mylon Hayes Family      The Sweetest Words He Ever Said
74 His Mercies      The Day Death Died
75 Eagles Wings      When I Wake Up To Sleep No More
76 Stephens      Just Pray
77 Pruitt Family      Bring It All To Jesus
78 Jeff and Sheri Easter      Jesus Loves You
79 Tim Menzies      Working On A Building
80 Bates Family      Jesus On The Mainline
80 Family Bible Trio      The Best I Can
80 Allison Speer       The Light Of The Kerosene
83 Perrys      When He Comes Walking On The Water
84 Wisecarvers      Falling In Place
85 Adams Call      Between Here And Heaven
86 Old Paths      What Did They Call Him
87 Keith Barkley and Family      Tradition It's Time
88 Lore Family      The Only Way Out Is Through
89 Steve Ladd      Not Guilty
90 Rochesters      As For Me And My House
91 Heartline      Oh What A Morning
92 Jim Brady Trio      Good Lord Willin'
93 Lakeside      Going Up
94 David Phelps      Heaven's Shore
95 Schofields      Diamond In The Rough
95 Rochesters      Move Along
97 Georgians Quartet      It's A Good Day
98 Collingsworth Family      It Matters To The Master
99 Nelons      Do Unto Others
100 Hinson Family      The Other Side Of This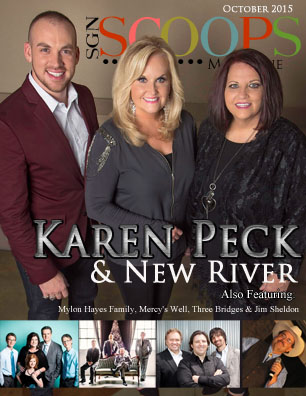 The SGN Scoops' Top 100 for October 2015 reflects your listening habits to our reporting stations. More stations are being added monthly. Don't miss the SGN Scoops October 2015 issue!
Be sure to catch many of these charting artists at the 2015 Creekside Gospel Music Convention! Artists like the Hinson Family, The Freemans, The Schofields, The Guardians, Watts, Rowsey and Bean, The Williamsons, The Hyssongs, Terry Collins and many more.
There are still a few Creekside tickets remaining, but these must be reserved as soon as possible. Please make your plans to join us in Pigeon Forge, Tennessee on November 2nd through 5th at the Smoky Mountain Convention Center. Keep watching our website and Facebook page for more exciting announcements.
For more information on tickets and lodging call Rob Patz at 360.933.0741. Free tickets are available
HERE