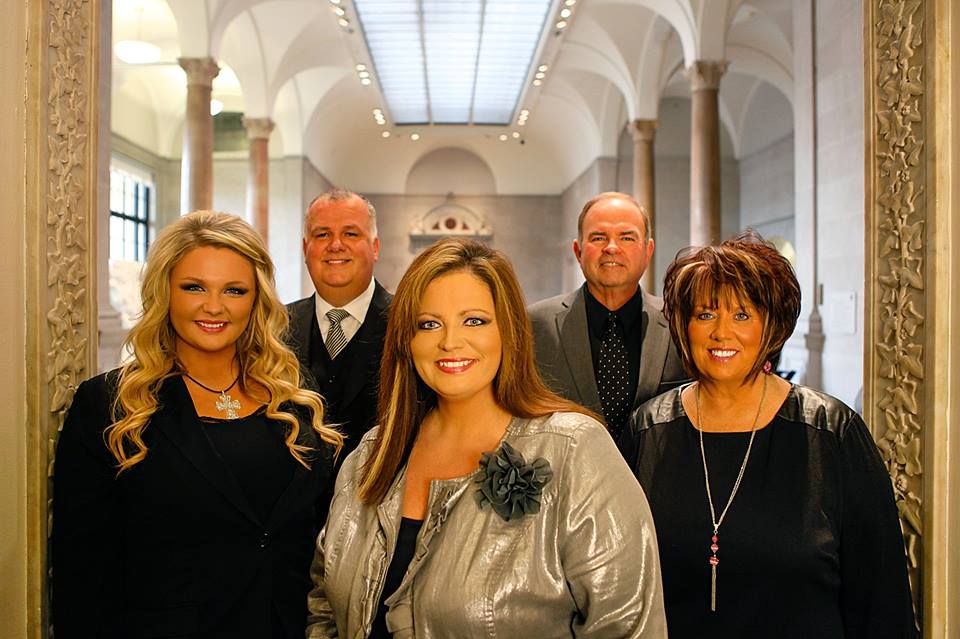 This is a story of "coming apart before one falls apart," literally, and about how God has worked in every aspect of it all. It is a story of faithfulness to God and understanding the need to follow Him and obey His direction. It's a story of courage and knowledge to know when to quit, and yet not give up. It's a story of a family totally committed to doing God's will and a beautiful story of a new beginning.
The beginning of this century introduced the Southern Gospel audience to the rich family harmony and exciting stage presence of the Hoskins Family. The family's first Top Forty song was written by Angie Hoskins Aldridge and titled "Mission Of Love." It came from a 1998 album by the same title. Their second album, Hope, in 2000, generated their first top five hit, "Joyful Morning," which came in at number three, and as they say, the rest is history!
The Hoskins have always been a church-going family. When the church doors opened they were there. They sang in the choir, they taught Sunday School, they played the instruments and whatever else was necessary for services to be complete. They were the "Preacher's Kids and Grandkids."
Rick and Reva Hoskins have known no other way of life, but to serve God and sing. They have sung all their lives and naturally their daughter Angie inherited their talent. The three sang in the church where Reva's parents pastored, until God opened their ministry to a wider audience by allowing their songs to be played on Gospel radio.
Following their introduction to mainstream Southern Gospel audiences through radio, they were immediately added to the larger venues in Southern Gospel. Churches of every size and denomination clamored for dates to have them in service.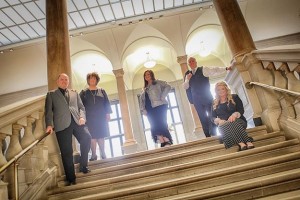 After eight years on the road, in 2006 the Hoskins Family stopped touring and took a break from their music ministry. We recently caught up with Angie and talked about what the Lord has been doing with and for the group.
"We realized when we made the decision to come off the road that people would have questions and want to know what was going on," Angie told us. "That's only natural, and yet you would not believe some of the rumors that got started. The truth is, we were under a lot of stress with sickness in the family. My grandfather, Rev. Charles Deaton was very ill with pulmonary fibrosis, and my mom was helping care for him and my grandmother. Before we left the road, Mom had already been off the road for six months and we just needed to help out and be there for them. We have always been a very close knit family and my grandparents were like a second set of parents to me."
"When Grandpa died it really hit us hard, and then my grandma's health began to fade more. We all were worn down and needed to be refreshed, so we made the only right decision for us at that time," she finished.
During the years the Hoskins were off the road, Angie shared that she couldn't listen to Southern Gospel. "I listened to some praise and worship, but didn't go to a Gospel concert or listen to any Southern Gospel," she confessed. "I couldn't. While I knew in my heart that I was where God wanted and needed me to be, I still felt that drawing deep inside and I knew that one day I would be involved in the music again."
As time passed, healing and refreshing began happening for the family. They learned to cope with the passing of their loved ones and to absorb the knowledge of meeting them again. They became involved in the ministry of their church once again, teaching, singing and playing instruments.
At the same time, Angie and her husband, Michael, learned that their daughter, Abby has heart disease. It was about three years ago, following tests done during gallbladder surgery, that the doctors found a small hole in Abby's aorta. The family trusted God for a special touch on Abby's life, and being together during that time made it easier to work through.
"We had no idea Abby had a heart problem and but as we've watched her grow in God and in her spiritual and personal life, we realized this is just another thing that God has done for us," Angie testified in total confidence of God's grace for Abby's healing.
For almost six years the only music we heard from the Hoskins family came from stations playing their older music, which happened often since their songs were so encouraging and inspiring. Then about a year ago, we began hearing something new from them on Gospel radio.
Angie disclosed that about this time she attended a Gaither Homecoming concert and the love and desire to perform began to resurface. "I felt that tug… I wanted to be back in the music again."
"It was also about this time that Pauline Patterson called. She asked what we were doing, and said that radio personnel and fans were asking where we were. She suggested that we send out a song to see what would happen" Angie divulged. "When I told Mom and Dad they were thrilled. God had been speaking to them too. We sent out one song and it charted, so we sent out another and it charted too."
Angie said that "testing the waters" with these two songs, confirmed to her family that they should again be involved in the music ministry. Not long afterward, the family began singing a few dates a month.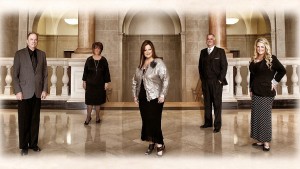 Just to reinforce this new awakening, a call from Daywind's Norman Holland opened the door for a new recording early this year. "Norman suggested that we pull some of our original charting songs and three new songs for a new album, which we released earlier this year," Angie explained. "It's been a whirlwind since then, and we are more assured than ever that we are exactly where we need to be."
Getting back on the road again seems natural to the entire family. Having Abby Aldridge join the group feels just as natural. Now, with three generations on stage, it makes this time even more precious, according to Angie. "I've talked about this before since coming back but the family has a new awareness, a new anointing and a feeling of refreshing."
On the new recording, Abby is featured on "God Is Big," a song written by Annie McRae. She is joined on this song by Angie and Joyce Martin Sanders. The song debuted at number 22 on the Singing News National charts, which is the highest any Hoskins song has ever hit the charts. Next month, "God Is Big" will come in at number nine! As Abby has honored God with her young talent, the strength in her vocals displays God's reality in her life. It surely seems that God is smiling on the Hoskins Family as they continue to honor Him!
The line-up now is all family: Rick, Reva, Angie and Abby. "As we began this new venture, we had our pastor with us, but as time has progressed, our dates have increased and our schedule doesn't coincide with his ministry schedule at our church," Angie said. "We still try to be there as often as possible; all of us love the work there, but God is opening more opportunities to see souls come to know Him through our music. We also have a young man, Logan Clawson, traveling with us helping with our sound equipment."
In speaking with the Hoskins Family, each one shared their salvation story. As before stated, Rick Hoskins' father was a minister. "My dad got saved when I was 12, so I was raised up in the house of the Lord. Dad started singing in church and formed a bluegrass Gospel group called The Country Gospel Aires. I got saved when I was 16 and shortly after that Dad asked if I would like to join his group. At this point I became hooked on Gospel music. God has blessed me through the years and I am so thankful to be a child of the King!"
Reva shared, "I was saved at a very young age. I don't have a dramatic testimony; I can't say I was saved from alcoholism or anything like that, but when God saved me, He really saved me. I feel very blessed to say I have never been out in sin, since I was always in church with my Dad and Mom."
"I have always been a Christ follower and a born again Christian since the age of 12," Angie affirmed. "Being born into a church-going family and a pastor's granddaughter, it's just part of your life; but I remember the Sunday afternoon sitting at a baptizing when God tugged at my heart and I ran to the altar and followed up by letting my grandfather baptize me. I remember this like it was yesterday." She finished, "I can't imagine my life without God. I could not make it a day without Him."
Abby told us, "As a young girl, God has shown Himself to be very real to me. I've always been a "church girl," but I really surrendered myself at age 14. I was diagnosed around that time with heart disease and I've learned to trust Him with my whole life."
Traveling as a family has its fun times and unique times, as most of us can attest from experiences we have on family vacations. Being able to laugh during tough times can help when you're traveling.
When asked for something about each member that was funny or something that no one else knew, Angie quickly jumped on this, beginning with, "My Mom and I have a history of falling. A while back my Mom went to the nail salon to have her nails done, and started to sit down. Well, she missed the chair and grabbed at the manicurist table. She went down, the chair crashed and when the table landed, artificial nails went everywhere! We all laughed with her, not necessarily at her."
Angie laughed as she said, "We are a laughing family, and sometimes we laugh at the most inopportune or unusual times or things. My Dad is our driver and he won't let anyone else drive. Of course that could be because the only other members of the group are his wife, his daughter and his granddaughter, except for Logan, our sound guy. Anyway we pulled up to a venue. Dad got out and started unloading. No one had shown up to let us in, so, like normal, Dad went around and checked all the doors. He found one open so they carried everything in and started setting up. A little while later Mom received a phone call asking why we weren't at the church. Well, Mom said 'We are…What do you mean?'"
Angie continued, "Long story short, we were at the wrong venue! So they tore down and carried everything out. Then we headed on to our real date!"
Angie unashamedly, shared her own "unknown" paragraph. "Well, I'm not a crafty person; no Martha Stewart or Paula Deen. I'm so bad actually, that when I was a senior in high school, we had to make a shirt in Home Economics for the end of the year project. I did a sweatshirt, and when I got finished, it had three sleeves!"
Something that no one knows about Abby as well as Logan, since he has only been with the group for a short time, is that they attend the same school and have known each other all through school. "They are good friends, and they will graduate from high school this year," Angie disclosed.
Angie also shares that she and Michael have an eleven-year-old son, Chad, who will be traveling with the group next year. "Chad will be taking part in a state operated virtual school and will be on the road with us next year. Chad is our 'Football Star,'" Angie bragged. "His football team has had back to back League Championships for the past five years. Chad fills the center position for his team, and Michael and I are so proud of him." Michael, who is part owner in his family's business, is also the offensive line coach for Chad's little league team.
As the Hoskins Family continues the rich spiritual and musical heritage of their families, fans all across the country are happy to have this family back on the road sharing their music. This is just another chapter in the story of that legacy; and the story of "coming apart and coming back together," to further the Kingdom of God.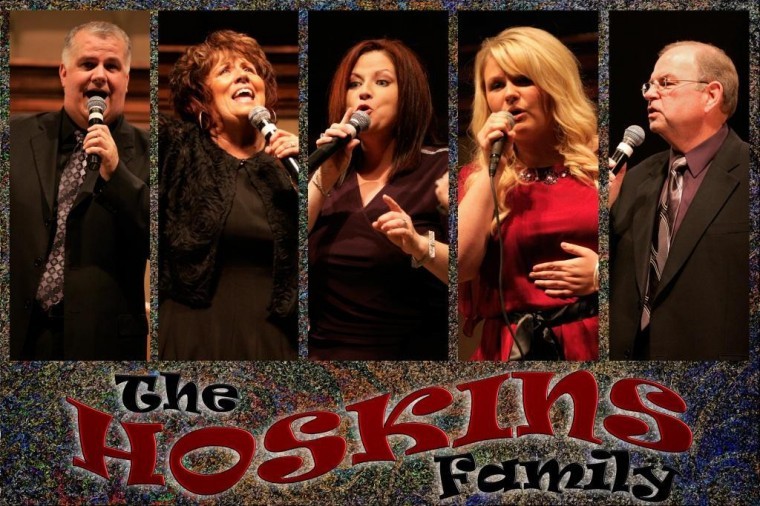 For more information on the Hoskins Family, visit http://www.hoskinsworld.com/
By Sandi Duncan Clark
First published by SGN Scoops digital magazine in August 2014
For current issues of SGN Scoops please visit http://www.sgnscoops.com/