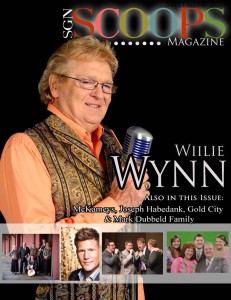 The air is cooler and the leaves are changing color, so it's a great time to fall into a new issue of SGN Scoops. This month we have lots of great reading for you!
There are only a few days left before we enter Pigeon Forge Tennessee to begin the 2014 edition of Creekside Gospel Music Convention. We can't wait to see all of you and hear all of the great music from our wonderful artists. Monday night we are planning a great bash with Little Willie Wynn and all of his friends. He is our cover artist for the October edition of Scoops. We hope you enjoy his story written by Dixie Phillips.
Dixie also features the great family ministry of the McKameys. The Mark Dubbeld Family is featured by Paige Givens. We also feature Gold City Quartet and the East Ridge Boys, Joseph Habedank, Josh Parker, Eric Dunson and Reynold Rutledge. Dan Duncan tells us about the  Christian country artist Mike Manuel. Dean Atkins has some great anecdotes about The Product Table.
We feature pictures and scoops from past events like the Gospel Music Picnic at Silver Dollar City and the National Quartet Convention. New music for October is presented by Sandi Duncan Clark, as well as a new fitness feature by Laurette Willis.
Be sure to catch the DJ Spotlight as well as the Creekside Update. Don't miss our regular columns by writers Lou Hildreth, David Staton,Jeff Steele, Sherry Anne, and Kelly Nelon Clark.
All this and so much more in the October edition of SGN Scoops! http://www.sgnscoops.com/2014/10/11/october-2014-sgnscoops-magazine/
Do not miss the 2014 Creekside Gospel Music Convention and the  2014 Diamond Awards, November 3 to 6, at Pigeon Forge. See you there! http://www.creeksidegospelmusicconvention.com/