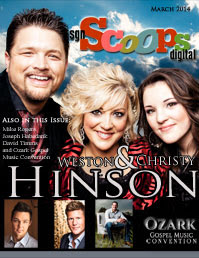 We are excited to present the March Issue of SGNScoops Digital Magazine. On the the cover this month is Weston And Christy Hinson. Read how Weston and Christy are carrying on the legacy of the Hinson name as the continue the tradition of singing great gospel music.
Also read the scoop on the solo ministry of Joseph Habedank and catch the latest on the ministry of David Timms. Mike Rogers of Brian Free and Assurance is featured in this month's Younger Perspective, and don't miss the latest from Jason Runnels.
We have several special interest stories this month. Don't miss a concert story on The Mark Trammel Quartet, Gospel on the Seas and Miss Whatcom County. Dr Jeff Steele, Kelly Nelon and Jennifer Campbell share encouragement and Ms.Lou Hildreth shares her legendary stories.
Music reviews plus news about the Ozark Gospel Music Convention, Creekside Gospel Music Convention and the Diamond Awards are all all found inside the beautiful March Edition of SGNScoops Magazine.
Always digital, always free and always good. Please share with your friends, family and fans.
Find The Magazine Here