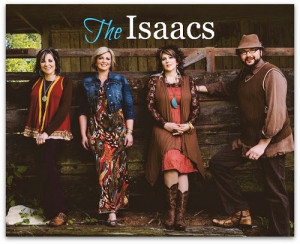 Coastal Media, parent company of SGNScoops and SGMRadio, is the proud host of the annual Diamond Awards held at Creekside Gospel Music Convention. In October 2013, The Isaacs were honored at the Diamond Awards, winning 2013 Mixed Group Of The Year. SGMRadio is proud to highlight the ministry of The Isaacs with a republication of this 201s SGNScoops feature written by Sheri Whit of SGNScoops. To vote for the 2014 Diamond Awards, click HERE.
By Sheri Whit
On a Sunday night in November, God showed up in a big way at the First Baptist Church in Kearney, Missouri, and he used The Isaacs as His instrument. To merely say this family is talented would be the understatement of the century. The Isaacs are anointed.
I have always said there is nothing better than family harmony, but this family takes it to the extreme. Blending voices so seamlessly with others is a very difficult task even for the most experienced musicians, but Sonya, Becky, Ben, and Lily make it look effortless.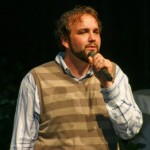 On this night, The Isaacs proved they can perform any style of music – '80's, Bluegrass, Southern Gospel, and sing it with a message and purpose, and make it their own.
The crowd loved Ben's performance of "The Three Bells" and Lily's sweet voice on "That Is Why I Sing". "Ac-Cent-Tchu-Ate the Positive ' was a favorite as well.
"Get On Board" had everyone clapping their hands and tapping their feet. During the second half, The Isaacs graciously took requests from the crowd, including Sonya's "Twinkie Song (Half A Day Away From You)".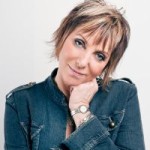 One of the best things about living in the Kansas City area is seeing Lynda Randle slip through the doors and sit in the back of the venue in support of the many Southern Gospel artists that come through this part of Missouri.
On this night, after much coaxing from Sonya and from the audience, Lynda came to the stage and sang "God on the Mountain" with the group backing her up. The impromptu, unrehearsed moments are so special,  and this was no exception.
Every minute of this night was one to remember, and as always, it ended way too soon. I loved their rendition of the Mike & The Mechanics' classic, "The Living Years".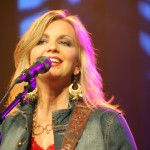 Lily's testimony about being a 30-year breast cancer survivor struck a note with those of us who have been affected by this disease, either personally or through a loved one's struggle. Through Lily's story came the song Martina McBride recorded, and one that had everyone wiping tears on this night, "I'm Gonna Love You Through It".
Becky told of her years-long battle with a very rare form of Crohn's Disease and how "Waiting in the Water" is a testament to God's love and faithfulness even through the toughest of times.
And who could ever forget the standing ovation the group received for their stunning a cappella versions of "The Lord's Prayer" and "It Is Well."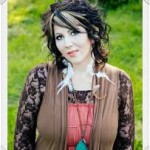 I am so grateful to have the opportunity to attend Southern Gospel concerts in and around Missouri. I encourage you to support these artists.
Go to their concerts. Buy their music. Don't let this wonderful genre die out in your area. Each and every solo artist and group has a special message to bring to your heart.
God has greatly blessed us with people who can share His love through song. Receive those blessings. They belong to you.
Until next time, keep on singing, playing, and listening!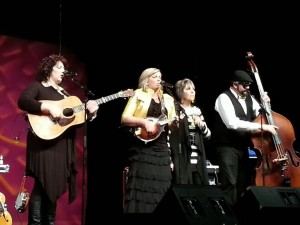 First Published by SGN Scoops Digital Magazine. For Current Issues, click HERE.
Concert Review by Sheri Whit.