Jeff and Sheri Easter have a love story that is well-known by Gospel fans, how the son of bluegrass artist got together with a daughter of another bluegrass artist, and the rest is history. They went on to have a son, Madison, who met a lovely singer named Shannon nine years ago and again…the rest is history. On December 12, Madison and Shannon will be celebrating their third anniversary. On November 5, 2013, they celebrated the release of their first Christmas album, Under The Mistletoe. This is their second EP and features many Christmas favorites as well as two original songs. Featuring light pop sounds and a warm Gospel feel, this is one you'll want to add to your collection.
We recently connected with Madison and Shannon for our Young Gospel Fast Five. Hope you enjoy their responses, check them out on the Web and order your copy of Under The Mistletoe!
Young Gospel Fast Five Facts with Madison and Shannon

1. SGMR: What is your favorite Christmas tradition to do as just the two of you?
Shannon: Our anniversary is December 12th, so we always end up going on a celebratory vacation together. Our most frequented location is Disney World, and it's so much more magical with Christmas involved!
Madison: What Shannon said. If it's just the two of us, a vacation. I also really love sitting together on the couch with our dog, Bruce, and watching Christmas movies.
2. SGMR: What is your favorite Christmas song ever?
Shannon: All I Want For Christmas Is You – Mariah Carrey
Madison: At this very moment, I have two. For a ballad: Have Yourself A Merry Little Christmas. My favorite up-tempo would probably be All Alone On Christmas by Darlene Love.
3. SGMR: What is your favorite thing to bake/eat at Christmas or Thanksgiving?
Shannon: Growing up, my dad and I always baked peanut butter cookies on Christmas Eve for Santa. Once he married my step-mom, we incorporated what we call "pecan chewies" into our tradition, an original recipe she makes only at Christmas time. Sheri also has a certain recipe she only makes for Christmas morning. It's like a sausage roll, and it's become one of the things I looked forward to most on Christmas day.
Madison: My mom's Christmas morning breakfast, Sausage Pinwheels. Like Shannon said, it's one of the things I look forward to most on Christmas morning.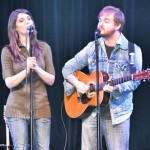 4. SGMR: Are you a winter person or summer person?
Shannon: I'm more of a winter person. The typical things we do everyday seem more fun in winter. Cooking, watching movies, and of course cuddling!
Madison: Winter! I can't stand to be hot. If it's cold, I'm happy. Not to mention, I just love the spirit that comes with Thanksgiving/Christmas.
5. SGMR: How can people get your new EP, Under The Mistletoe?
Madison and Shannon:
Under The Mistletoe is available digitally on iTunes here, and we have an Etsy shop where we sell our physical copies: Â http://www.etsy.com/shop/MadisonAndShannon
We'd love for people to 'Like' us on Facebook Facebook.com/MadisonandShannon and follow us on Twitter @MaddyandShan!
People can also find our videos on YouTube!
Questions? Comments? Suggestions for another Fast Five? Email Lorraine at sgmradio.lorrainewalker@gmail.com
By Lorraine Walker