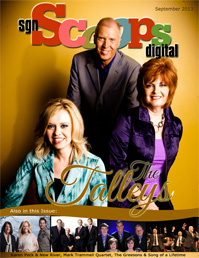 We are kicking off the fall season with a sensational September edition of SGNScoops Magazine! We are excited to present the Talleys as this month's cover story.  Also in this issue we highlight the ministries of The Greesons, The Mark Trammell Quartet and Karen Peck and New River.
This issue also offers details of the recent Song of a Lifetime Experience featuring Phil Cross, Mark Bishop, Gerald Crabb, Squire Parsons and Channing Eleton. Staff writer, Erin Stevens shares the "younger perspective" with Christian Booth and staff writer, Rick Kiser highlights Christian Country Music's Billy Hale.
Rhonda Frye re-caps the first Patterson Promotions Anniversary singing and Lynn Mills re-caps the Mark Trammell Quartet's homecoming. Enjoy Lou Hildreth's Life, Love and Legends column, a devotion from Dr.Jeff Steele and Christian Fitness tips with Laurette Willis.
We Welcome Sherry Anne Lints to the staff this month. Check out her column "Reflections with Sherry Anne." Get the latest on the  Creekside Gospel Music Convention and more in this edition of SGNScoops Magazine.
Be sure to share the magazine with your friends, families and fans, We are always digital, always free and always good!
Click Here 
Creekside Gospel Music Convention
This year's dates for Creekside Gospel Music Convention are October 28,29 & 30 in Pigeon Forge, Tennessee. There will be chapel services, afternoon matinees as well as lots of fun and fellowship! All events are free to the public and will take place at the Smoky Mountain Convention Center.
Get Your Free Tickets Here http://creekside2013-new.eventbrite.com