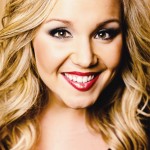 Rebecca Little is the lead vocalist for The Littles out of Monroe, North Carolina. At 23 years old, her passion is living a life for the Lord, serving Him and making His Name known. Follow her on twitter @rebeccajlittle. For more information about The Littles, please visit www.thelittlesmusic.com, and find them on Facebook at www.facebook.com/thelittlesmusic
 
Rebecca Little's Fast Five Facts
1) What is one of your favorite memories from the road?
One of my favorite memories of the road is from a revival we were able to be a part of this past year. We sang and Dad was able to preach, and a young lady, maybe 5 years older than I am, came forward to give her life to Christ. What I love about her story is that she had been in church all of her life and even was a Sunday School teacher at the time. That night the Lord spoke to her heart and opened her eyes to the truth of the Gospel and she entered into a saving relationship with Jesus Christ. How awesome that the Lord did not give up on this her and that she was willing to lay down her pride, push aside the thought of, "What will people think after all these years?" and tell our sweet Savior she was all His from that day on. We serve a faithful God and moments like this will stay with me forever. That is why I do what I do.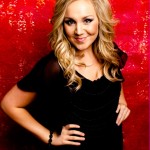 2) Do you have any embarrassing or funny on stage moments?
If I were to name them all we would be here a while, but one of my embarrassing moments was when I knocked over a little end table on the stage and caused a big scene in the middle of the service. To make it worse, it was a gift given to the church from a mission team to some foreign country. Luckily I did not break anything, but my face did turn a pretty shade of red!!
 
3) What is your favorite song to sing live & why?
One of my favorite songs to sing is "Alabaster Box." If I were to try to summarize my testimony into a song it would sound so similar to the story this song tells. I am forever grateful to God that He looked beyond the mess of a woman I was (and still am) and carefully picked up the broken pieces, gently placing them all back together and making me whole. I owe Him all my praise and all of my life. If there has ever been a song that the Lord uses time and time again to remind me of what He has done for me, and how He fills me, it is this one. "I've been forgiven and that's why I love Him so much."
 
4) Who has influenced you musically?
I have musical influences across the board. I think that learning and being influenced by numerous artists from different genres is one of the best tools a singer or musician can use to round out their own style. With that said, from a very early age I was drawn to artists such as Whitney Houston and Mariah Carey. These powerhouses were my top two favorite female artists and continue to be to this day. Their musical ability and sheer talent continue to have an impact on who I am as a vocalist. However, in most every genre of music I can say there are artists that influence my singing. I think this is what makes an artist, an artist.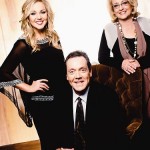 5) What advice would you offer other young adults about getting into the ministry?
My advice is this: don't take it lightly. First and foremost, God desires that we continuously seek after a deeper relationship with Him. It is easy to become complacent in where we are in our walk with Him, but it is crucial that we come to Him each day to fill us up so that we, as ministers of the Gospel, can pour it out to the hurting world we minister to every day. This is the most important component to ministering to others. Secondly, always look for ways to improve your craft. I believe that the Lord wants us to give 100% in everything we do. Part of this is continuing to improve and perfect our own gifts and callings. No matter where we are spiritually or musically, an attitude of there's always more to learn will take you far.
By Kerry McLellan