By Allison Lynn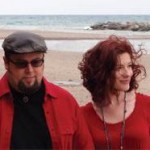 Start children off on the way they should go, and even when they are old they will not turn from it. Proverbs 22:6 NIV
This winter, I just wished the phone would stop ringing.
Every time it rang, bad news would arrive and, shockingly, most of those calls were related to the passing of people in our lives. In a four-week period, Gerald and I lost six people we knew. Some were older, some were younger, but all left this world far too soon. It was a hard, hard season.
The greatest losses were my Aunt Alma and my Aunt Judy. Aunt Alma was my Dad's sister-in-law, and she was one of my favorite people in the world. When I visited, we would stay up late, chatting and watching Country Music Television. Her first battle with cancer came around the time of our wedding. She was unable to make the trip to Toronto to attend our ceremony, so months later, when she was able to travel, I pulled out my wedding dress and wore it in the living room so she could get a taste of the day.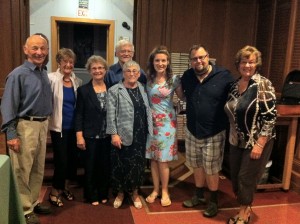 My Aunt Judy wasn't a blood relative, but a family friend that leaned closer to the 'family' part of that title. Our families spent countless hours attending Sunday school together, sharing summer adventures at our cottages and taking road trips that became the stuff of family legend.
Losing these two awesome women at one time has been shaky for me. As I grieve their loss, I've been deeply reminded of the influence they both had on my life. There was the direct encouragement and love that they gave me, which I value deeply. But there's also the subtle lessons that I learned along the way: celebrate holidays, spend time with family, enjoy being feminine, create a welcoming home, value the present day, smile easily and laugh daily.
And as I've been thinking about these lessons, it's turned my thoughts to the girls in my life: the teenage daughter of my Bible study hosts, the ballet-dancer daughter of our band's guitar player, my friend's newborn baby and the countless little girls that run up and down the aisles of the churches we visit.
How am I influencing them? What am I speaking into their lives? What are the lessons I'm teaching them about being a woman, an artist, a friend, a wife, and a Christian?
When Jesus walked this Earth, He was the perfect role model. His teachings changed the world, but His day-to-day actions showed us how to love and live: be kind to all, eat meals with friends, listen to the questions of others, treat everyone with dignity, tell good stories and love your family.
In our world of ceaseless information, stimulation, and temptation, our children and youth are under tremendous pressure. Let's remember the power of Jesus's example and strive to be inspiring, authentic, and loving role models to the next generation.
************************************************************************************************************************
Throughout 2013, SGMRadio is posting guest blogs from Christian writers across the nation and across the world. Some of these writers are musicians, some are photographers, some are philosophers. We hope that you embrace each one as they give a part of themselves to our world.
For this blog, SGMRadio hopes you will welcome with us guest blogger Allison Lynn of Infinitely More who has inspired us to be Jesus to those around us and to be a role model as we strive to live up to our Almighty Role Model. We hope you take the time to read and consider Allison's encouragement to you today. Please access Infinitely More's website and don't forget to leave Allison a note on Facebook and thank her for her contribution to SGMRadio and our world.
Facebook http://www.facebook.com/allisonlynngospel?fref=ts
Allison's Blog http://www.allisonlynn.blogspot.ca/
**********************************************************************************************************************
Allison Lynn  – Biography
Allison Lynn and her husband, Gerald Flemming, form the duo, Infinitely More. Their original songs and fresh interpretations of the classics aim to encourage and inspire both the seeker and the lifelong Christian. Infinitely More is based in Toronto and tours nationwide to bring music to churches of all denominations. www.InfinitelyMore.ca