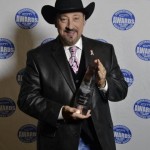 Recording music since he was 12 years old, road life is no stranger to Country and Southern Gospel artist Chuck Day. Chuck is one of today's top singer-songwriters and is a pioneer in the Christian Country and Country Gospel industries. He has written and co-written more than ten number-one songs in the Christian and Country genres. Chuck tours throughout the United States and the world through out the year. He holds both a Doctorate of Theology degree and a Doctorate of Divinity while also practising as an ordained minister.
I met Chuck back a few years ago and it's been a pleasure to get to know him as a friend and colleague. I was glad to have the chance to once again sit down and ask him some questions, but this time, 'on the record.'
Miles: Why did you choose to go into Southern and Country Gospel instead of a different type of music?
Chuck: I was raised in a musical family.  I started singing with my Mom when I was about 10 years old. By the time I was 12, my Dad and my brother Greg joined the group to be known as The Day Family. We sang in churches and concerts all over southern Georgia and northern Florida. Later my Mom started working for J. G. Whitfield who was known as "The Old Gospel Man". My Mom promoted his concerts in Valdosta, Georgia at the Municipal Auditorium. We sang on that stage with everybody you can think of, from The Happy Goodman Family to the Florida Boys! We made friends with so many of these folks and many of those friendships last today. I picked up a lot of my country influence from singers like Rusty Goodman, Kenny Hinson, The Oak Ridge Boys, The Hemphills and others. Southern and country style gospel music has always held the biggest place in my heart.
Miles: Who are your heroes in Southern/Country Gospel? Do you have any heroes outside these genres?
Chuck: The Goodmans, The Hinsons, The Crabbs, and The DMB Band (I bet that brings back some memories!) Outside of Gospel music I have always enjoyed Merle Haggard, George Jones, Ray Price, Willie Nelson and a host of others. Rusty Goodman was a mentor of mine and always encouraged me to give it all that I had and to use my voice to bless others. Both Gospel and Country music have shaped the way I sing today and I am thankful for the wisdom and encouragement all these artists have had in my life.
Miles: What do you think are the greatest attributes of Southern/Country Gospel music? What are Southern/Country Gospel's greatest challenges in years to come?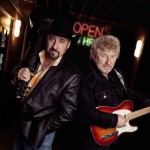 Chuck: There are literally an untold number of Gospel music's attributes but I can honestly say that the people inside this great industry are its greatest! Along with those I have mentioned before I would say that there are a ton of un-sung heroes in our genre of music. The concert promoters, the DJs, the promotions people and the media dedicated to our kind of music are just a few who help shape our industry. I know that the times have changed and that it is harder for we who are out there on the road to make it, but I do know this: we who are called by God to sing this great music must keep on pushing, keep on believing that we bring the greatest message on Earth! This is the message of hope through Christ! My answer to the second part of the question is just KEEP ON GOING! We're gonna make it!
Miles: I know you cowrote "Midnight Cry", but what are some other favorite songs that you have written and why?
Chuck: I have so many but I will try and name just a few!
"I'm Glad" (co-written with my Mom Grace and Brother Greg) recorded by the Hoppers just because it's a happy song and they sang it like it was written to be sung! Wow!
"Even So Come" (co-written with Greg) recorded by The Dixie Melody Boys; just a song with a great message!
"Angels in the Room" (Co-written with Greg) recorded by The Ruppes. They did an awesome job!
"Child of the Light," recorded by The Days. I love story songs!
There have been a lot. I just thank the Lord that he lets me tell these stories!
Miles: Do you find it hard to arrange appointments to sing at churches and other venues these days?
Chuck: It is a challenge! I must say that since the economic downturn it has been increasingly hard for singers and groups to schedule appointments. Much of this is due to fear that the churches will not be able to meet there own commitments much less bring in an outside ministry and take care of them in an honorable way. I would like to take this opportunity to encourage every Gospel music fan: if we don't provide venues for the Gospel music artists to sing, many of them will simply have to stop singing. Talk with your pastor about having a group or artist you enjoy. Offer to help with a fundraiser to offset the love offering or expenses for the concert. Call your local radio station and get them involved. There are many ways to keep all of us singers busy and all the fans happy. Use you imagination and have us come sing for you soon!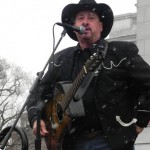 Miles: Give me a Twitter sized thought that you would like the readers need to take to heart.

Chuck: Southern and Country Gospel music is ALIVE and WELL! Let's all go to a good old-fashioned singing!
Now, if you'd like to go to a 'good old fashioned singing', check out www.ChuckDay.com to see where he'll be in concert close to you. Also check out his online store, full bio, and much more.
Thanks for reading and if you would like to suggest someone to me for a future interview, email me at miles@milespikemusic.com.
SGMRadio is pleased to present Miles Pike and his new feature, Artist to Artist. Miles has been involved in Southern and Country Gospel music since the age of nine and has several top songs to his credit as well as awards by the SGM Fan Awards and CGM Fan Awards. As he has come to know many of the artist and industry personnel in both Southern and Country gospel, Miles was delighted to have the opportunity to pick on his friends and colleagues through these interview features. We hope you enjoy Artist to Artist! Find out more about Miles at http://www.milespikemusic.com/Â