Concert Review by Stephen Widener;
January 13, 2013;
Catawba Valley Baptist Church;
Morganton, North Carolina.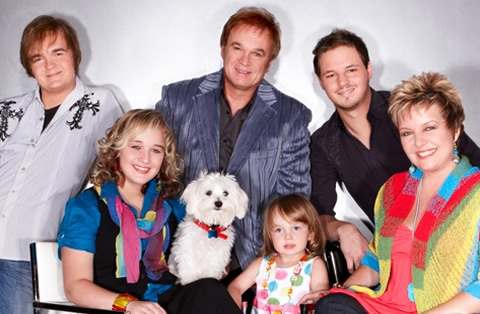 People in these parts of Western North Carolina love Southern Gospel Music. They know whom they like and how they like it. So when you pass a church and see the names of Jeff and Sheri Easter on their sign and hear about it advertised on the local Southern Gospel radio stations, it creates a buzz of excitement in the air for weeks.
When Jeff and Sheri pulled their bus into Catawba Valley Baptist Church in Morganton, North Carolina on January 13, 2013, they didn't disappoint us; they surpassed all expectations and then some. It isn't very often that we get such a treat but when they come by, it sure is something we look forward to.
Catawba Valley Baptist Church was filled to the brim that Sunday night. The church had to park cars across the highway at Walter Johnson Middle School and bus people to the church. They actually had to turn people away. They were very sweet and hospitable to yours truly.
I had the privilege to speak with Jeff for a few minutes after the concert. He said that he and Sheri have been together in marriage and have been traveling and singing gospel music for 28 years. Both of them were brought up in the music. Jeff's dad, James, is with the Easter Brothers. Sheri's mom, Polly, sang with the Lewis Family.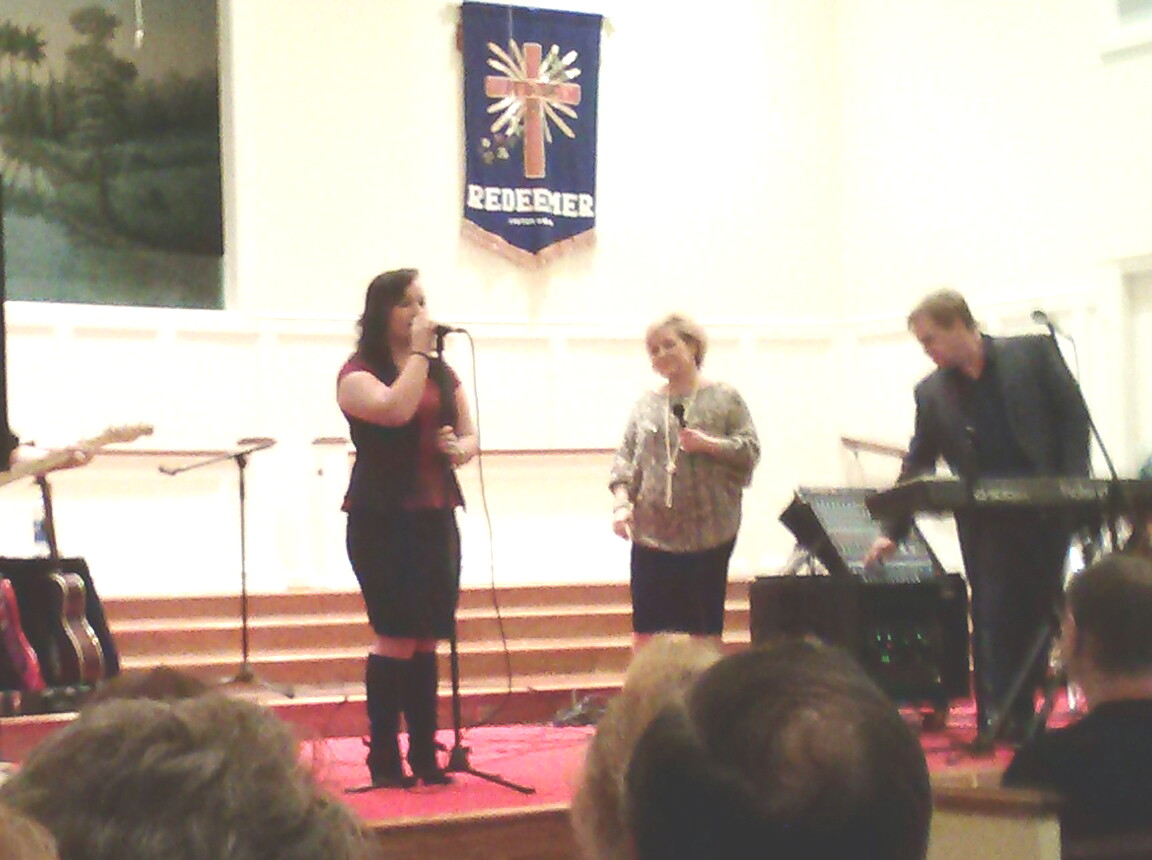 Carrying on the tradition of musical excellence, Jeff and Sheri Easter are Dove Award winners and have been Grammy nominated twice. They have received seven SGNScoops Diamond Awards. The family has traveled with the Gaither Homecoming tour since 1993, as well as having been on the stage of the Grand Ole' Opry.
The group currently consists of Jeff, Sheri, Morgan, Madison, Shannon and Maura Easter, as well as drummer Landon Smith who is the brother of Gospel artist Logan Smith.
The concert got started with Sheri performing, "Anything Will Happen" and Jeff singing their current radio song, "I Won't Have to Worry." This song actually features his Dad, James, on the second verse on the radio version.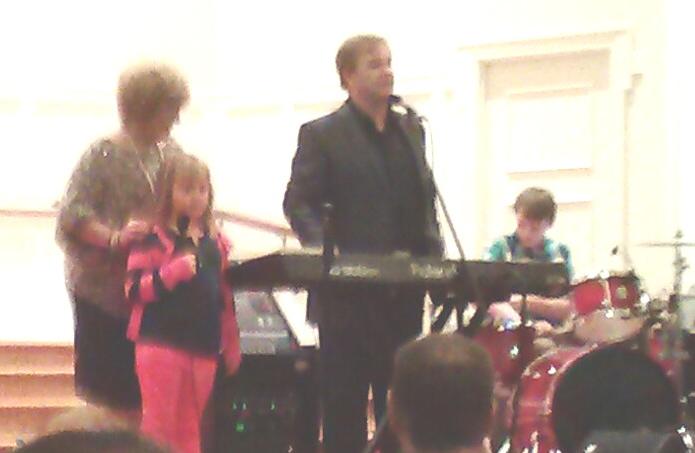 After the introductions, Morgan did a great job on, "That's What Love Is", and then they performed an uplifting, "Sitting on Top of the World." The multitalented Madison, playing the mandolin, sang, "Working on a Road." Then they brought out seven-year-old Maura who sang "Sunny Side".
Sheri shared her testimony about having overcome breast cancer and talked about her book, Hear My Heart. Sheri is now four-and-a-half years cancer-free! The audience was moved as she sang, "Eyes Wide Open" (I Know How It Feels To Survive). Then Jeff took the lead on one of my favorites, "I Get To."
The group then staged a little jam session with, "Amazing Grace" and "I'll Fly Away'" bringing up from the audience Eric Ollis of the Whisnants to play the piano and Wayne Billings of the bluegrass group the Griggs on the mandolin, accompanied by Jeff on the harmonica.
After singing "Slippers With Wings", which featured Sheri, Morgan, and the recorded voice of Sheri's mom Polly, there wasn't a dry eye in the place. Jeff and Sheri then sang the old hymn "In The Sweet By and By."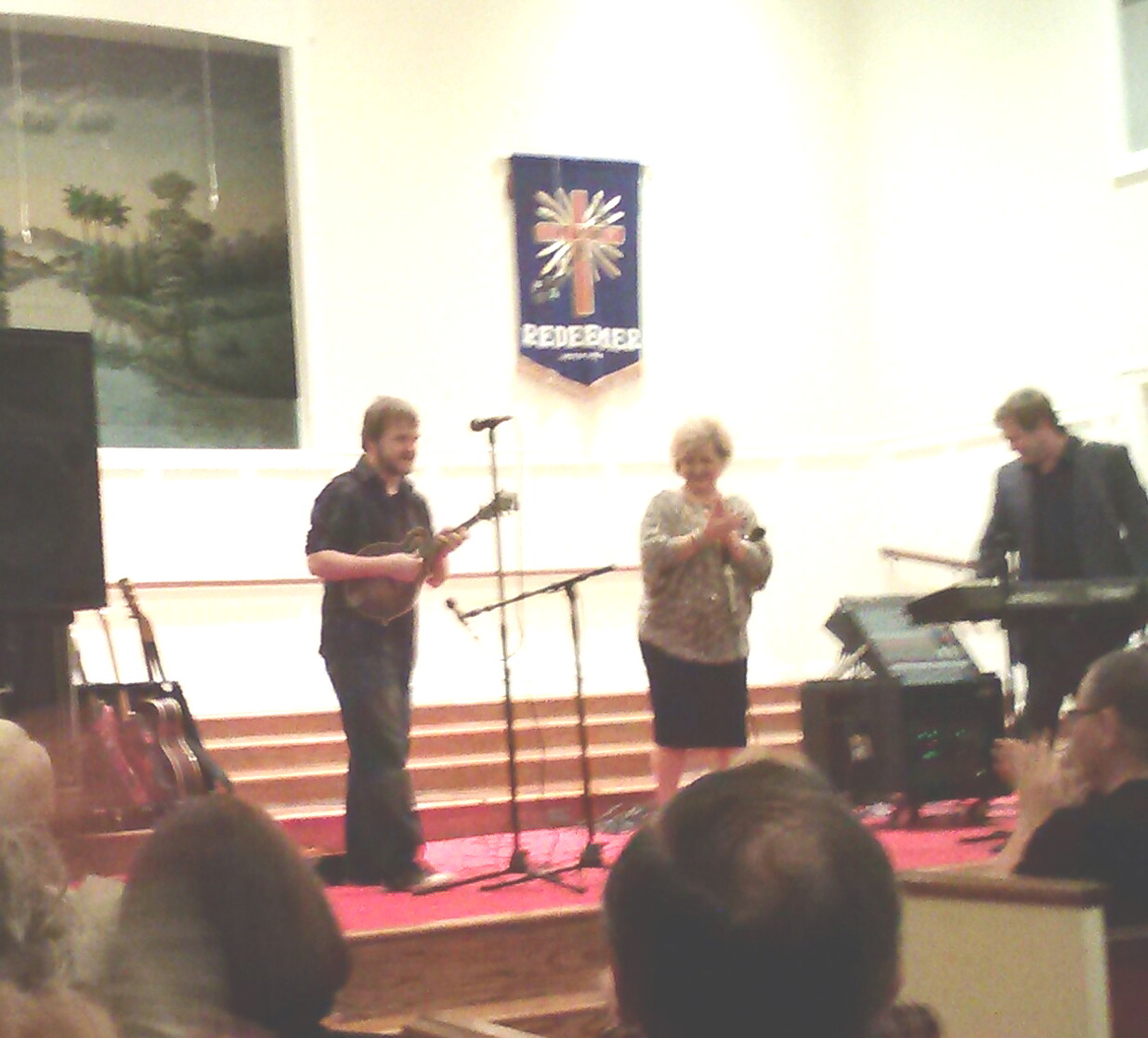 Jeff asked for requests and that really brought down the house. After, "Tavern to a Temple", they brought the Spirit in with, "Praise His Name" and the all time classic, "Thank You Lord, for Your Blessings on Me." The altar was filled and souls were saved, to the glory of God.
Jeff and Sheri finished up with "Handful of Weeds", which Sheri sang with a little nine-year-old young lady named Hannah, followed by their hits "Roses Will Bloom Again," "She Loves," and "Life is Great."
Those who attended were indeed greatly blessed. Lives were changed with the ministry of Jeff and Sheri Easter.
For more information:
Jeff and Sheri Easter's website http://www.jeffandsherieaster.com/
Jeff's Facebook http://www.facebook.com/jeff.easter.9?fref=ts
Sheri's Facebook http://www.facebook.com/sheri.easter
Twitter https://twitter.com/JSEaster