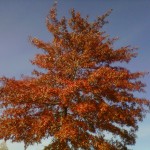 This isn't like my usual Reality Check features, but I had a few thoughts I wanted to share on Thanksgiving. I hope this encourages you to come up with your own list!
As a Canadian, I am privileged to celebrate Thanksgiving twice, once during October with my family and again in November with my American friends. Sometimes it's necessary to take time to ponder what we are thankful for, and to do that officially twice a year is a good thing!
Someone once said that if we only had today the things we gave thanks for yesterday, some of us might not have anything. So, now once again, officially, I give thanks for the many blessings that God has entrusted me with!
I am so thankful for my family. We have gone through some challenges in the last few years. We lost our Mom two years ago, but we are thankful for her legacy of love and her Christian walk. I am thankful for my Dad, my sisters, and our dog Mickey who continues to bring joy and laughter and a lot of dog-slobber into our lives.
I am thankful for my terrific friends, far and near, including those that I am honoured to spend time with regularly and those that are my text and twitter friends. There are some with whom I have bonded by heart even though we are separated by miles.
I am thankful for a good job in a Christian agency that does real work for real people, and a boss that lives his Christian witness. I'm thankful for a roof over my head and a car that gets me where I need to go. I'm thankful to belong to a growing church body with faithful pastors.
I'm thankful that although I've struggled with pain and illness in this past year, God has proven faithful. He has taught me much in the way of patience and how to listen for His voice. I've learned to be able to receive from others and that is not normally an easy thing for me. My family and friends have proven faithful with their encouragement and prayers.
I'm thankful for the opportunity to use the talents and gifts that God has placed in my to reach others with His love. He has opened the door to allowing me to write for SGM Radio and SGN Scoops, to work with others who have the same dreams and goals, and to be able to talk to so many artists and industry people who love the Lord with all that they have. You all are an inspiration to me.
I'm thankful for a loving Lord who leads and guides, even though at times I may follow my own path. I'm thankful for His continued blessings and the way He shows me constantly that I am His. He continues to surprise and comfort, correct and teach, bless and gift me in ways that are amazing and wonderful.
This is my short Thanksgiving list. I pray and trust that you, the reader, will dwell on your own list today and thank God for every good and perfect gift.