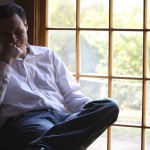 One of the special things about Southern Gospel is the amount of talent that exists among the young adults, the Generation Now that will take this music to new audiences for years to come. Miles Pike is one of those artists whose mature, melodic voice and encouraging, inspirational message will continue to reach listeners as more fans discover his music from the heart. Pike is developing a loyal following and has achieved several number-one songs, as well as being a winner and nominee for the SGM and CGM Fan Fair Awards.
Now entering his seventh year of ministry, Miles is preparing for his big homecoming concert in March and is releasing his fourth album on November 15th, entitled Blood Kin. "This is the third CD project on which I have worked with this group of artists," says Pike. "Growing up, I used to be one of those people that read every word and every name on CD credits. To be working today with those same names that I saw on every other CD I bought is an amazing feeling. I say without hesitation that they are the best of the best!"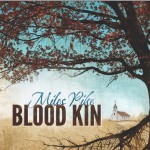 "I initially had the opportunity to speak with Stephen Hill during my eight years at Stamps-Baxter School of Music in Nashville," shares Pike. "This past June, he spent the day with us in the studio working on two songs. On one of those songs, a song that he had actually written, he did all the background vocals and accompanied me with his guitar. It was amazing to see this master musician at work. We spent the latter part of the day just swapping road stories, one that involved him in airport security while, unbeknownst to him, carrying a switchblade!" The death of Stephen Hill this past August, was a sad day for many Gospel music fans, including Pike. He continues, "Even though Stephen and I spent just a few hours talking, he was the type of person that was so down to earth that after just five minutes you felt like he was a long lost uncle. It is an unusual feeling, weeping over the loss of someone with whom you hadn't spent a great deal of time, if any, but who had been such a big part of your spiritual and musical heritage. You feel a great loss just knowing that they are no longer out there sharing with others."
"I honestly wept over the passing of George Younce, Glen Payne, Vestal Goodman, Stephen Hill, and many more," Pike says. "In this world of big name music artists and stars and multi-award winning celebrities, we need more Stephen Hills who are gifted by God and know it, but who love Jesus and people first and foremost. That's what makes people realize the Gospel is true, and believe it."
As well as Hill, Pike was privileged to have several other artists assist him on the Blood Kin project and many of them are related to him. "First and foremost I have my family sing with me because they're good," says Pike. "They're really good. I grew up in a musical family. Not a travelling musical family, but a family that was known in the area to have many musical members. Please take note: that does not mean that you can walk up to just any member of my family and ask them to sing for you. When some of them sing in the shower, the water stops," laughs Pike.
"Secondly, I love having them in the studio for that element of family harmony that you can't get just anywhere. None of them have recorded solo projects at this point, but that has been discussed on many occasions and may very soon be rectified. I'm amazed at how quickly they walk in and lay down their parts. Until you have done it, you can't understand what a boiler room the studio can be at times when you're on a time schedule and you're trying to get X amount of songs done. You're tired, your voice is tired and you really shouldn't have had Mexican for lunch!"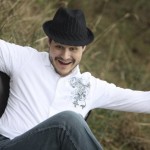 "It's also a great asset to all of us to have such a gifted producer as Tommy Cooper. He has a gift unlike any other to pull out of you the best you have to offer. Cooper is one of the veterans of Nashville and a dear friend; I could never see myself trusting my projects and my voice with anyone else."
"Blood Kin is the third album I've produced for Miles and, honestly, they just keep getting better and better," says Tommy Cooper. "Miles puts a great deal of thought into the material he wants to include on each album and each album has a theme.  The album is bookended by two songs which pretty much capture the common thread of the whole album. It opens with a song by the late, great Stephen Hill, "Why Can't All God's Children Get Along?"  Stephen came over to my studio two months before he died and recorded the guitar and background vocals, to which Miles added his own lead vocal. The album closes with a convention song written by Charles Towler, called "His Blood Has Made Us One", which pretty well ties the whole album together.  So, you have these two sermonettes that say more in four minutes than most preachers can say in twenty.  But, the album's not preachy at all.  It's fun, it's tender, it's stirring, it's nostalgic and it's entertaining!"
Blood Kin is an unusual title, describing not only the family element of the recording but also the spiritual element, that of the saving blood of Jesus. "I'm proud to say the title of the project came from my wife, Martha," says Pike. "Several months ago, we spent an hour or so going over name ideas for this CD. We came up with some funny ones, some crazy ones and some good ones. When she said, 'Blood Kin,' something ran up my spine and I knew that was it. That title, like the CD, is down to earth, laid back, and for the everyday person. With songs on the CD entitled 'His Blood Has Made Us One,' 'The Church Homecoming,' 'Safe In Daddy's Hands,' and Stephen Hill's 'Why Can't All God's Children Get Along,' you can maybe see how Blood Kin sums up the message of this project."
"The album offers a great variety of musical styles, from straight-ahead country to pop to southern gospel," adds Cooper. "And, of course, there's the convention song featuring a choir from the Alabama School of Gospel Music. Miles has a way of making each song his own. So there is a consistency to the album, although the styles vary widely from song to song. And, it's a great album to just sit and listen to from top to bottom, which is something almost nobody does any more. But the listener won't get bored with so many different styles represented on the album."

Miles Pike and his family are busily preparing for their big yearly event, the 6th Annual Homecoming, scheduled for March 2013, in Tyler, Texas. Pike explains why this concert is so special to him. "From the beginning, hosting an annual homecoming for my area was intended to be a gift back to my community with no tickets and no one excluded, just a big evening of worship for various branches of the body of Christ to assemble in unified worship. Every year we have seen growth, and the 5th annual concert in March 2012 saw us outgrow one of the largest venues in my hometown, Jacksonville. That being the case, we have moved it to Colonial Hills Baptist Church in Tyler, Texas."
The Homecoming has also featured some of Pike's particular favorites in Christian music. "In the past my guest artists have included the Gospel Tones Quartet, Allison Durham Speer, and Mark Bishop. In 2013, my special guest will be Gaither Homecoming Artist, Larry Ford. A long time dream of mine that I am introducing this year is a 75-voice choir that will back up Larry and I on a few songs."
"This choir is unlike any I have ever witnessed before, as it is made up of volunteers from over 35 different churches," Pike explains. "These believers have assembled to represent their churches and to say, 'We are not just Baptist, Nazarene, Methodist, Assembly of God, Pentecostal, or any other denomination. We are Christians, and we are Blood Kin.' At the time this is being written there are a few slots still available to anyone who may be interested in joining this choir. If you feel that you would like to join this unique group, visit www.MilesPikeMusic.com for all the details. The concert will be held March 2, 2013 at 6:00pm, and doors open at 5:00pm. A free will offering will be received and all are welcome, so bring the family or a friend."
The Homecoming event is a celebration of family, friends and many years of ministry. After six years of singing Gospel music, Miles Pike retains his compassion for people, humor in difficult circumstances, and desire to see the world changed through the words of his songs. "The greatest joy of the past six years has been to be an amazed spectator, watching God do exceedingly abundantly above all that this country boy could ever have asked or imagined. Really, the joys and the challenges of the last six years have often gone hand in hand. There's the challenge of being in a full time ministry where the income fluctuates week-to-week and month-to-month, while still having the same monthly bills, expenses, and CD production costs, etc. That challenge comes with the joy of learning, not without setbacks, how to live a life that realizes and accepts a full and total reliance on God to provide all that is needed."
"Then there's the challenge of being a homebody that loves the country, loves gardening, and loves family, but has to leave for weeks and months at a time, go to the crazy traffic, and live out of a suitcase, with no home cooking!" Pike continues, "This challenge is balanced by the joy of doing what I am called to do, and having the privilege to get to do it all with my best friend and partner in ministry and life. There's the challenge to not worry about how our message is going to be received, partnered with the temptation to lean on our own works to change lives and edify the downtrodden. But oh the joy to just chill out, sit back, and be a spectator, watching God give a song to the feeble mind, rekindle a fire nearly out, and as Ezekiel said, make a heart of flesh where there had been a heart of stone."
Pike pauses to consider what is ahead for his ministry. "Looking down the road another six years, I would hope that we are all in Glory. Failing that, I hope to see my family and I still working, still trusting, and still loving. As far as physical goals, I have the next six CD ideas already fermenting and many of the songs already chosen. Should the Lord see fit to provide the means, I have big plans for my 10th Annual Homecoming Concert. With many requests to do so, I have plans to do a live concert taping at that time."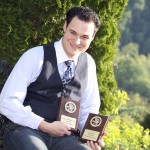 Although the name of Miles Pike is just beginning to be known across the country, Pike is already starting to receive some commendation from fans for the work that he has been doing. "Considering that I do not pay for radio promotion, it has been amazing to have been honored in so many ways by the Lord and the fans," says Pike. "The main reason that I pursue radio at all is for the purpose of having a medium with which I can easily reach the masses with messages that I feel are pertinent to the times we live in. Believing that ministry funds God blesses us with can be channelled into better areas of use than paying someone to ask DJs to play my music, I do not pay for high dollar radio promotion. I merely pay Canyon Creek Records to put my music on a compilation disc and mail it out to over a thousand stations, and leave the results to God. Thus far, to my great surprise, God and the fans have honored me with four consecutive number-one songs on the Christian Voice Magazine Country charts." These songs include "Jesus, Savior, Pilot Me", "I'll See You In The Rapture", "I'm Going Through, Jesus" from Pike's album, Timeless Songs for Times Like These. Pike's fourth #1 was from the album Walk Through The Pages, entitled "Teach Me To Love Like That".
Pike is thrilled at Christian radio's response to his music. "All of these songs have charted on the Southern Gospel charts as well. I also received an award in 2011 from the Southern Gospel Music Fan Fair Awards: 'Young Excelling Individual' and also the 2011'Young Horizon' award in the Country Gospel Music Fan Fair Awards, both at Pigeon Forge, Tennessee. Over the past two years, I've received over a dozen Top 5 nominations, including Male Soloist, Album of the Year, Song of the Year, and Favorite Crossover." 
Fans of Pike enjoy his versatility, as evidenced by the Crossover award and the many nominations. "Miles has a pretty identifiable vocal sound," says Tommy Cooper. "And he's able to deliver great vocal performances in a variety of styles. So, I guess what's unique is his ability to do that, whereas some artists are clearly better suited for certain styles than others. Miles has an unusually wide vocal range, ao each of his albums features at least one song in which he sings all four parts of a quartet.  The listener may also notice that he sings some of his solo lead vocals in a low tenor range, some in more of a baritone range, and there's one on this album that has a bass lead.  And he's able to pull it off quite well.  Not every singer out there can do that."
Cooper sees a great future for Miles Pike and is impressed by his talent. "Miles has already shown what success an artist can have in a relatively short period of time. I've seen him grow a lot musically in the time I've worked with him.  I've also seen him develop into a more complete artist.  He's not afraid to try something different; at least, different for him. But I think the real charm of Miles Pike is his personality.  I've seen him perform live and he really connects with audiences. His genuineness makes it feel as if one is listening to a friend, rather than an artist. I think that comes out in his recordings, too. Miles also has a very good feel for choosing to record material that people want to hear. Four consecutive Number One singles from a relatively new artist is a pretty strong testament to that."
A humble man, Pike would much rather talk about God's accomplishments over the past six years, than his own successes or talent. "Looking back, I can see where God has greatly increased my confidence as a minister of the Gospel. When I started singing years ago, I was sure that God had placed a call on my life to sing for Him, but I didn't have any idea of the scale that He had in mind. I was thinking I'd sing at funerals, weddings, and the occasional bar mitzvah," laughs Pike. "But God had different plans. He placed people, opportunities, and situations in my life along the way that have built my confidence, not in myself but in my Source. That confidence comes through logic. Logically, there is no way on earth that Miles Pike could have pulled off the awards, the #1 songs, or the players in Nashville that have played on my projects. I don't have the connections, the know-how, the financial means, or even the personality, to have accomplished all that in six years. I know that. But when the money needed to be there, it was there. When the people needed to be there, they were there. When I needed to be singing, someone called with a concert. When I needed to be able to sing, God gave the strength. God has provided for every need, sometimes before I even knew there was a need. So therefore, logically, I can just continue to be willing to go and my Manager will always be sure that I have somewhere to go, means to get there, and strength to do my part. Accepting the fact that I really have very little to do with it but to obey has given me great confidence."
Miles Pike has a faith that puts many older Christians to shame, and a confidence that we all should have in our Source. Another reason for his confidence is that God brought him together with his wife, Martha. They share their story on the Miles Pike website. On December 19th, Miles and Martha will celebrate their second anniversary, celebrating a courtship and marriage that has changed their lives and their ministry. Miles shares, "One of the biggest changes for me as far as ministry goes, is that I feel more confident with the Word of God. Martha and I read the Word together, talk together, reason together, memorize together, and just hold each other up spiritually."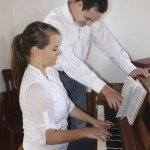 "One of the biggest, nicest things about marriage is that no matter how I feel I've done or how the audience reacts to the concert, there's always a smiling face that I know is going to hug my neck and encourage me after it's all said and done," Pike continues. "It's also great to have Martha there to add a little variety to my concerts by playing a piano solo, accompanying me on the piano, or joining me in a duet. Mar helps keep me focused on the things that matter and is invaluable in the operation of our office and in web design."
Martha has been a blessing to Miles in more ways than just as a ministry assistant. "It has been a great asset to have somebody to be absolutely open with, someone with whom to carry the big things and the small things to the throne of God," says Pike. "Through that, my view of how God wants us to be toward Him has changed, because I now better understand the marriage relationship that is a mirror of our relationship with God. If we are the bride of Christ, then we are to share the small and the large with Him. He should be our go-to person in every situation, like Philippians says: 'Do not be anxious about anything, but in everything by prayer and supplication with thanksgiving let your requests be made known to God.' That's how close Mar and I are, and that's how close we are to be to God. I am thankful for the helpmeet that God was preparing for me for all those years over 700 miles away. Marriage truly is the grace of life."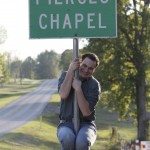 As Miles and Martha Pike prepare for the next year of ministry together, it is encouraging to see a couple that is working together for the Kingdom of God. With encouragement, humor and wonderful singing, Miles continues to reach the hearts of audiences, leading them closer to the Throne. His final twitter-sized thought for readers is simply this: "Your plans compared to God's plans for you is a tweet compared to a library." Miles Pike has proven that in his life and knows it is true for all.
For more information on Miles Pike please visit http://www.milespikemusic.com/fr_home.cfm
Or see him on Facebook at http://www.facebook.com/MilesPikeMusic?fref=ts