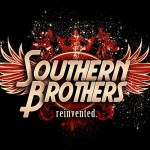 Gospel roots, Country guitars, sharply honest lyrics and in-your-face vocals: this is Southern Brothers Reinvented. The three boys from Jackson, Missouri have been singing their blend of gospel-country-southern rock for over twenty years. The result of these years of training, experience and growth is a slightly different road for Todd, Scott and Tim Mills. With the release of their new recording, the Reinvented artists are remixing Positive Country and sharing it with old fans, new fans and anyone who cares to listen.
The Southern Brothers were edging down this new path with their previous release, Real Life. A mix of gospel and country, covers and original material, the recording released the edgier sound of the Brothers that is now given full reign in Reinvented. Tim Mills, baritone of the group, is fully aware of the caution of the southern gospel fan when faced with an artist that does both gospel and secular music. He candidly discusses the reason and faith behind the group and their new direction.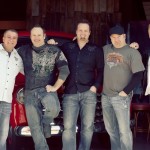 "Southern Brothers Reinvented" is our latest CD that features the country side of us." Mills says, "If people were honest with themselves in the Southern Gospel community, they would admit that fans and artists still keep up with the country market and music. Our sound has always had a country/southern rock edge to it. Honestly, those particular styles of songs on all of our previous recordings were the ones that just flowed and seemed natural to us."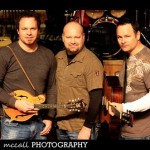 "We've been asked over the last 10-15 years if we could do a country project and felt it was the right time. Our fans, pastor and church family have been overwhelmingly supportive of this new CD's direction." Mills laughs, "Our motivation is to allow the rowdier side of our music to be heard in a much larger setting – beyond family reunions and campouts."
Southern Brothers Reinvented was released on February 24, 2012, with pre-release clips posted on the Brothers' Facebook and You Tube pages, much to the delight of the fans. Response has been good to this very personal project, says Mills. "We are proud of the fact that we have pretty much produced the CD ourselves. That was another bucket list goal that we have had for years. Let it be said that I love all of our previous projects and greatly respect everyone that has worked with us; however, it is a good feeling when you can own the entire project."
"We recorded the project with a good friend of ours, Ken Keller, in Cape Girardeau, Missouri. He has worked with some major acts in the Denver and L. A. area, so he is no slouch when it comes to recording. Ken isn't as familiar with Southern Gospel as our other producers and engineers and I feel he helped us stretch a little bit because of that lack of reference. He looked at us as a county/southern rock band and dealt with us accordingly. I felt it was a great fit."
Mills says he enjoys every song on the entire recording, not something he could say with other past Brothers' projects. He continues, "Each song we chose was hand picked and we were all on board with every one of them. We did a country version of Whitesnake's Here I Go Again and I think it turned out amazing. It wasn't just a typical cover where the same chord progression and timing are re-hashed. I really think that we took ownership of the song and paid homage to the original, but tweaked it into a Southern Brothers song. You can still sing it in the shower as the melody isn't jeopardized, but the music is definitely new and original. I'm really proud of that one."
Reinvented also contains original material as each member of the Southern Brothers penned a song or two. Tim Mills pours his heart and soul into each tune he writes, and is especially proud of his cut on Reinvented. "I have one song on the new project and it's called Melanie. I had written the song about 15 years ago about a girl named Melanie – imagine that," laughs Mills. "Everyone around the campfire and swimming pool has loved this song and others that Scott, Todd and myself have written over the years. Seven out of ten of the songs are original with six coming from my brothers and I."
Mills enjoys being able to put his thoughts to music. "Inspirations come from life, and simple conversations where somebody will say something and your brain just gets triggered. Some of the best hooks come from normal people talking about various things." He is glad to have a new project that features so many original songs from group members.
The internet is a terrific place for marketing new material and the Southern Brothers are doing their best to take advantage of that outlet. "Our goal is to begin a serious Facebook and You Tube campaign with this CD," says Mills. One song currently featured on their website might cause some listeners to shake their heads. One lyric says, 'that's what it takes to feed my addition', which seems to have a dark theme. However, a closer listen reveals the sound of bird calls in the distance. "We've got a song about duck hunting called Addiction that already has a lot of people in the local duck hunting community very excited. We want to target the duck hunting industry and get as much buzz as we can over this song."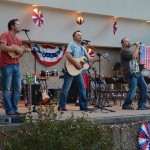 Mills comments further on their innovative marketing techniques: "The country market is vastly expensive for us to pursue the traditional promotion route, so we are really leaning on our present and future fans to help us take this much farther than we can ourselves. We've got one song, Walking In Jerusalem, that I feel is a Southern Gospel radio-worthy song, but we don't have plans to actively promote it as a single. The Southern Gospel fans can hear our version of this classic on the CD. The people that have known us over the years have been 99.9% supportive."
Mills has been overwhelmed by the support shown by Facebook fans and others who have heard their new material. "The response over this project and new release party have been nothing but positive. We promoted a new release party/concert and the pre-sale numbers put us in the black for the event and almost for the entire project."
"Financially, it's a good feeling knowing that you don't have to worry about the money end of an event or project. We're honored and humbled that we have a fan base that makes projects possible without the worry of financial risks involved. We may not get rich, but we've always been in the black."
The release of Reinvented has also brought new venues to the Brothers' touring schedule. Mills says the ability to present their music to a different crowd is a big reason for the new direction. "It has already opened doors for us in regards to music festivals, fairs and concerts," says Mills. "We are limiting our dates for personal reasons as we still have young kids and want to be around them. However, this new project is already creating local buzz where people are now legitimately considering us to open for major country stars coming thru the area."
"In our humble opinion, The Southern Brothers will be even more attractive [as a viable artist] when those promoters have a tangible project and promotional package in their hands that helps them market us in a different light. Simply put, we have a wonderful loyal and awesome fan base. We're just trying to make those numbers bigger."
The Southern Brothers fan base has increased throughout the years as their proficiency as artists has grown. Their musical progression can be seen throughout their thirteen recorded projects. The changing influences and honing of their craft can be seen in the Brothers' discography, from a traditional southern sound on an initial cassette that only required six hours from recording to final project, to the current polished, professional project that is Country radio-ready. Mills says, "I see our progression as one of becoming more and more honest with who we are as people and artists. We're not praise, contemporary, traditional Southern Gospel or bluegrass. We're country/southern rock. We always have been if we were really honest. All the marketing in the world can't change that."
"Our aim is to get as many people to listen to our music as humanly possible. We're not asking or expecting 100% of the people to like us. Just give us an honest listen. Whatever the public decides determines where we will be in five years. My opinion isn't what counts; it's the fan's opinion that matters."
Mills is refreshingly honest about the various factors that led the Brothers through their musical progression, as well as the financial and fan-base limitations of the Christian music industry. "At the end of the day, we are country people. We watch the Grand Ole Opry, we listen to country radio, hunt, fish, camp and boat. It's just as much who we are as anything else. Like I said before, this CD contains a bunch of country songs that we've written. It's a part of us that has never gotten any sunlight and we've decided to finally let that part of us be seen."
"Yes, it is partly about the money! A mediocre successful secular CD can outsell an astronomically successful Southern Gospel CD. That extra money can enable people with ability to be able to afford to pursue things within the church, things that otherwise may not be possible."
"Why does anyone really want to have a number one song in any genre of music, Southern Gospel included? Yes, more people will be reached with your message, but more people also means higher flat rates [paid to an artist to perform]. Higher flats mean nicer buses, houses and so on. Case in point: show me any major Southern Gospel group out there who is successful and who is riding in a station wagon because they feel a bus or an R.V. is an excess or waste. Or, let's look at a Southern Gospel songwriter that gets the nod from a major country artist to record one of their songs. I'm sure there is somebody out there that would say no for moral reasons, but that number is very, very small. I don't knock anyone with a successful ministry or career but let's just be real about it."
Mills continues, "Is it all about the money? Heaven's, no! On a spiritual note, we are trying to be like Paul, who was all things to all people. We don't compromise our beliefs in our words."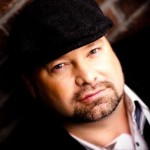 "If my memory serves me correctly I read in the Bible about a particular Fellow who went to a tax collectors house to present the Gospel in a way that they would understand. Did He walk in and start preaching from the get-go, or did He talk about life in general? Could He, heaven forbid, have talked about fishing, politics, carpentry or something else non-spiritual? Who knows, but I think I want to be like that Guy."
Mills talks about their music becoming secular. "When you come to one of our concerts, you'll see a state of the art light show, awesome live music and a ton of energy. When you leave you can buy a CD that you can let your kids listen to and never worry about what's being sung or said. If we get a fan from the Country side, odds are that they'll take a listen to our Gospel side. If you completely disagree with this logic, then please simply pray for us first. Then you can enjoy a nice helping of fried Southern Brothers afterward," Mills laughs.
The Southern Brothers are actively working to enlarge their audience and reach more hearts with the message of the Gospel. They depend on the support of their family, friends and fellow church members as they work to reach their world. The Mills brothers and their families attend Cape County Cowboy Church (CCCC), which Tim Mills says has been a Godsend to their ministry. "My brother, Todd, is the musical and video director at the church," says Mills. "We sing at church on a weekly basis when we can. We got involved with the church when we were basically burnt out over singing, church and ministry in general. They took us the way we were and loved us unconditionally. CCCC literally saved our musical lives. If it wasn't for Pastor Jim Matthews and the congregation, we wouldn't be singing, period."
The concept of a Cowboy Church is relatively new to many across the Nation, but Mills says their congregation has been active for quite some time. "Our church is a mission church sponsored by the Missouri Baptist Association," says Mills. "It started nine years ago with 35 members and now has an average attendance of 1100-1250 in the weekly congregation."
"What I love about the church is that it hasn't lost its mission focus," Mills states. "It is designed for people that are estranged from traditional church for whatever reason. You can come as you are and be treated with kindness and love. For example, I have a personal friend that married a man who swore he would never step foot in a church, and who now regularly attends here. Has he made a profession of faith yet? No, but the seeds are being planted every Sunday."
Mills concedes that even though the Southern Brothers are favorites at his church, they might not fight into just any congregation. "We're open to singing anywhere, however, many traditional churches may find our style non-typical. And they are right. We design our music for the unsaved. When we go to the highways and hedges, we try to give them something that is compelling."
"Honestly, you won't see a lot of difference between our church and secular concerts. The venues are simply different locations. We are not ashamed of our faith or our music. In both places we give 110%, leaving them with the message that we love them, appreciate them and God does too."
Tim Mills has spent a lifetime loving God and others. His desire is to effectively show that love to others so they can also experience the love of their Heavenly Father. "I'm the son of a minister, raised in church my entire life," Mills shares. "There is not a part of my memory where church wasn't an integral part of it. [My bothers and I] started singing as a group when we were in our teens. Our youth group for some strange reason couldn't get the harmonies for The Kingsmen's Meet Me At The Table and it was decided that we'd just go ahead and do it as a group. It was a big hit, and one special during the youth choir became two songs and so on. Eventually we got calls for us to sing instead of whole youth group. From there it blossomed into traveling to the United States, Canada, and the Caribbean." The Southern Brothers have continued all these years, trying to fulfill the calling God has placed on their lives.
"I think God calls me and others to love people where they are at." Mills continues, "My job isn't to get people saved, my job is to love them, to be honest with them and to be real. I think God wants us to be patient and love people, giving them time to formulate the questions themselves instead of pushing answers to questions they haven't thought of or are ready to ask."
Mills knows that this is God's purpose for the group and for himself. "Be there for people and allow God to use His timing instead of you, or me, messing it up. When you've proven that you love them, the questions will magically come."
As the Southern Brothers Reinvented, the Mills brothers hope to reach many new listeners who can be loved into the Kingdom of God. The reinvention of their music has not affected their belief in the God who can answer any question. Rooted in their faith, trusting in the God who has lead them this far, they can bring the Answer to all who begin to question.
For more information on the Southern Brothers:
http://www.thesouthernbrothers.com/fr_home.cfm
http://www.facebook.com/SouthernBrothersBand?ref=ts
By Lorraine Walker
First published by SGN Scoops in March 2012Â http://www.sgnscoops.com/