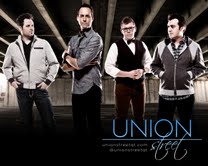 The Artist Spotlight shines brightly on the newly formed quartet, Union Street. The individual artist for this newly formed quartet, are no strangers to the gospel music genre. The members consist of Ryan Seaton, Aaron McCune, Toby Hitchcock and Andrew Goldman. "We are so excited to announce the start of what we hope to be, a long and successful journey together!"
It all started in 2011 with an upcoming solo concert by Ryan Seaton in his hometown of Evansville, IN.  Ryan recalls: "I wanted to surprise the audience by putting together a quartet just for that evening as an extra bonus to the concert. I started to brainstorm of the talent I would like to bring to the stage with me. On my brother's recommendation I contacted Toby Hitchcock. He is a tremendous tenor.  Toby has a recording studio in his house, so we put down a couple of tracks together. The blend was amazing but we still had to find the right baritone and bass who lived close by to complete the quartet. I remember calling Andrew Goldman and Aaron McCune and asking if they were interested and they jumped right in."
As the group took to the stage the night of the concert "it just felt right," Ryan explained. The audience was on their feet so much that Ryan joked and said "You guys are just going to have to sit down!"  Members of the audience started posting videos of the concert on You Tube and to their Facebook pages. It started a phenomenon and we started getting request to sing at other venues.
Union Street is such an unusual name for a quartet or is it? The name Union Street was chosen by Ryan. "I begin to think about the faithfulness of God in my life and the new path he had set before me and that's when I came up with Street.  I began to realize that we we're a group of unity and that's when Union Street was born!"
Those who knew Ryan Seaton as a small child would find it hard to believe he is now performing on stage night after night before thousands of people. This quiet, shy young man inherited a love for music from his mom, who sang in country Gospel groups and as a soloist most of her life. Ryan was always too shy to sing in public until a pretty girl coaxed him into joining the choir in the seventh grade. That pretty girl named Krista would later become Ryan's wife and serve as a constant encouragement to him as he continued to perfect his God-given vocal ability. After auditioning for several quartets, Ryan joined the Melody Boys Quartet. He traveled with the group for almost a year before receiving the call that would take Ryan's dream to the next level. "Ernie Haase called me and said, 'Are you ready to sing?' I didn't have to think about that question; I was ready," Ryan recalls with a big smile. Ryan went on to join Signature Sound Quartet where he continued to cultivate his music and vocal ability. This was the opportunity which opened doors to what God had planned for his future.
Toby Hitchcock fills the tenor position for the quartet and comes from a rich family heritage of music. Toby had a very lucrative career when he was asked by a friend in the music business, Justin Rivers, to join his new country Gospel group, Austins Bridge. Over the next two years, Austins Bridge went on to  be nominated for several Dove Awards, winning one, and then in 2010 went on to be nominated for a Grammy, for their latest album, which was produced by Jay Demarcus of Rascal Flatts.
Andrew Goldman holds the baritone position and is the youngest member of Union Street. In 2006, Andrew accepted the position as the lead singer with the same group his father sang with, the Conquerors Quartet, based out of Evansville, IN. During his college career, Andrew managed a gospel group that is sponsored by Oakland City University, called Earthlight. Many full-time gospel singers have been a part of former Earthlight groups, including: Dusty Barrett with Soul'd Out Quartet, Jeremy Lile of Brian Free and Assurance, Scott Fowler of Legacy Five, and Ernie Haase of Ernie Haase and Signature Sound.
"One important factor I have learned in my musical career is that Southern Gospel music is NOT just Christian entertainment," Andrew states, "but a tremendous opportunity to reach, not only the lost, but to uplift and encourage many Christians who may be hurting. If through this ministry, one soul is encouraged, then we have accomplished our goal. I'm honored to be a part of Union Street and to have the opportunity to share the stage with these incredibly talented men of God."
Aaron McCune rounds out the group and fills the bass position. Aaron at the age of 18 joined The Anchormen from North Carolina. They called him after hearing a tape that Aaron's cousin, Squire Parsons had given them. He stayed there for a few years until taking a job singing at a theatre in Pigeon Forge, Tennessee. He eventually joined Palmetto State Quartet from Nashville, and then Gold City. "I had a great time traveling full time, seeing the country, meeting people." Aaron says. "But I just got burned out completely and wanted a regular life with a normal family. Then I got a call one day from Ryan, asking me if I'd like to sing a little bit with some friends, and the rest is history!" Aaron's achievements include being nominated for a Dove Award, being nominated for Singing News Fan Awards several times and favorite bass four times. He has been honored by Governor Fletcher of Kentucky and has sung on five #1 songs on the charts. Aaron has also backed Willie Nelson and Wynonna Judd. And…. Aaron is actually in the Alabama Music Hall of Fame!
The group's first project is scheduled to be released this fall.
Check out Union Street by viewing their website at www.unionstreetqt.com . You may also connect with them via Facebook and Twitter.