"I just want to make a mark, I just want to light a spark in this world, Lord Jesus, for You." These beautiful words and the soaring melodies that accompany them have touched hearts and lives of many since the song was first introduced by Kim Hopper twenty years ago. Since then this song has been recorded by artists in both America and Canada, and the writer, Rhonda Spurrell from Kingston, Ontario, continues to make her mark, writing and singing about her Lord.
This award-winning Canadian songstress is another of the lesser known major talents that Canada has to offer the Christian music industry. Rhonda Spurrell has written over 100 songs, recorded several albums and traveled extensively throughout North America sharing her music. Her music has traveled ahead of her to Europe, where she hopes some day to follow it. Spurrell's songs have been recorded by the likes of Henry and Hazel Slaughter, The Hoppers and The Torchmen, among others. She has shared the stage with gospel's best, including The Gaither Vocal Band, The Brooklyn Tabernacle Choir and The Talleys. But these are just credentials on a rather impressive resume. The artist herself is even more versatile than her multi-faceted musical biography.
"I have been a Music Pastor, Youth Pastor and Assistant Pastor for over 20 years now," says Spurrell. "I also have a solo ministry as well as [having been a] speaker from time to time." Along with these activities, Spurrell has a degree in Biblical Counseling and is an accomplished musician, playing Acoustic Guitar, Bass Guitar, Drums and Keyboards. Some might find all of this activity too much to handle, but this busy artist somehow finds time for what is important. "When I was diagnosed with Myasthenia Gravis that slowed things way down for me. I have had to really balance my time and energies with the help of the Lord."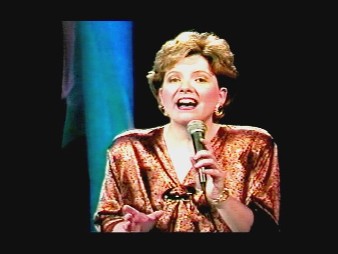 Myasthenia Gravis is an autoimmune, neuromuscular disorder causing muscle weakness and fatigue. Spurrell has had to face chemotherapy, radiation and surgery in her fight against this disease. In spite of all this, her focus both personally and for her music, remains on the Lord. "My commitment to Christ came in my early teens," says Spurrell. "I discovered how wonderful He is and what salvation has done for me. I had to spread the word the best way I knew how and that was music." She says that her desire for her ministry is, "That folks would easily understand the message in my music and that they would feel His Spirit drawing them to give their lives to Jesus Christ."
Although her name may not be a byword in mainstream southern gospel, Rhonda Spurrell is certainly known in eastern Ontario gospel music. Phil Foster, artist and promoter from Peterborough, Ontario, is a huge fan of Spurrell's. "Rhonda opened up a couple of times for [my concerts, including] Perfect Heart, if I remember correctly. Rhonda has always ministered when she sings. I noticed that from the moment I first heard her. She has a 'Vestal Goodman' kind of power at times, but can also sing as soft as an angel. Her song 'I Just Want to Make A Mark' has always been one of my favorite songs. I think the country needs to hear about this talent!"
A quick listen to the song clips on her website listed below and any music enthusiast will become a Rhonda Spurrell fan. Powerful vocals and songs with an equally strong message are the focal point of Spurrell's ministry. She performs her own music as well as those written by other artists, and recently recorded a album of favorites entitled, 'By Request'. "My favorite song would be That's Him," says Spurrell. "It says it all about who God is and what He can and will do for His people." However, the tunes that bring the most reaction from her listeners are not the cover songs from other artists, she says.
"Clearly the songs that touch people the most are the ones I have written," Spurrell continues. "[These are] songs come from personal experiences of mine, my heartfelt prayers and desires. I think songs that come from the innermost often touch [another] person's innermost." Her songs not only make an impression on her audience, but on other artists as well.
"Although it's been some time since we worked with Rhonda, her music has made a mark on my life," says Mike Moran of the Torchmen Quartet. "I recorded one of her songs a number of years ago, 'I Just Want to Make a Mark' and it has reverberated in my heart many times. [That is] because for all of us who go up and down the road proclaiming the gospel with music, this indeed is our prayer."
It has been Rhonda Spurrell's prayer for many years to make a mark with her music. "I came from a musical family," says Spurrell. "I have three sisters and we cut our teeth on gospel music. Dad and Mom have both been musicians and songwriters as well as pastors for over 40 years."
Spurrell's family is very important to her and to her ministry. "When I was two, my family would let me sing in church. Of course, it didn't hurt that Dad was Pastor. I had a guitar like Dad's, the smaller version, and played beside him. I felt so proud to be doing what my Dad was doing and just being up there beside him." Spurrell continues, "I have always had their support and often they will drive me where I need to go. They are always praying and working behind the scenes. My folks and extended family have been my spiritual mentors all through my life."
Spurrell notes that she has learned many things from her family, including: "'Being real is best', and, 'serving Christ no matter what', is our purpose for living. And, 'God is good all the time'!"
Besides her family, popular gospel artists of the 70's and 80's had an effect on Spurrell's career. "When I was younger I was influenced by Evie Karlsson and the Rambos. The spirit of their music touched me and their message was very clear, never blurred or compromised. It's my prayer that my music is the same and that His Spirit would come forth in the offering of it."
Rhonda Spurrell's clarity and focus rings through the message that God has given her for today. "He has been saying that we, His people, need to get back to our First Love, Jesus Christ. Don't make the gospel complicated, it isn't. We make it so by creating divisions within the body of Christ, from what kind of music to worship to, to what length our skirts should be. Jesus was not, and is not, nor ever will, be put in a box!"
Spurrell continues, "He wants us to come as children and serve Him with our whole heart, mind and soul. 'Loving one another as ourselves', that is His greatest commandment. We don't have time for anything else really. I believe He is coming back very soon and many still need to receive Him as their Saviour and Lord. That should be our focus!
This multi-faceted, multi-talented lady is driven by the desire to reach others with the love of Jesus, regardless of any difficulties she might face in life. Even in the face of devastating illness, she continues to press, "toward the mark for the prize of the high calling of God in Christ Jesus", as found in New Testament scriptures, Philippians 3:14. In doing so, Rhonda Spurrell and her music will keep making a mark in the lives of many, for eternity.
For more information:
http://www.rhondaspurrell.com/
Rhonda Spurrell can also be found on Facebook and MySpace.