By Lorraine Walker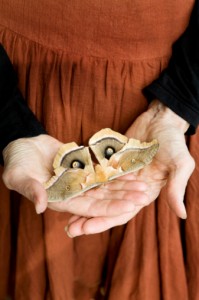 Some time ago I visited a Butterfly Conservatory. It's one of those tourist attractions
that claims to have thousands of butterflies in a lush tropical atrium and is therefore
able to charge the price of a small car for the entrance fee. Brushing aside the thought
of spending next month's rent on a bunch of insects, I happily wandered through the
green paradise, which was indeed filled with the lovely colours and graceful flight of
butterflies.
One area of the building housed the hatching window where you could watch new
butterflies emerging from their cocoons. It was a painstaking process and I was saddened
to see some of the flying creatures become forever damaged when their wings folded
before they were fully open. Sometimes the workers in the conservatory can help the
butterflies if they are with them at the right time, are observant to the plight of the insect,
and are able to dry the fragile wings until they are strong enough to completely unfurl.
It made me think of people who are new in the faith and who become damaged by
circumstances or thoughtless words or deeds of those around them. These baby Christians
sometimes become handicapped and are often unable to find healing for their crippled
faith. There is healing available of course; but sometimes the depth of hurt is too severe
for them to find it on their own. If strong, mature, observant Christians don't help them,
this damage may continue and prevent them from living an abundant life.
Then there are mature Christians who may be hit with an incredible storm of trial and
pain. It may be illness or death, it may be human weakness or abuse, it may even be
betrayal that causes this storm. It may happen while the Christian is stepping out in faith
into an untried area of growth and while that person is rejoicing that God is taking them
further, tragedy strikes. It may be a crippling blow that shakes them to their roots, takes
their eyes off their Lord, and causes them to fall. The result of this may indeed be as
damaging as the injury to the new believer. Both may see the same loss of hope and joy.
Both are stunted and unable to revel in the soaring freedom of life they were meant to
live.
I've seen people go through this type of pain and come through it with a greater joy and
dependence on the Lord than ever. They remind me of Job. He had it all and had no
reason to believe that he could depend on his Redeemer. He hadn't seen God at work,
over and over, like Abraham did. He didn't see angels or burning bushes or chariots of
fire. He just believed God. And when tragedy struck, He still believed God. "Though He
slay me, yet will I trust Him," Job said. After the trial, his faith was even greater.
I've also seen people who go through this pain and it changes them in a deeper way. The
person who loved unconditionally now has walls; the one who gave generously now is
tight-fisted. The friend who was always there is no longer present. I grieve for them and
pray for them even as I go through one of those life-altering storms. I pray that I may
be like Job and allow the storm to bring me closer to God. I pray that those who God
RC 6.10 Butterfly's Wings.doc
has placed around me to strengthen me, uphold me in prayer and 'dry my wings' will be
vigilant and continue to do so. And I pray that God will use me in a similar way, to be
one that helps the broken, and a lifter of the fallen.
May this mountain that I'm climbing
Lead me closer to the Throne
Closer to Your love and mercy
And to my Eternal Home.
~

Born and raised in southern Ontario, Canada, Lorraine Walker has been interested and involved in Southern Gospel Music since the mid-80's. As part of a ladies' trio, she became more familiar with this style of music and the people that made it popular, and began writing occasional articles for a Canadian publication on Southern Gospel.
Known online to her internet friends as "CanChik", Lorraine began writing a monthly inspirational article entitled "CanChik's Corner" for www.johnlanier.com in 2002.  This column began on www.sgmradio.com in January of 2005, a popular southern gospel music radio and information website which also publishes other features and interviews with her byline.
"Reality Check" is a monthly column relating the realities of living every day as child of God. Lorraine welcomes your comments and suggestions, and you can write her at sgmradio.lorrainewalker@gmail.com