By Jennifer Cote
Here in the Bay Area, we often know fall by the heat wave that can descend upon us. While the rest of the country notices the pumpkins ripening and all varieties of apples gracing the produce aisle, we wipe a bit of sweat away and double-check the calendar.
But most of us share one big cue in common: The kids are back in school! Moms might sigh with relief or with a twinge of bittersweet nostalgia for the summer that's passed. We also might time our outings so they don't coincide with the extra traffic that hits around 3 pm.
I start thinking about baking something tasty but still nourishing; that always spells autumn for me. And perhaps for other moms too, with a little extra time on our hands, we can put the creative energy to use in the kitchen, blessing the family with a few extra yummy baked goods.
Even before establishing The New Deli in 1985, husband Tom and I made and delivered packaged fare to health food stores throughout the Bay Area as "Foods for Thought". Our Banana Bread was quite a hit. I'd almost forgotten about that, until my mom recently requested the recipe. She certainly hadn't forgotten! So I got the old recipe out, written in a sort of code, for making eight loaves at a time. I needed to downsize it a bit, and I thought I'd tweak it a little while I was at it.
When we baked in wholesale-size quantities, we had our own flour grinder, so we were assured of fresh whole wheat flour. Fresh is important, as I've come to believe I'm better off baking with all-purpose flour than to use rancid whole wheat flour. If it isn't freshly ground, the wheat germ found in the whole wheat flour goes rancid quickly. And rancid oils are even less healthy than white flour!
Our flour grinder became defunct over the years of use, so I decided to revise the original banana bread recipe (which had called for whole wheat flour). The new recipe is probably more practical, unless you're fortunate enough to have your own flour grinder. I replaced the whole wheat flour with a mix of all-purpose flour and wheat bran; wheat bran contains virtually no oil (unlike wheat germ), so it keeps well. And as I've discovered I can easily grind flax seed in my little electric coffee grinder, I decided to add that to the bread too; fresh flax seed meal is full of essential oils and other healthy, beneficial nutrients.
Now our own kids have grown up, but a new generation of grandkids is teaching me some valuable lessons. One of those lessons is: Even if I might bake some extra goodies for the grandchildren, no one in the family seems to think they're too old for another slice of banana bread. Thanks, mom, for reminding me: There's always another recipe to dust off and share with the gang!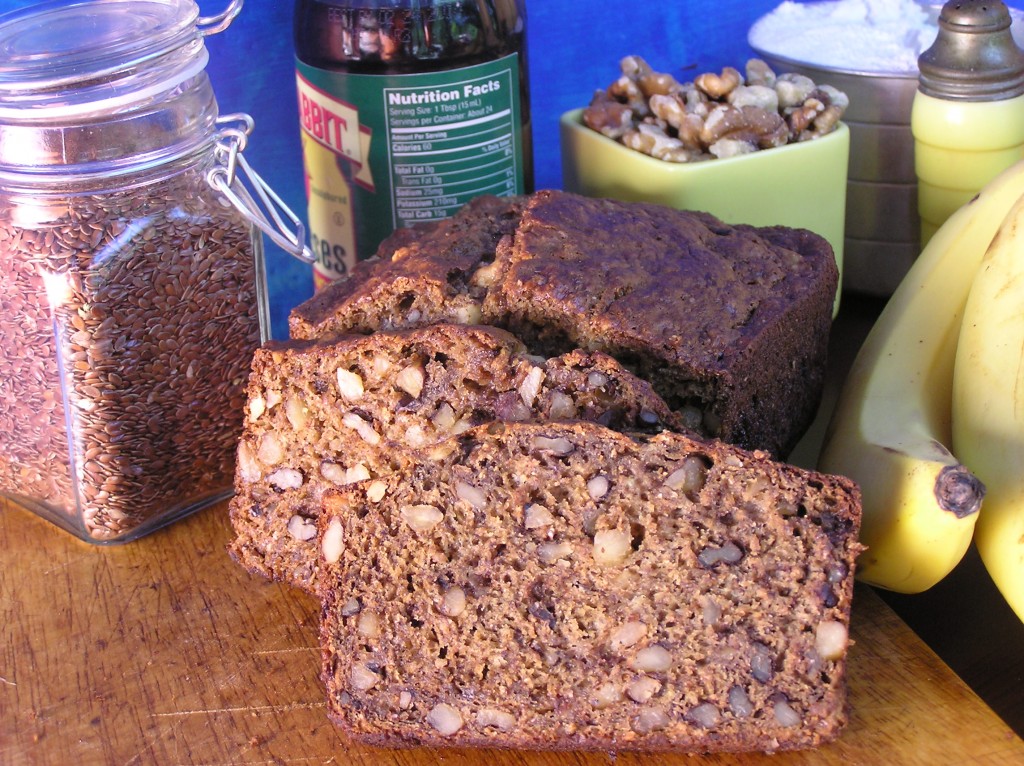 Banana Bread
This recipe puts ripe bananas to good use. If a few in the bunch are already ripe, you can store them in the refrigerator for up to a week before making into this recipe. And if you have access to freshly-ground whole wheat flour, you can substitute 2 1/4 c. whole wheat flour for the all-purpose flour, flax seed, and bran. Makes 2 8″ loaves.
Ingredients:
* 1 3/4 c. walnuts
* 1 c. brown sugar
* Slightly rounded 1/8 c. molasses (2 TBS.)
* 1 2/3 c. all-purpose flour
* 1/3 c. wheat bran
* 1/2 tsp. salt
* 1 tsp. baking soda
* 2 TBS. flax seed, ground into meal*
* 1 1/2 c. mashed, ripe bananas (about 4-5 ripe bananas; almost 2 1/2 lb. to start)
* 2 eggs
Preheat oven to 350 degrees. Butter or oil two 8″ bread pans.
Toast in oven 8-10 minutes until golden: > 1 3/4 c. walnuts
Into a mixing bowl, blend together: > 1 c. brown sugar > slightly rounded 1/8 c. molasses > 1 2/3 c. all-purpose flour > 1/3 c. wheat bran > 1/2 tsp. salt > 1 tsp. baking soda > 2 TBS. flax seed, ground into meal*
Set the above mix aside. In separate bowl, use a potato masher to "puree" the banana: > 1 1/2 c. mashed, ripe bananas (about 4-5 ripe bananas; almost 2 1/2 lb. to start)
Stir into the mashed banana: > 2 eggs
To the bowl of banana and egg, add: > The sugar/flour mixture > The toasted walnuts
Pour batter into pans, bake at 350 degrees for 40-50 minutes, until toothpick in center comes out clean.
* A small electric coffee grinder does well to whir the flax seeds into meal
~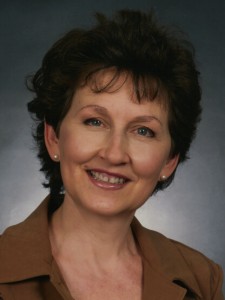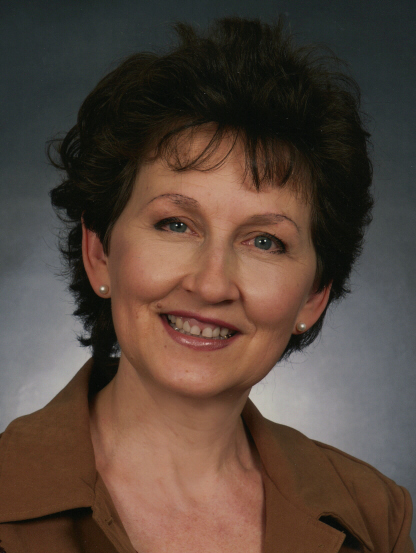 Jennifer Cote, with husband Tom, opened The New Deli in Pinole, CA in 1985. Her cookbook, "From the Land of Milk and Honey", is available at the shop, and online. More recipes, plus a lunch and catering menu, can be found at thenewdeli.com. Comments, questions? Email Jennifer at thenewdeli@hotmail.com.