By Jennifer Cote
The summer season means weddings, showers, and other party occasions for us at The New Deli. Even folks at home can consider hosting that special occasion party; the nice weather means people can pour out into the back yard without feeling cramped. The flowers are blooming, the sun is shining, but… what to serve at such events?
I've tried many party food recipes in my years in the food business. My first venture was when I was ten years old, planning my own birthday party with my mom. We pulled out mom's cookbook, and I zeroed in on a number of classy-looking appetizers. They looked so cute in the pictures. I imagined impressing my friends with a beautiful spread of gourmet treats.
The reality was far from impressive. After spreading crackers with a special blend of cheese, spices, and other ingredients, painstakingly decorating each one with olives and such, I discovered that the crackers sucked up all the moisture and became soft, texture-less bites of disappointment. Sigh. First lesson: The food ought to not only look good, but taste good as well.
A challenge of any party planner is how to prepare a lot of fresh, tasty food without it being too labor intensive. The frozen section of warehouse-style grocery stores often contains prepared appetizers, "ready-to-serve". But something's missing in such foods; they can hardly compare to freshly prepared foods. And they may be cost-prohibitive as well. Making some homemade food is a worthy aspiration.
Having enjoyed Bruschetta in the past, I thought I'd create a New Deli-style version, to serve at parties. But as with most of our recipes, I had to find a way to streamline. I wouldn't be rubbing a garlic clove over each individual slice! And a truly authentic Italian Bruschetta is just the bread dipped in virgin olive oil, with a hint of fresh garlic. But I would make my own interpretation. And it wouldn't be soggy!
Part of the method of streamlining we do at The New Deli involves "steeping" the fresh chopped garlic at the last minute, cooking it for just a minute in the microwave. I've tried steeping garlic in a pan, but the results can be unpredictable. (I've burned the garlic on several occasions.) The garlic flavor really comes through by cooking it just a bit; this can be easily accomplished with the microwave. The secret is to add a touch of moisture (a small splash of water will do), and a bit of olive oil to help pick up the flavor. With a few tips, we party planners can perhaps have a beautiful spread after all.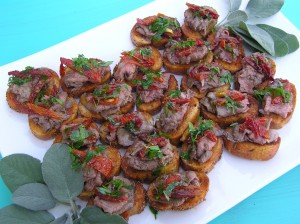 New Deli Style Bruschetta
This is fast becoming a hit for parties, teas, and other events at The New Deli. Save money with the recipe below, marinating your own sun-dried tomatoes; bulk dried tomatoes are far cheaper than jars of prepared ones that are already soaked in oil. This recipe makes 30 appetizers, serving 10-15 people, as part of a selection.
Ingredients:
* 1 baguette
* Paprika (for color)
* 1/4 c. olive oil for tomatoes, preferably virgin, plus more for dipping bread into, steeping garlic, and marinating beef in
* 1/3 c. sun-dried tomatoes, pre-sliced
* 1/2 tsp. hot pepper oil
* 2 TBS. water
* 3/4 tsp. salt
* 1/2 TBS. fresh, chopped garlic
* 1 tsp. water
* About 2/3 lb. thin-sliced roast beef
* 1TBS.balsamic vinegar
* 1/2 TBS. sweet hot mustard
* parsley for garnishing
Days or weeks ahead of time, prepare the marinated sun-dried tomatoes. This part of the recipe can be multiplied. (Extra of this mix can be stored in the refrigerator; add to pasta dishes or chicken to perk up the menu). Let the tomatoes soak for half a day or more, to reconstitute them, before adding the oils. Use: > 1/3 c. sun-dried tomatoes, sliced thin > 2 TBS. water > 3/4 tsp. salt
After the tomatoes have been soaked, add the oils and store in the refrigerator until ready to use: > 1/2 tsp. hot pepper oil > 1/4 c. olive oil
A day ahead, or earlier in the day, prepare toasted bread slices. Preheat oven to 375 degrees. Once preheated, turn oven off. To make easy bruschetta, slice one baguette thinly into 30 rounds or so. Dip the bottoms briefly in some olive oil mixed with a bit of paprika (for color). A flat pan works well for this. Lay slices out on a cookie sheet, oiled side up; let toast in preheated oven that's been turned off. (These may get done in 10 minutes or so, or can be left overnight in oven, depending on how many are made, and type of oven.)
In small bowl, mix together: > 2 TBS. olive oil > 1TBS. balsamic vinegar > 1/2 TBS. sweet hot mustard
To the small bowl, add the beef and mix well: > about 2/3 lb. thin-sliced roast beef, sliced through again into strips
To maximize flavor of sun-dried tomatoes, mix in some garlic on serving day. Small amounts of garlic are easily steeped by microwaving in a small bowl, for 30 seconds or so: > 1/2 TBS. fresh, chopped garlic > 1/4 tsp. water > small splash olive oil
To assemble the appetizers, put a small amount of the beef onto each slice; add a few slices of the seasoned sun-dried tomatoes, and top the appetizers with chopped fresh parsley for extra color. Delicious!
~
Jennifer Cote, with husband Tom, opened The New Deli in Pinole, CA in 1985. Her cookbook, "From the Land of Milk and Honey", is available at the shop, and online. More recipes, plus a lunch and catering menu, can be found at pccuisine.com. Comments, questions? Email Jennifer at thenewdeli@hotmail.com.