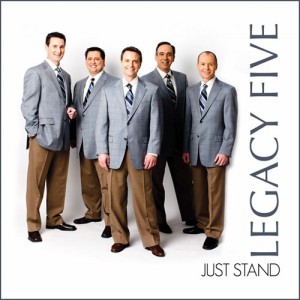 By Chad Hayes
A few months ago, I had the privilege of reviewing Legacy Five's newest album, "Just Stand." The album was produced by none other than Lari Goss, and the lineup featured Frank Seamans (tenor), Scott Fowler (lead), Scott Howard (baritone), Glenn Dustin (bass), and Tim Parton (pianist). I mentioned in that review that Gus Gaches had replaced Frank Seamans at the tenor position and that the group was going to re-release the same album with his vocals in place of Seamans' vocals.
At the conclusion of that review, I wrote these words: All I can say is that Legacy Five did very well in broadening their vocal horizons. Their previous album, God's Been Good, was one of the best they've ever done. Just Stand, however, surpasses that one easily. In fact, this might just be my favorite Legacy Five album of all. The song selection and arrangements were top-notch, and the vocals were solid throughout. Because of this, I'm anxious to hear how the album sounds with Gus Gaches on tenor instead of Frank Seamans. If it's as good as this one was, then Legacy Five is on the right track. Well, Legacy Five was kind enough to provide me with a copy of the Gaches version of the album so that I could compare it with the Seamans version. Many thanks to them for allowing me to do this.
I'm going to go song-by-song and give my impressions. Also, the format will be a bit different from the reviews of mine that you have (hopefully) become accustomed to reading.
The first song is an old Cathedral Quartet song. "New Born Feeling" is an up-tempo song whose "jazzy" arrangement is slightly different than that of the Cathedrals. The tenor has the lead through most of the song, which gives a good opportunity for comparison right off the bat. Seamans has a harder "edge" to his voice than Gaches does, so Seamans was often very prominent in the mix. On this song, you can tell that the sound has changed a bit due to Gaches' softer vocal, but it also sounds like they left Seamans' stacks in during the tenor pickups on the chorus. (Although I could be wrong about this). The next song is a beautifully-orchestrated rendition of "Great Is Thy Faithfulness." The tenor feature on the second verse is the point in the song where it really kicks into high gear, and yet Seamans and Gaches approach it differently. Seamans really drives it with a prominent, cutting vocal. Gaches, while still giving it the power it needs, also gives it a more rounded feel. Gaches seems to have more of a soulful flair to his voice than Seamans. Song No. 3, "One Thing God Can't Do," is a Tim Parton feature whose light background vocals don't really give us much of an opportunity for tenor comparison. The fourth song, the up-tempo "Just Stand," is a Glenn Dustin feature. However, there is a noticeable difference in sound in some places here- most notably the last chorus. Seamans seems to hit the highest notes a bit more easily than Gaches, which might be an indication that Seamans has a slightly higher range. However, it could also be due to Seamans' style of singing- he tends to "let loose" and hit his higher notes with volume and power.
Song No. 5 is a power ballad that has some tenor highlights to compare. The two versions of this song actually have distinctly different sounds and feels to them. The Seamans version is dominated by the tenor vocals, while the Gaches version gives the listener more of a taste of the all-around group blend. The next song, "Above All Circumstances," features Scott Howard and is another song that really offers no opportunity for tenor comparison. However, the seventh song, "When They Found Nothing," is another one that seems to have a better blend with Gaches than with Seamans. Song No. 8, the up-tempo "My Soul Is Firmly Anchored," sounds almost identical on both versions. There area only very minor differences not worth mentioning.
The next song, "Statement Of Faith" is a collaborative effort between members of Legacy Five and two other groups. However, since Legacy Five's tenor is not part of this song, we'll go on to the next one. "Thankful For The Change" is another song that sounds pretty much the same on both versions of the album. Then, there is the last song, the mid-tempo ballad "'Til We Meet Again." On this song, Seamans comes as close to Gaches' style of singing as he ever does, while still remaining true to his own vocal style. While Gaches' version is good, the personal connection behind this song for Seamans and the group make it hard to imagine anyone else singing it.
In short, this re-cut album only gives you a slight glimpse of Legacy Five's new sound with Gaches at tenor. Sometimes you can tell a distinct difference, and sometimes you can't. You may wonder how this can be since Seamans and Gaches are two totally different tenors stylistically. Well, it's very simple- the songs on this album were chosen with Seamans in mind since he was the tenor at the time it first came out. Thus, when Gaches re-cut the tenor vocals, he wasn't always singing songs that fit him. Still, he did a good job at making some small changes to make some of the songs more "his." And even though you can get a small taste from this re-cut album of how they sound with a new tenor, the true test won't come until they release another new studio album with all of the current personnel in mind.
While I have always been a fan of Frank Seamans and thought Legacy Five sounded good with him as tenor, I think that a whole new door has opened for them with the addition of Gaches. I mentioned in my original review that this album represented somewhat of a new style for the group, and I actually think that a tenor like Gaches is what will allow them to more fully explore that style. I look for Legacy Five to refine their blend even further and explore some more complex and close harmonies and arrangements on future albums- especially if they keep having Lari Goss do their producing.
Overall, my impression of the Just Stand album hasn't changed. Both versions, while different in various areas, are still equally good. Thus, my original rating of 10 out of 10 microphones still stands!