By Chad Hayes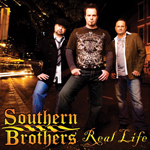 Group Name: Southern Brothers
Website: www.southernbrothers.org
Album Title: "Real Life"
Song Titles:
1. Back To God
2. The Walk
3. Jesus Came On A Cross
4. It's Always Love
5. Stop This Train
6. Unstoppable
7. Southern Born
8. He'll Do Whatever It Takes
9. Goodbye
10. Finally Home
Southern Brothers has been singing together as a group for about 20 years now.  They are exactly what the group name suggests- Tim, Todd, and Scott Mills are actual brothers from the state of Missouri.
"Real Life" is the group's newest album.  The album has a very progressive, driving, country/bluegrass/Southern rock/Southern Gospel feel to it.  That sounds like a mouthful, but it's the best way to describe a sound that literally has been influenced by all of the above-mentioned genres.  It also fits with one of the group's main goals- to reach people "beyond the church walls".  To that end, "Real Life" is a collection of four original songs and six cover songs.  The artists covered include Rascal Flatts, MercyMe, John Mayer, Randy Houser, Steven Curtis Chapman, and Phillips, Craig & Dean.  Group member Scott Mills penned two of the original songs, with the other two coming from songwriters Dave Williford and Gerald Crabb.
Now, the moment you've all been waiting for: THE SONGS!
The album starts off with its first radio single, "Back To God".  The sound of this song lends itself to possibly being a crossover single to both country and Southern Gospel radio.  This song has a simple, straightforward message that will capture the attention of many listeners.  The next song is a mid-to-up-tempo cover of the Steven Curtis Chapman song "The Walk", found on his "Signs Of Life" album.  I've always been a Steven Curtis Chapman fan, so I was interested in hearing how this song would translate into a more country style with a trio of vocals instead of a soloist.  I have to say that Southern Brothers' version gives the song an interesting twist that many will enjoy.  Next up is the first of the album's original songs.  Dave Williford penned the slow-to-mid tempo "Jesus Came On A Cross".  In my opinion, Williford is one of the best songwriters in the Southern Gospel/Country Gospel realm, and this song is only more evidence to that fact.  This song uses transitions from minor to major chords to create a mood that fits the message of the song well.  The fourth song is another original written by Gerald Crabb.  "It's Always Love" is an up-tempo song with an older country feel.
Song #5, "Stop This Train", is a mid-tempo song with a lighter feel than most of the previous songs.  It features a prominent acoustic and piano track that works well with the vocals, and most of the song is done as a solo.  Next up is a cover of the Rascal Flatts song "Unstoppable".  This is another mid-to-up-tempo song with a driving arrangement.  Scott Mills wrote the seventh song, an up-tempo number called "Southern Born".  This one has sort of a progressive bluegrass feel that I think listeners will like.
The group covers "He'll Do Whatever It Takes" by Phillips, Craig, & Dean as the eighth song on the album.  This has always been one of my favorite songs due to the strong message of hope and encouragement, and the country feel that Southern Brothers brings to it doesn't harm the overall listening experience at all.  The last of the original songs, again written by Scott Mills, is a slower ballad called "Goodbye".  On an album full of mid-tempo and up-tempo songs, this is a style and tempo that was sorely needed in my opinion.  Finally, the album finishes up with a slightly up-tempo of MercyMe's "Finally Home".
Admittedly, it took this album a couple of spins for it to start growing on me.  However, I've come to the conclusion that this is a solid project.  There are a few things that I feel need a bit of work, though.  First of all, I'd like to hear more of the vocal blend instead of a prominent lead vocal with the harmony parts in the background.  Secondly, there needs to be a bit more variety in song tempo.  Another slower ballad would have made for easier listening.  I like up-tempo, driving songs, but there was a bit too much of that style throughout the album.  Finally, I'd like to see the guys play more with dynamics.  If you notice, the songs I listed as my favorites were ones that showed some softer dynamics.  I don't think that the group's overall sound and focus would suffer from doing this.  Rather, I think it would take their sound up another level.  Still, the song selection was strong, and the group's "signature style" is unique and, in some ways, a breath of fresh air.  Finally, each of the guys is a solid vocalist in his own right.  Overall, I give this album a rating of 8 out of 10 microphones!
Favorites: "Jesus Came On A Cross", "Stop This Train", and "Goodbye"