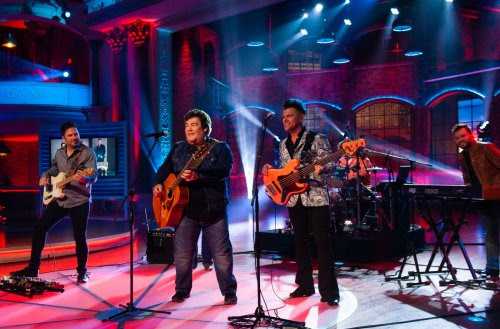 Nashville, Tenn. (February 15, 2019) – Music legend Leroy Van Dyke and 90s country hitmakers Shenandoah are set to appear on this weekend's edition of Huckabee on TBN.
Shenandoah will join show host
Mike Huckabee
on set for the broadcast premiere of their new single, "
Little Bit of Livin
," while Van Dyke sits down with the former Arkansas Governor at a Nashville-area diner to discuss his 60+ years in the music business. Van Dyke also performs his classic hit, "
The Auctioneer
," for a web exclusive performance that will be available for viewing online later this weekend at
TBN.org
.
Catch Van Dyke and Shenandoah on Huckabee this Saturday night, February 16 at 7 PM CT / 8 PM ET. The program will re-air on Sunday, February 17 at 7 PM CT / 8 PM ET.