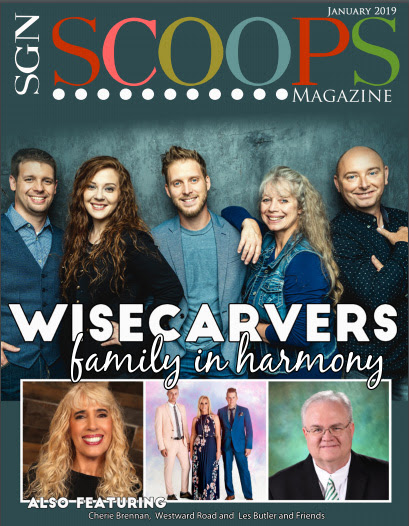 Nashville, TN The January issue of SGN Scoops Magazine is hot off the press and filled with some really great features and articles!  This month is the first installment of Les Butler's Bluegrass column. He is highlighting Dan Rochester of The Rochesters.
The Old Time Preachers Quartet's lead singer, Bob Sellers is the featured story in this month's issue that talks about his transition from the Kingsmen and how faithful God has been through the process.
We're also excited that our friend, Dan Bell is featured in the DJ Spotlight this month!
Family Music Group has 5 out of the top 10 songs on the SGN Scoops' January Bluegrass Chart.  Including the #1 song, "The Church Bell" by the Little Roy and Lizzy Show and the #2 song, "That's Grace" by the Primitive Quartet! We're excited that the Williamsons have the #4 song on the SGN Scoops Southern Gospel Chart with "Every Moment, Every Mountain, Every Mile"  and that FMG promoted four of the songs on this month's chart!
We are thankful to have such a presence in SGN Scoops magazine's January 2019 issue.
If you would like the opportunity to read this issue, follow the link below:
http://www.sgnscoops.com/sgnscoops0119.pdf