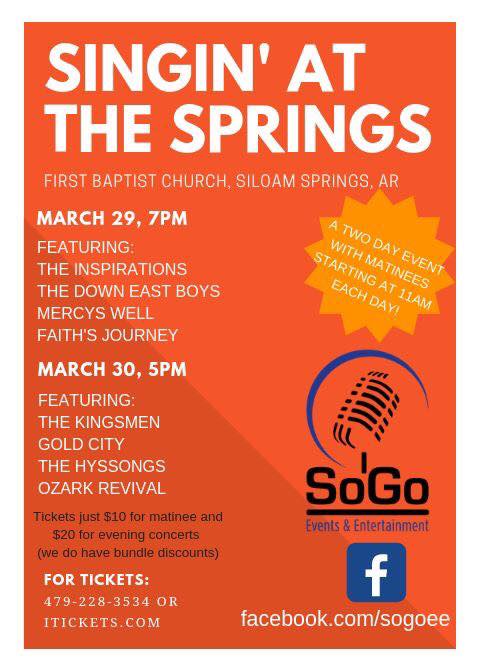 Where can you see legendary groups like The Inspirations, The Kingsmen, and Gold City at one event in Northwest Arkansas? Or how about a group like The Hyssongs who had 2 number one songs last year, and their current song "Run The Race" at number one (written by an Arkansan)? How about Faith's Journey…2018's winner of the favorite dinner show in Branson, MO? Or, how about Mercy's Well who has charted multiple songs on the Singing News Charts? Where else can you hear local talent like Ozark Revival that features one of Arkansas' legendary dj's Jake McBride? All of this being emceed by one of the greatest emcee's in the nation, Danny Jones, editor-in-chief of The Singing News magazine! This is just the evening concerts! The matinees are going to be just as AMAZING! Come hear some of the best talent in all of Southern Gospel at our matinees. If you are a promoter or church looking to book groups, you will not want to miss the matinees. If you don't like to drive at night, the matinees are a great option at only $10.
We have several different pricing options to make this one of the most affordable multi-day events in the country. We have group discounts available, all-event discounts, preferred seating, and general admission.
Click on https://www.itickets.com/events/402105 for all the details or call us at 479-228-3534! Siloam Springs is centrally located…5 hours from Dallas, 3 1/2 hours from KC, 1 1/2 hours from Tulsa, 5 hours from Memphis. See you at Singin' At The Springs!