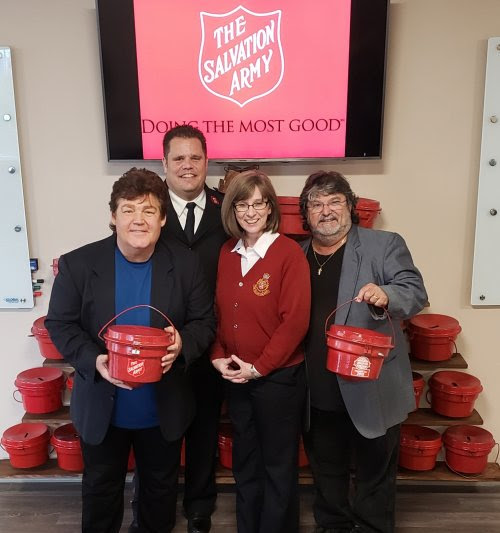 Nashville, Tenn. (November 9, 2018) — GRAMMY, ACM and CMA Award-winning country band Shenandoah is getting in the Christmas spirit early this year, announcing the group's first-ever holiday road show, the "Good Ole Fashioned Christmas" tour, supporting The Salvation Army.
Performing a mix of holiday classics, new tunes, and No. 1 hits that sparked the band's career more than 20 years ago, the multi-city tour will kick-off on Monday, November 19 at Nashville's annual Christmas 4 Kids charity event at the Ryman Auditorium.
"Truly it is the most wonderful time of the year, and we are so excited to be doing this Christmas tour," says Shenandoah frontman Marty Raybon. "Christmas music always brings such joy, and we are proud to be supporting The Salvation Army. What could be more fitting than giving the gift of music to others and spreading the Spirit of Christmas."
The band will continue to spread the Christmas cheer with additional live concerts in North Carolina, Kansas, Texas, the band's home state of Alabama and more. At every show, The Salvation Army's recognizable red kettles and bells will be placed outside of each venue to collect donations for those in need.
Last week, Shenandoah's Raybon and Mike McGuire stopped by Nashville's Salvation Army to tour the facility, seeing first-hand how their shows will make a positive impact on the lives of many Nashvillians. Currently, the Nashville chapter cares for nearly 200 people within its Supportive Housing Program, offering shelter to 120 family members — 77 children, 33 of whom fled domestic violence — in the family-designated lofts and 58 men and 14 women in the single men's/women's lodging. This nationally recognized and well-regarded non-profit provides housing to those in distress across the country.
"Christmas is about those miracle moments of communities singing, believing, loving, as one," shares Major Ethan Frizzell of The Salvation Army. "We give thanks that Shenandoah inspires such moments through music."
Shenandoah's 
Christmas Comes Alive 
record is available now on
iTunes
and includes "Good Ole Fashioned Christmas" and several more tracks fans can anticipate hearing during the run of holiday shows.
On Thursday, October 25, 2018, Shenandoah released their first music video in more than 20 years with their nostalgic single, "
That's Where I Grew Up
,"
 
featuring 
Michael Ray
. The broadcast premiere of the video debuted on 
CMT Music 
and 
CMT.com
, while the social media premiere was shared in collaboration with 
Country Rebel
. Starting Saturday, November 17, 
CMCÂ 
(Australia's Country Music Channel) will begin playing the video for fans "down under."
"CMC has been entertaining Aussie country music fans for over 16 years, and we've been waiting all this time for a new video from Shenandoah," says Tim Daly, CMC Program Director. "It's a long time between drinks as they say here. We are thrilled to support their return and play their new material for the first time."
 
"Good Ole Fashioned Christmas" Tour Dates:
Nov. 19 – Nashville, TN – Ryman Auditorium
Nov. 24 – Pelham, TN – The Caverns
Nov. 30 – Lake Junaluska, NC – Stewart Auditorium*
Dec. 1 – Cowan, TN – Christmas Parade (No performance)
Dec. 2 – Florence, AL – Faith Church
Dec. 7 – Emporia, KS – Emporia Grant Theatre
Dec. 8 – Grandbury, TX – Grandburt Live Theatre
Dec. 13 – Winston-Salem, NC – R.J. Reynolds Auditorium
Dec. 15 – Deadwood, SC – Deadwood Mountain Grand*
*30th Anniversary Tour