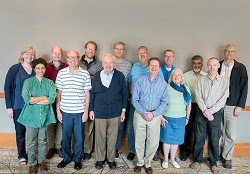 COLORADO SPRINGS, Colo.,  – Biblica, the copyright holder and global steward of the world's most popular English translation of the Bible, is marking the 40th anniversary of its first publishing with a unique "open book" glimpse at its creation and revision.
Photo: Members of the interdenominational Committee on Bible Translation (CBT) responsible for the New International Version (NIV) convened in Seattle in 2016.
Members of the interdenominational Committee on Bible Translation (CBT) responsible for the New International Version (NIV) will formally speak about their work when they gather this month for their annual review gathering at the headquarters of Biblica, The International Bible Society (www.biblica.com), in Colorado Springs, Colo.
Since the full NIV was first released in 1978, it has become the most widely read contemporary English translation in the world. The NIV accounted for most of the 3.7 billion requests for digital Scripture received by Biblica in 2016 alone.
CBT members will talk about their important translation collaboration at a special invitation-only reception for pastors, ministry leaders and scholars on Wednesday, June 27, during their two week-long meeting. With interest high, participants are expected to travel in from different parts of the U.S. for the first-of-its-kind event.
Taking questions from guests about their process, the CBT experts will also explain why their ongoing review is important, reflecting as it does changes in language, developments in Bible translation, and archaeological discoveries.
"We are looking forward to this opportunity to tell people more about our work," said Dr. Douglas Moo, committee chair and Wessner Chair of Biblical Studies at Wheaton College in Wheaton, Ill.
"Our goal with the NIV is to make God's Word more accessible, and so in the same way we want to be more accessible about that process, to clear away some of the mystery that can so easily surround Bible translation by giving it a more human face."
The 13 international members of the CBT-which also has eight honorary members-share decades of Bible translation experience, and bring different areas of expertise to the table. The longest-serving member is Dr. Bruce Waltke, Professor Emeritus of Biblical Studies at Regent College in Vancouver and Distinguished Professor  Emeritus of Old Testament at Knox Theological Seminary in Fort Lauderdale, Fla., who has served since 1980. Moo is the second-longest-serving member, having been part of the team since 1996.
The Committee on Bible Translation's work began in 1965, with publication of the NIV New Testament in 1973. The full Bible first appeared in 1978, when its initial one million-copy print run licensed by Zondervan sold out before it was even completed. The NIV has since undergone revisions in 1984 and 2011.
The translation has been widely commended for its accuracy and accessibility, with CBT members appreciative of commendations from fellow academics and lay Christians alike.
"What's perhaps most encouraging is when we hear from ordinary believers who tell us how our work has helped them read and understand God's Word better in a way that impacts their life," said Moo. "That is especially what inspires and motivates us."
Though it is Biblica's most well-known resource, the NIV is only part of the organization's work. Founded in 1809 as the New York Bible Society, Biblica is the steward of more than 80 international language translations.
During the past two centuries the organization has helped pioneer many forms of Bible distribution, from giving free Bibles to immigrants and soldiers to providing them in hospitals and prisons, and using the latest technology to make God's Word more widely available-from braille to audio and digital editions.