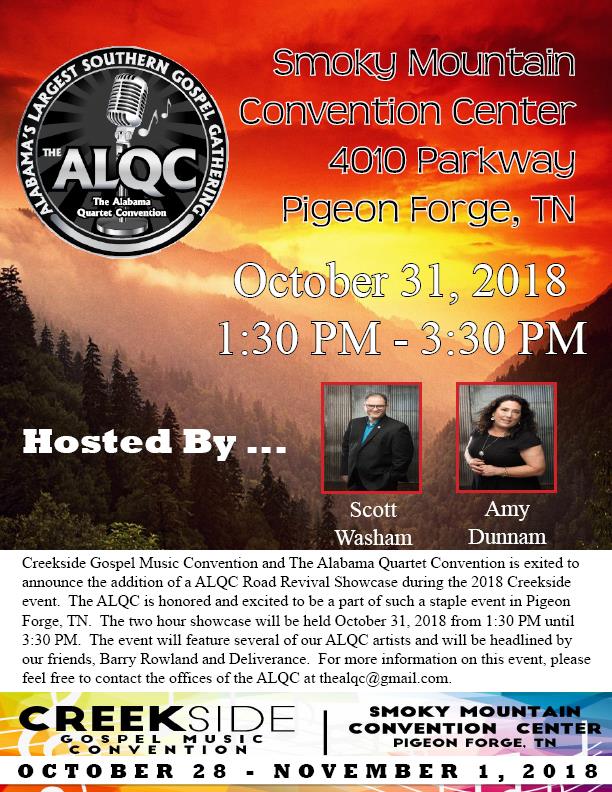 Pigeon Forge, Tenn.  – Creekside Gospel Music Convention is pleased to announce the debut of the Alabama Quartet Convention Road Revival showcase in Pigeon Forge, Tenn., during the
2018 Creekside Gospel Music Convention. Creekside will be held October 28 – November 1, at the Smoky Mountain Convention Center.
The Alabama Quartet Convention (ALQC) was founded by friends Scott Washam and Amy Dunnam in Mobile, Ala. The ALQC is a three night event hosting over 40 Southern gospel music groups. Two years ago, the Convention went on tour, known as the ALQC Road Revival. These events showcase six to ten
ALQC artists.
This year the ALQC Road Revival is coming to the Creekside Gospel Music Convention, on Wed., Oct. 31,
2018 from 1:30 PM until 3:30 PM. The event will be headlined by Barry Rowland and Deliverance and will also showcase other ministries. Admission is free.
For more information on Creekside 2018, including keynote speakers, the Diamond Awards and other special activities, visit sgnscoops.com or facebook.com/Creeksidegospelmusicconvention/. For your $25
VIP pass, booth space or other information contact Rob Patz at 360 933 0741 or rob@sgnscoops.com.