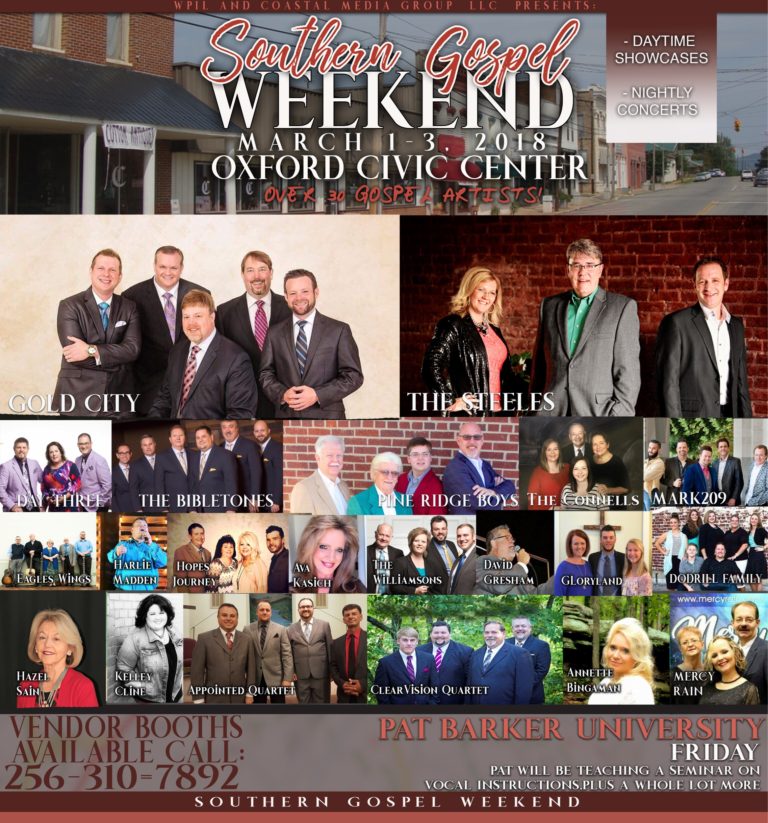 The talent for SGW is stepping it up in 2018! Several artists have been added to the roster. Prepare to hear some of your favorites like Gold City, The Steeles, Pat Barker, The Bibletones, The Pine Ridge Boys, Mark 209, The Williamsons and many others.
Board member Vonda Easley states, "I was hoping we would get to have Gold City with us this year. I've never seen a disappointed crowd when our area's quartet steps on the stage."
Board member Rob Patz (WPIL Gospel Radio and SGN Scoops Magazine) adds, "Pat Barker will bring his University of Knowledge to the event as well. Church choirs, gospel singers, and just people who love music are encouraged to sign up for the Pat Barker University. We also have openings for choirs to come and participate in our Red Back Hymn Sing that will take place on Saturday night."
Other activities for Southern Gospel Weekend include "Salute to the Veterans" hosted by Ken Rollins (Veterans Affairs TV25) on Thursday night, daytime showcases on Friday and Saturday morning at 9 am in the concert hall, as well as Midnight Prayer on Thursday and Friday night after the evening concert.
Email vonda@sgnscoops.com for VIP tickets and to purchase tickets for Pat Barker University.
If you would like to participate in the "Salute to the Veterans", call Vonda at 256-310-7892. If you are a veteran, policeman, fireman, first responder …….. We want to Honor YOU!
Find More Southern Gospel News HERE