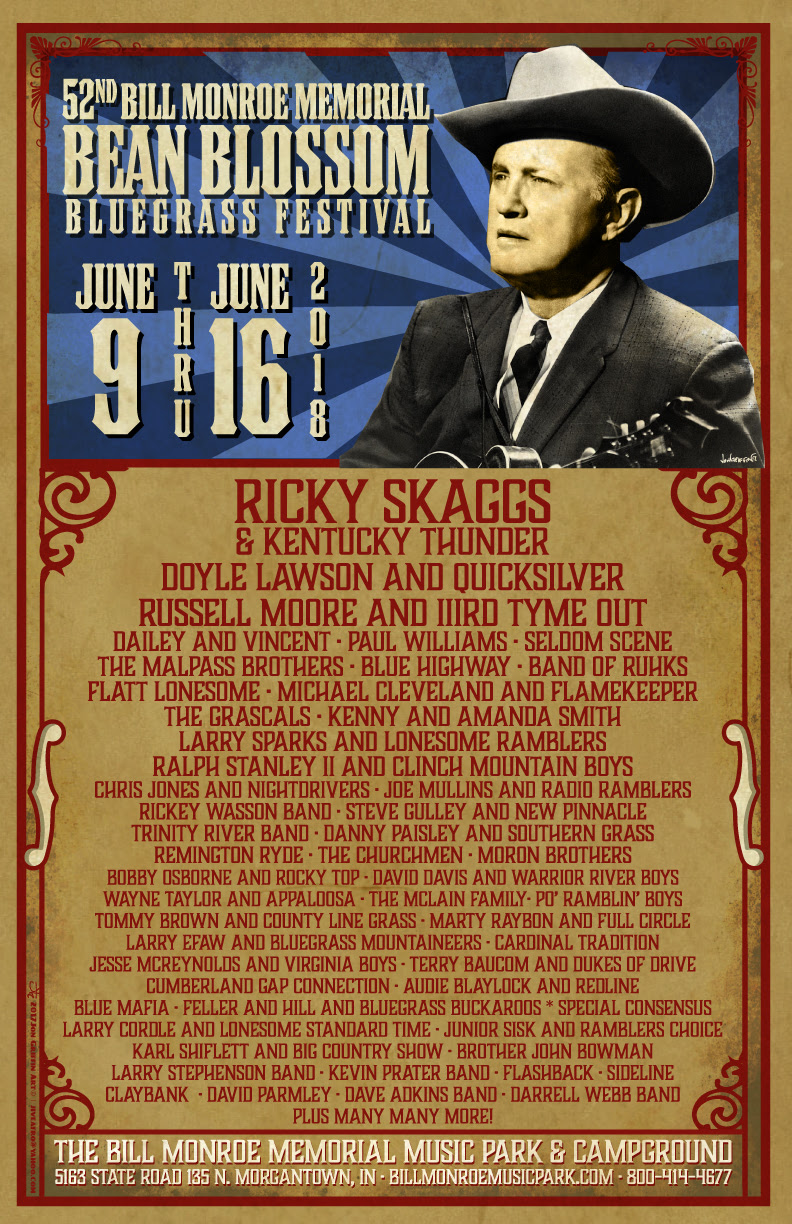 Bean Blossom, Ind.  –  The Bill Monroe Music Park is proud to announce details for the 52nd Annual Bill Monroe Memorial Bean Blossom Bluegrass Festival taking place June 9-16, 2018. This year's incredible line-up will feature performances by Ricky Skaggs, Asleep at the Wheel and numerous Bean Blossom favorites performing during the 8-day event.
The Bill Monroe Memorial Bean Blossom Bluegrass Festival is the oldest continuously running bluegrass festival in the world. Every year, music fans from around the globe travel to Brown County, Indiana and enjoy performances by the top artists in bluegrass music.  This year's full line-up includes:
Saturday, June 9
:Â The Grascals, Ralph Stanley II & The Clinch Mountain Boys, Dale Ann Bradley, Darrell Webb Band, Remington Ryde, Steve Gulley & New Pinnacle, Tommy Sells & Big Country Bluegrass, Tommy Brown & County Line Grass
Sunday, June 10
: Seldom Scene, The Churchmen, Flatt Lonesome, Joe Mullins & The Radio Ramblers, Danny Paisley & The Southern Grass, Tommy Brown & County Line Grass, The Malpass Brothers, Brother John Bowman
Monday, June 11
:Â Audie Blaylock & Redline, Wayne Taylor & Appaloosa, David Davis & Warrior River Boys, David Parmley & Cardinal Tradition, Little Roy & Lizzy Show, Cumberland Gap Connection, ClayBank
Tuesday, June 12
: Blue Highway, Michael Cleveland & Flamekeeper, Sideline, The Moron Brothers, Farm Hands, Feller & Hill & the Bluegrass Buckaroos. Free traditional bean supper!
Wednesday, June 13
: Special Consensus, Larry Stephenson Band, Karl Shiflett & Big Country Show, Trinity River Band, Hammertowne, The McLain Family Band, Po' Ramblin' Boys
Thursday, June 14
 – Ricky Skaggs & Kentucky Thunder, Russell Moore & IIIrd Tyme Out, Special Consensus, Dave Adkins Band, Band of Ruhks, Junior Sisk & Ramblers Choice, Kevin Prater Band, Blue Mafia
Friday, June 15
: Asleep At The Wheel, Junior Sisk & Ramblers Choice, Rickey Wasson Band, Flashback (J.D. Crowe Tribute Band), Kenny & Amanda Smith, Chris Jones & The Night Drivers, Larry Efaw & Bluegrass Mountaineers. Free mater sandwiches in memory of James King.
Saturday, June 16
: Larry Sparks & Lonesome Ramblers, Doyle Lawson & Quicksilver, Bobby Osborne & Rocky Top X-Press, Jesse McReynolds & The Virginia Boys, Larry Cordle & Lonesome Standard Time, Paul Williams & Victory Trio, Terry Baucom's Dukes of Drive, Rickey Wasson Band
Camping and Ticket Reservations can be made by calling
800-414-4677
. Discounted festival tickets can be purchased
online
before
June 1
. Advance tickets are $20-$35 daily, $100 for 3-day combo; $200 for 8-day combo. Juniors 13-16 years old save $5 off per day and Children 12 & under are Free. Admission includes: Bluegrass Hall of Fame, Museum & Uncle Pen cabin Tour, Traditional Bean Supper on Tuesday, daily instrument and vocal workshops, and Mater Sandwiches by Junior Sisk on Friday.
The 52nd Annual Bill Monroe Memorial Bean Blossom Bluegrass Festival is sponsored by the Central Indiana Bluegrass Association, Miss Dixie Hall's Foundation, and media by Moonstruck Management. The legendary Tommy Lamb and Jamie Johnson will serve as Emcees for the festival. Sound will be provided by Tom Feller & GBS Productions.
The Bill Monroe Memorial Bean Blossom Bluegrass Festival is the proud winner of the 2013 International Bluegrass Music Association's Event of the Year Award. For more information on the numerous festivals taking place at the park this year, please visit
BillMonroeMusicPark.com
,
facebook.com/billmonroebeanblossom
, and
Twitter
.
Help us spread the word by using the hashtag #beanblossom on your social media posts.