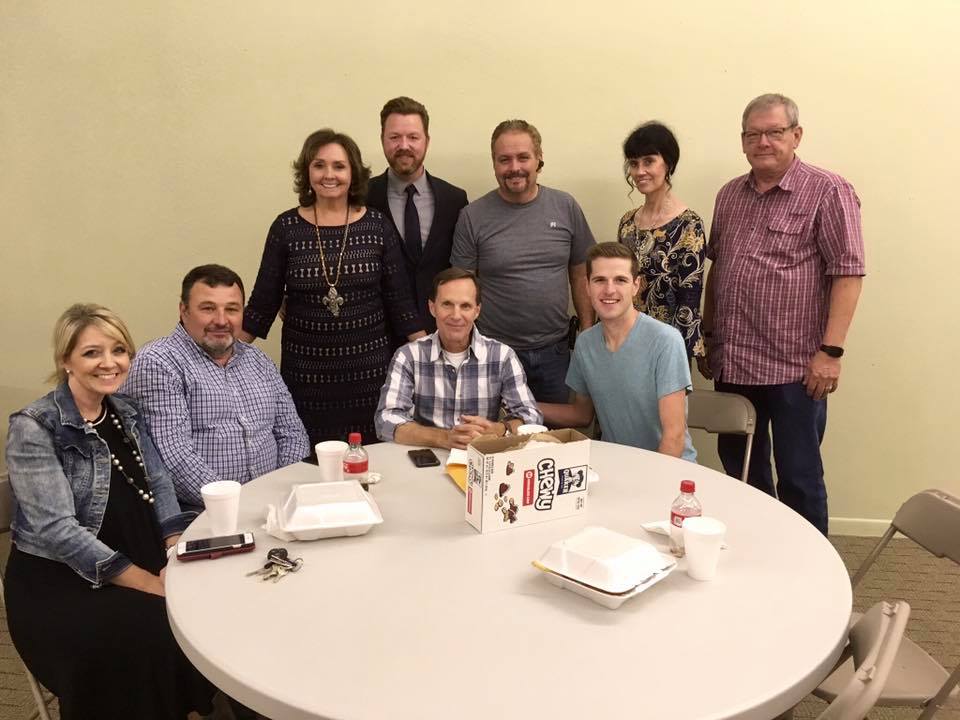 Nashville, TN (August 25, 2017) Butler Music Group artist Sacred Harmony recently finished up a tour across the Midwest. The East Tennessee-based trio was scheduled to appear all across Kansas, including the Rush County Fair, with the Nelons and the Beelers. "We had a wonderful time at the fair. We seldom get to Kansas, but the people treated us like family," stated Brian Scott.
The group had a "family reunion" while at the New Covenant Church in Smith Center, KS as the Blackwood Brothers joined them for a special night. Wayne Little, tenor for the Blackwood Brothers, is Janet Weaver's brother. "What a treat it was to be able to be with them. We don't get to sing together much due to our tour schedules. This was special," added Janet Weaver.
The group also performed with the Armourheirs Quartet for the kick off to "Dodge City Days." While in Kansas, Sacred Harmony stopped by historic "Boot Hill" in Dodge City, Kansas, and Phillipsburg to attend the largest rodeo in Kansas. "We were able to take our families on this trip, which always makes it easier to be gone and makes for some great memories," added Brian.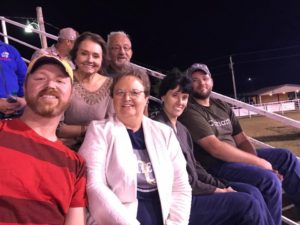 The Midwest tour caps off a successful summer for the trio. Sacred Harmony just released a new single to radio, "Grave Robber," which is gaining air-play all across the nation. They also recently received the news that they are nominated in the Top 5 for Sunrise Trio and Video of the Year in the Diamond Awards. Fans of Gospel music will have several chances to see Sacred Harmony in the upcoming months as they perform at Songfest, NQC, Dollywood, and Creekside.
To keep up with Sacred Harmony, follow them on Facebook or go to their website at www.sacredharmony1.com.
About Butler Music Group
Based in Nashville, Tennessee, Butler Music Group provides professional management and consulting services to Southern Gospel and Bluegrass artists including Dunaways, Heaven's Mountain Band, Williamson's, Old Time Preachers Quartet, Sacred Harmony, Coffmans, and Jason Davidson.
BMG subsidiary, Family Music Group, is the label and radio promotion division of BMG. Label artists include Dunaways, Williamsons, Old Time Preachers Qt and Jason Davidson. Radio Promotion artists include Canton Junction, David Phelps, Goodman Revival, Ivan Parker, Guy Penrod, Hagees, Jimmy Fortune, Oak Ridge Boys, Booth Brothers, Larry Gatlin, and many others.
Les Butler has been actively involved in Southern Gospel Music for 39 years as a musician, producer, manager, former publisher of the Singing News, and as a nationally syndicated radio host. Butler started Butler Music Group in 1978, and purchased Family Music Group in 2003. He is a past March of Dimes AIR award, as well as winner of the Paul Heil Broadcasting Award in 2011. Butler's syndicated radio show, Les Butler and Friends, is heard across America and abroad. Butler's playing and production credits include Palmetto State Quartet, Darryl Worley, Richard Sterban, Joe Mullins and the Radio Ramblers, Fairfield Four, Steeles, Dunaways, Crabb Family, Easter Brothers, Marksmen Quartet, Earl Scruggs, Bowling Family, Jimmy Fortune, Marty Raybon, Larry Gatlin and many more. Butler's publishing companies are Hurry-Up Publishing/BMI and Hush Jean/ASCAP. He continues to host a daily Southern and Bluegrass Gospel video blog at southerngospel365.com.
See the latest issue of SGNScoops Magazine here.
Visit us on Facebook here.
Listen to Gospel music every day here.