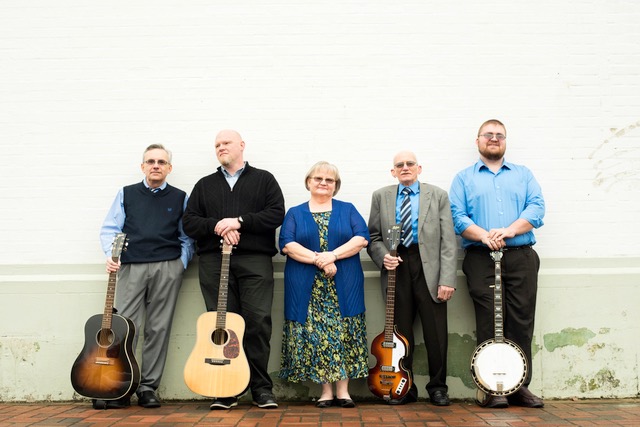 The road back home to Jesus is shorter than it seems
Eagle's Wings is a Bluegrass/Southern Gospel band that hails from Jasper, Ala. The group consists of members Darryle Wilson, Debbi Wilson, Matt Wilson, Kevin Chambers and Jacob Patterson.
Darryle and Debbi performed secular music before they became Christians and then formed the group, Family Circle. In 2008, this band began performing under the name of Eagle's Wings. If you like Bluegrass family harmony, you will love Eagle's Wings.
Darryle is the patriarch of the group and has always been involved in music. He grew up in the church where his dad was a deacon and his mother was the head of the women's group. He was involved in music in high school and college and was faithful to the church until he went to college and got out of the habit of going to church.  
Darryl married Debbi Busby, and they got involved in Country Music until 1979. After many visits from a member of the local church where they lived, he rededicated his life to the Lord, and about a month later, Debbi did the same. That is when they began attending church and started singing Gospel Music.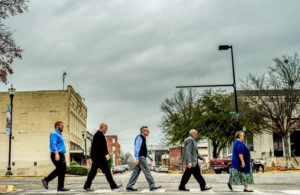 Since the couple only knew secular music, they had to listen to Gospel Music radio stations to learn what was popular and know what they wanted to sing. Darryl said it wasn't long before they were being called to sing at revivals, homecomings and other events. They traveled around as Family Circle, and in 1982, the Lord called him to preach. Two years later, he pastored his first church, and in 1990, Darryl was called to pastor Central Baptist Church in Jasper, where they have been ever since. He says music continues to be a huge part of his ministry, and Eagle's Wings is a product of his family out of Central Baptist Church.
Debbi came from a family of musicians as well. Music was always the center of all of their family functions. Within two months of Debbi becoming a Christian, her mom, dad and sister also gave their hearts to the Lord. But since they didn't know any Gospel songs, her dad began to pray for the Lord to give him new songs to sing, and he quickly wrote three of his own. Debbi said it was a very sad day in December of 1987 when the Family Circle Band performed together for the last time. Since forming Eagle's Wings, they have continued to sing in their church and wherever the Lord leads them.
Some of their musical influences over the years have been the Inspirations, the Hoppers, Doyle Lawson and Quicksilver, the McKameys, the Hemphills, the Isaacs, the Crabb Family, the Goodmans, and many others.  Debbi says that her dad – Floyd "Bill" Busby – also was a tremendous influence, and she thanks God for all the blessings He has poured out on her family through the gift of music.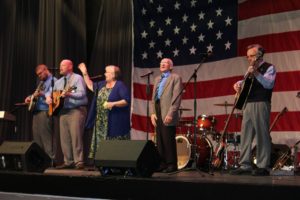 Debbi and Darryl's son, Matthew, was saved at the young age of five, and for as long as he can remember, his dad has always been his pastor. He says that even though he has never been away from church, it doesn't mean he hasn't been away from God from time to time. He is living proof that you can occupy the same spot on the same pew in the same church Sunday after Sunday and still be backslidden.  
Matthew's prayer for Eagle's Wings is to see souls saved and backslidden Christians come back to the Lord, because the road back home to Jesus is shorter than it seems. All it takes is one step in the right direction.
Matthew began playing the piano at a young age, but never developed any talent with it until one day when his uncle, Kevin Chambers, helped him discover his ear for music. He started on a path that day that he would never turn from. When he was 18, Matthew learned to play the guitar, and he also met and married his wife, Jennifer. They have two beautiful girls, Anna Grace and Emma Faith.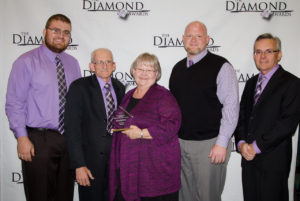 Chambers was saved at a revival in 1976 at 10 years of age. His uncle preached a sermon about the scribes, Pharisees and hypocrites. He said he had always gone to church because his mama made him, but that night, he saw himself in that sermon of people playacting their religion and not being real. He didn't go forward but later asked his mom to stop by the preacher's house on their way home. They did, and Jesus saved him that night. He has never been the same.  
This musician also grew up around music. His mother was the pianist in every church she ever attended. His brother plays guitar, and his sister is a Southern Gospel soloist, but Chambers felt like he got overlooked in the music department. He didn't seem to have any musical ability until he joined the school band in seventh grade and played the clarinet. He then went on to play the drums and also learned how to direct music. Chambers soon began filling in as song leader in his church.  
It was around that time that a new family came to their church, and Chambers' life was changed completely. The Busby family came from a very different musical background. Mr. Busby was a honky-tonk singer the Lord had saved, and he just couldn't find anything else to do with his guitar but use it for the Lord. So, that is exactly what he did. The Busbys had a daughter named Rhonda, who Chambers says was the cutest little blond-haired girl he had ever seen. Soon, he was working his way into their family by dating their daughter and playing music with them. Kevin and Rhonda eventually married. Then, he joined the Air Force, and they moved away.  
After 10 years, the Chambers family returned home and joined Central Baptist Church and are still there today. Chambers serves as a deacon, Sunday School teacher and music director. He says he is so thankful for his mom, who showed him that reading and learning never stops, for Tommy Holland – his first band director – for Bill Busby – his father-in-law, whose acoustic style he still tries to emulate every day – and finally to Eagle's Wings for allowing him to join their band.
Patterson has only been with the group for a few months, and he comes to them from Emmanuel Baptist Church in Dennis, Miss. Eagle's Wings played there one night – along with Heaven's Mountain Band – and afterwards, Roger Johnson brought Jacob over to the group and said, "You all need to have him on banjo." They didn't have a banjo player at the time, so Patterson fit in really well with the group. Chambers says their banjo player is a kind of quiet but a solid Christian man, and they hope to keep him around for a while.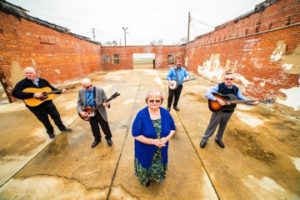 Some of the group's career highlights include opening for the Isaacs and singing on the main stage of the National Quartet Convention in 2013. Last year, the group was nominated for three Diamond Awards and actually won in all three categories (Bluegrass Gospel Song, Group, and Female Vocalist of the Year awarded to Debbi). Its newest CD is entitled "A Rugged Cross and an Empty Grave," and there are plans to release a single from it soon. Also, for several months, the group has had at least one top-10 song in Bluegrass Gospel radio charts.
The group says it is a miracle that Darryle is still singing. Approximately three years ago, he collapsed in his living room. Debbi took him to the hospital, where he was diagnosed with complete respiratory failure. His lungs were not working to purge the carbon dioxide from his blood, and his lungs were literally poisoning him. He spent several days in intensive care, with machines keeping him from suffocating, and was told he would need to have a ventilator put in through a Tracheostomy Tube. He was also told he would never preach or sing again, and if he ever returned to church, it would be in a wheelchair with a ventilator on board. However, he was told wrong.
People began to pray for him around the world. The night before he was scheduled for surgery, God came on the scene, and by breakfast, he was breathing on his own, sitting up in bed and eating what he said was "the best popsicle ever made." The doctors couldn't explain it, but God had a plan all along.
Eagle's Wings website says it all … "lifting up hearts by lifting up Jesus."  
"We're truly a Southern Gospel group that uses acoustic instruments to help us keep time and sing on key," says Chambers. "We try to have fun and sing good songs with a message, and if this appeals to you, then please come and see us."
Photographs courtesy of Eagle's Wings.
By Debbie Seagraves
First published by SGNScoops Magazine in June 2017.
For the latest issue of SGNScoops Magazine click here.
For more Gospel music news click here.
Click the Listen to SGMRadio button on SGMRadio homepage for Gospel Music Radio 24/7.