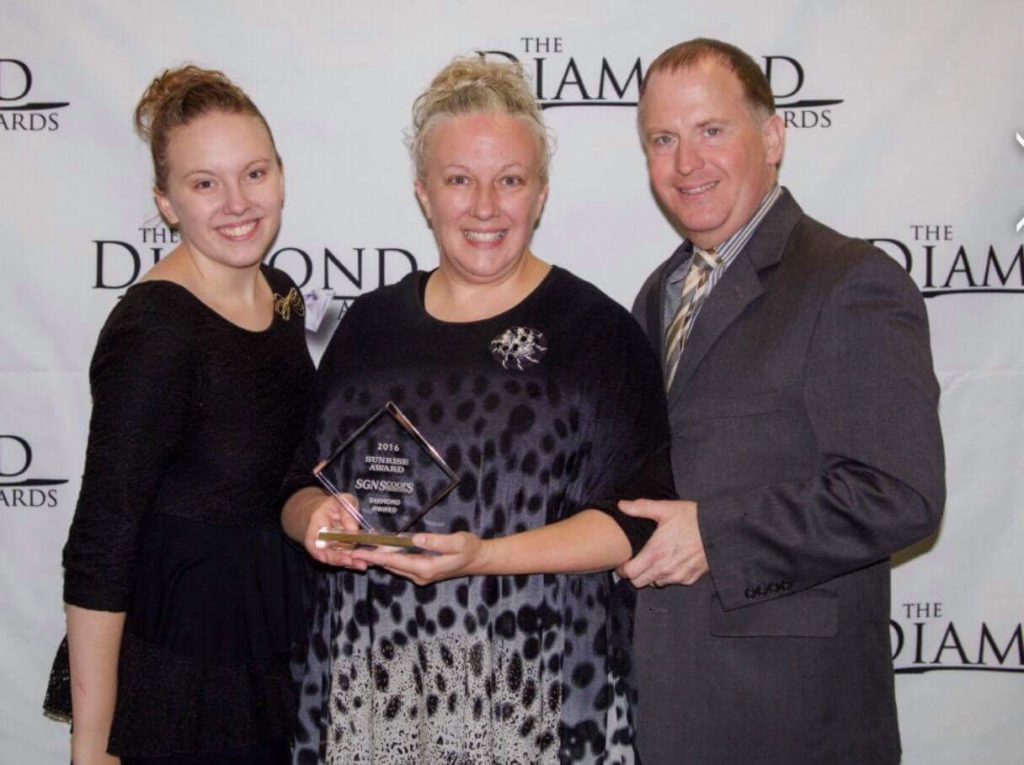 The Chandlers are one of the up-and-coming family groups in Southern Gospel music. In the last two years alone they have accomplished great things. In 2015, they were a NQC showcase winner. In 2016, during the Diamond Awards, they received the Sunrise Award.
To follow along with these accomplishments, they have also had the honor of singing at NQC and Dollywood, and have even begun their own television show titled, "It's Your Time, with the Chandlers." Their group consists of Tim Chandler, and his wife Lana, and their two daughters, Tiffany and Lyndsey.
   
While awards and chart hitting is a dream of many Southern Gospel artists, one major accomplishment the Chandlers have been proud of this year, is a type of ceremony they have included in their scheduled performances. They label this special time as "The Dump."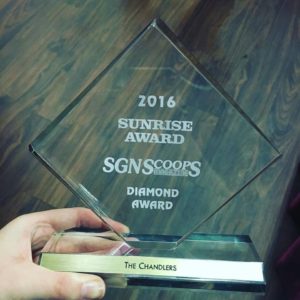 The Dump is much like an altar call but is so personal and life altering. This is a time where anyone can come to the altar and hold their burdens, insecurities, fears, and their failures in their hands. Tim will pray a special prayer asking God for deliverance. As he prays, he asks that God will take these specific requests and remove them so the person holding them can move past them and further their walk with Christ and no longer be pinned down by these setbacks. As he finishes his prayer, he then counts to three. At the count, everyone then turns their hands and dumps their specific concerns at the altar to be left and not picked up again.
   
This ceremony was created when Lana Chandler herself was burdened when a loving family member walked out of her life. Lana said she was broken and dealt with emotional stress for 11 months. During this trying time, Lana said she felt like she was having a hard time trying to minister to people, when she was struggling herself. Â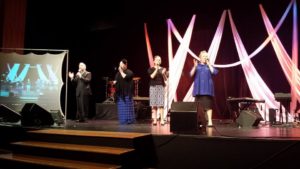 It was then she realized she was singing to herself and it was time to practice what she preached. Lana describes this moment and the days that were to come as, "worshipping her way to victory."
In Lana's own words: "In order to have a burning testimony, ministry, etc., you have to go through the fire." As Lana dealt with the hurt and burdens from this trial in her life and her family, she focused on her own walk with God and began testifying of how God had delivered her and how she didn't have to carry this burden anymore.
Tim and Lana both agreed, that although it is very easy to question God, repentance must come first.  "In order for God to hear us, we need to make sure we are where we need to be with God," Tim said.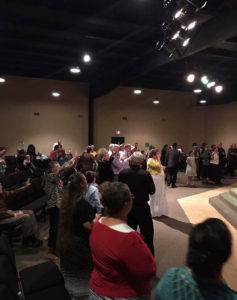 As the trial seemed to diminish, Tim and Lana utilized this trial and used what God had done for them, to help others find their own deliverance. By creating this dump ceremony in their performances, they started to see change in people and saw God move each time.
Tim preaches using the scripture 1 Corinthians 10:13.  He delivers a message that describes the phrase, "God won't give you more than you can handle," as being misunderstood. In fact, this verse reads: "that ye may be able to bear it."  This is where Tim eludes that God will never leave or forsake us, but while we will face troubles, we have to find a way of escape.  God's plan is not for us to stay in that trying time. They also include one of their songs called, "My Last Tear."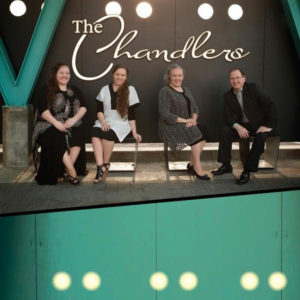 This part of the service has truly proven to be remarkable to the Chandlers. Lana recalls one instance where a woman came to the altar, was prayed over, and dumped her burdens. Lana says she saw the whole demeanor of the woman's face and countenance changing, and she realized this was truly helping others find deliverance. In one recent service, 12 people were standing at the altar ready to dump their burdens. Lana mentioned that we are all God's clay and each time someone finds hope in this part of the service, it's like God putting the clay back on the wheel and saying, "You aren't going to be that anymore, however I'm going to use you to be something else."

Since the Chandlers have agreed to make this a part of their service when they feel led and when the Holy Spirit moves, God has also moved for them. The family member in Lana's life wrote her a letter of apology which began the healing process for Lana. However, the biggest personal move through Christ for Lana was the humbling moment of realizing that because she went through this trial and found deliverance, others will be able to experience the same peace she found in Christ. Lana tells their audiences that, "Life doesn't stop for our trials and tribulations." She encourages others to find their hope and rest in Jesus and to give Him their burdens, just like she did.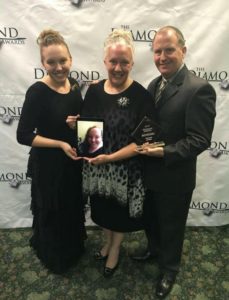 The Chandlers are still praying for God's plan and will in their ministry as they continue to travel. They have traveled overseas, to Canada, and all over the United States. They are only a few states shy of covering all 50 states in the U.S.  They are even scheduled to sing in Serbia in 2018. They just released their second single, "Somebody Give Him Some Praise," from their latest CD.
With all the excitement and new beginnings ahead, when you meet a family like the Chandlers you realize their sole purpose in their ministry can be summed up in one word: Jesus. Just as their most requested song is titled, "He Will Come Through," that is the message behind their music, the purpose behind their special ceremony, and the depiction of who the Chandlers are. A message to everyone that you've not gone too far for Jesus, because once you give Him your burdens, He will come through for you.
Photographs courtesy of The Chandlers and Meagan Pledger.
By Sarah Murray
First published by SGNScoops Magazine in March 2017.
For the current issue of SGNScoops Magazine click here.
For more Gospel music news click here.