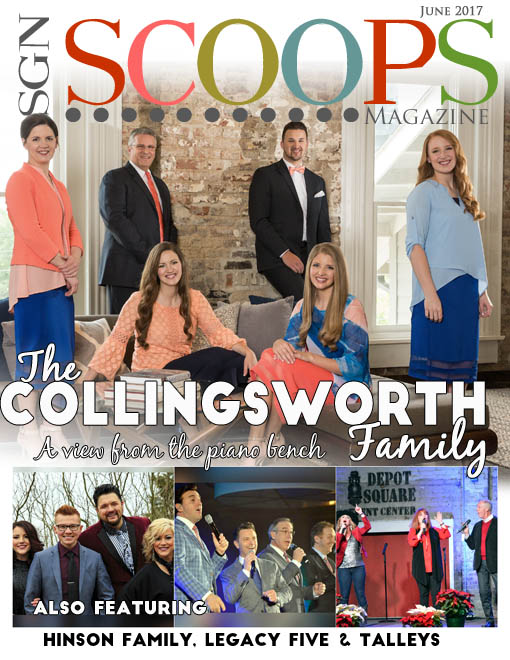 We hope you have had a chance to read the June 2017 issue of SGNScoops Magazine, filled with great features, photographs and information for all Gospel music fans everywhere. We highlight the Collingsworth Family this month with a great cover story by Erin Stevens. Complimenting that feature is a Father's Day chat with the men of the Collingsworths by Craig Harris.
The feature by Erin Stevens reveals some things about the Collingsworths that you may not know:
"I met Phil on Aug. 26, 1983," Kim shares. "I had just started my freshmen year of high school, and he was starting his sophomore year of college. Yes, we are four years and seven months apart. I was 14 years old and he was 19. It was an instant attraction for both of us. I was too young to date, so we wrote letters and talked on the phone – rarely talked on the phone, because it was too expensive back then – until I was 16…." For more of this feature, be sure to read the cover story by Erin Stevens.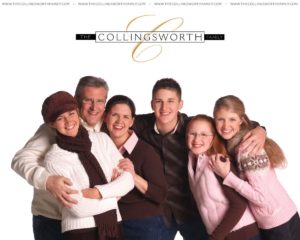 Kari Gooch talks about her dad, Rickey, and his recent health issues, as recorded by Fayth Lore. Other intriguing artist features include the Hinson Family, Eagle's Wings, Talleys, Anchormen and Carolina Quartet. We hear about Southern Gospel in the West through Derek Simonis and Justin Gilmore. Elena Cragun of the Craguns is the star of Younger Perspective and Joey Gore talks to Lorraine Walker about the Wilmington Celebration Choir.
Don't miss a photospread from the Gaither Family Fest, Dusty Wells, Selena Day, Randall Hamms' CD reviews, and so much more.
As we focus on fathers and families this month, we hope that you have met your Heavenly Father and have talked to Him lately. Would you like to know Him better? Email me at
lorraine@sgnscoops.com
. Do you know of something happening in the Southern Gospel music world that we are missing? If you have any questions or comments, let me know.
Read SGNScoops online
HERE.
Find SGNScoops Magazine On Facebook
HERE
Download The PDF Version Of  SGNScoops Magazine
HERE
Thanks for reading SGNScoops Magazine. Be sure to tell your friends all about us!