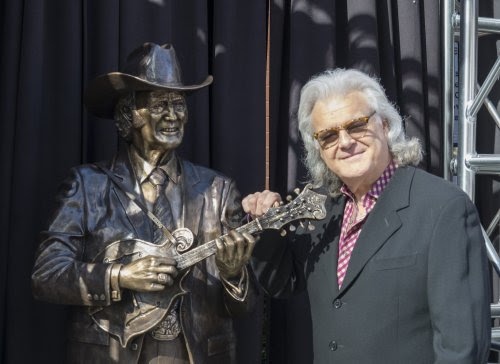 Nashville, Tenn. — On Wednesday, June 7, outside of Nashville's historic Ryman Auditorium, country and bluegrass legend Ricky Skaggs unveiled a newly installed life-size bronze statue dedicated to his musical mentor, Bill Monroe.
"I don't know if you ever get another Bill Monroe in a century," said Skaggs. "There's not a lot of people that I know of who could be cited as creating a whole new genre of music, but he did. He had the ear to hear it, the talent to play it and the heart to keep it alive because he was strong, he was powerful. I don't know any person who could have withstood, pushed through and made it like him. He had music in his veins. It was the thing that pushed him so much. It wasn't just to make a living. It was to get something out of him and take to people that he loved, and that was the fans that loved this music. I have traveled all over the world into places you would think that bluegrass music would never make it to … and you meet someone there that actually plays the music. So this music has totally gone around the world."
James Monroe, son of the late bluegrass icon was also on-hand to say a few words about his father.
Monroe, the Father of Bluegrass, was a gifted player, singer, and songwriter. The genre takes its name from his band, the Blue Grass Boys, named for Monroe's home state of Kentucky. Monroe's performing career spanned 69 years before he died on Sept. 9, 1996 – just shy of his 85th birthday.
In addition to Monroe's dedication, country star Brad Paisley unveiled a bronze statue of the late Little Jimmy Dickens. WSM radio personality Bill Cody hosted the ceremony.
This year, the Ryman Auditorium celebrates its 125th anniversary since originally opening its doors in 1892. On
July 27
, Skaggs and his band Kentucky Thunder will perform at the historic venue as part of its annual "Bluegrass Nights at the Ryman" concert series. Â Tickets are on-sale now at the box office and
ryman.com
.
Listen To Todays Gospel Music
HERE