Join us as we welcome Dr. Jeff Steele to Vernon Alabama's Gospel Music Weekend for a Songwriter's Seminar on
Saturday, September 9th
from
10 a.m. to 12 p.m.
We are excited to announce that Dr. Jeff Steele is coming to lead our Songwriter's Seminar this year in Vernon. Jeff is a writer, author, pastor, conference speaker and not only the owner and founder of the award winning group, The Steeles, but also the owner of his own publishing company. He has written or co-written 17 number one songs in Gospel Music.
"I learned a lot of what I know just going through the process and taking some whippings," says Steele. He will talk about copyrights, royalties, songwriting techniques and there will even be some time to listen to your songs and get a critique on them from Jeff. Don't miss this exciting time with one of the nation's most prolific songwriters in what will be a very intimate setting.
"Alabama is my home state and I am looking forward to meeting you and transferring what knowledge God has blessed me to accumulate with you," Steele says. "This won't be a traditional seminar like those I teach on college campuses with a large crowd of students. This will be a very small (by comparison) gathering with plenty of time for questions and critiquing of some of your song writing. I urge you to come and be a part. If I didn't think it could help you I wouldn't come. I am beholden to no one and have no secrets to protect. If you ask it and I know it, I'm gonna tell you the answer."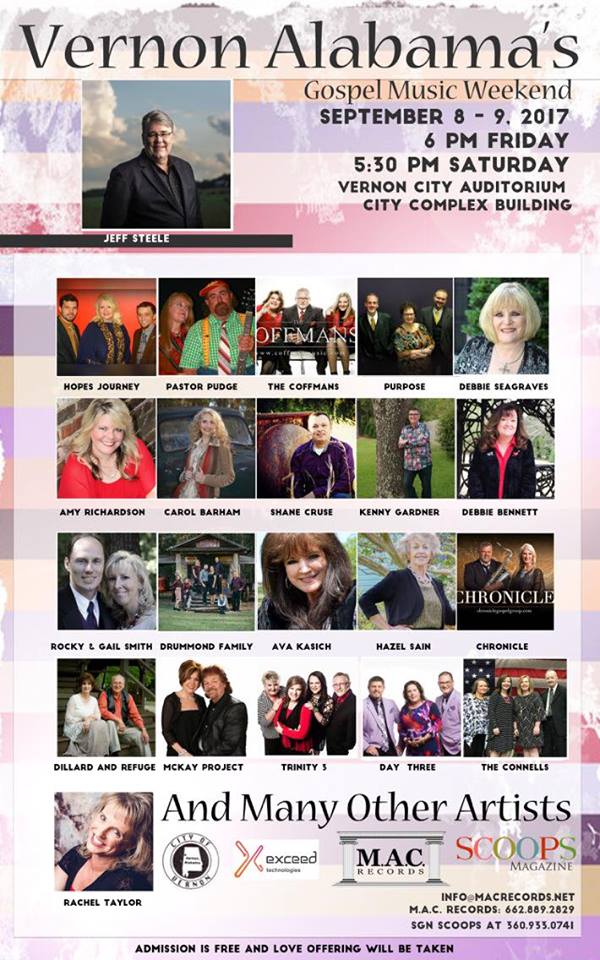 If you haven't signed up for the Songwriter's Seminar that is scheduled for
Saturday, September 9th
from
10 a.m. to 12 p.m.
, Â contact Leslie McKay (
info@macrecords.net
or
662..312.4146
). The fee is $25 per person.
For more information on Vernon Alabama's Gospel Music Weekend
click here.
Listen To Today's Gospel Music
HERE