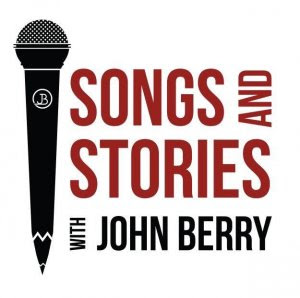 Nashville, Tenn.  — Grammy Award-winning country music star John Berry will launch his own national television show this summer.  "Songs And Stories with John Berry" will debut in July on Heartland TV, The Family Channel, The Country Network, the Angel Two Network, AMG TV, and the VTN Network.  The 30-minute TV program will be taped this May at Nashville's historic Douglas Corner, the same venue where Berry originally showcased to receive his first major record deal.
"As an artist whose life and career direction was profoundly changed by a song, I am thrilled to bring the world an opportunity to see and hear firsthand from some of my friends and fellow artists the stories surrounding the importance of some of their favorite and most meaningful songs," says Berry. Â "For me and so many others, songs help us express what we feel inside and stories are the inspiration for the song that lies within."
The show will focus on the singer and the song— the music that changed his guests' lives and inspired them to be the artists they have become.  The first season will feature Berry and special guests Billy Ray Cyrus, Craig Morgan, Clay Walker, Suzy Bogguss, Mo Pitney, Neal McCoy, Billy Dean, and more.
Berry adds, "'Songs And Stories' began in 2001. It started as a two week run of shows that turned into two years of tour dates, which resulted in a two-disc CD set in 2003, then a short story book in 2012, and now in 2017 a TV show with some of my favorite artists singing and telling their songs and stories. This series allows the artists to share their unique stories and their fans the opportunity to see that behind every song is a story waiting to be told and within every story is a song waiting to be sung."
Admission to the live show tapings is free and first-come, first-serve. Â Seating is limited. Â For ticket requests, fans are encouraged to call:Â 
615-513-1388
.  See below for full taping schedule.  Food and drink will be available for purchase, as well as souvenir merchandise.  Douglas Corner is located in Nashville at 2106 8th Avenue South.
"Songs And Stories with John Berry" is sponsored by Freedom Trailers and Quieti Apparel.  This show is being produced by Jeff Moseley / CJM Productions.
"Songs And Stories with John Berry" Taping Schedule:
Monday, May 15
5:00 pm: Billy Dean
7:00 pm: Mo Pitney
9:00 pm: Neal McCoy
Tuesday, May 16
5:00 pm: Suzy Bogguss
7:00 pm: Collin Raye
9:00 pm: Craig Morgan
Wednesday, May 17
5:00 pm: Mark Wills
7:00 pm: Delbert McClinton
9:00 pm: Billy Ray Cyrus
Thursday, May 18
5:00 pm: Jason Crabb
7:00 pm: Clay Walker
9:00 pm: Lee Roy Parnell