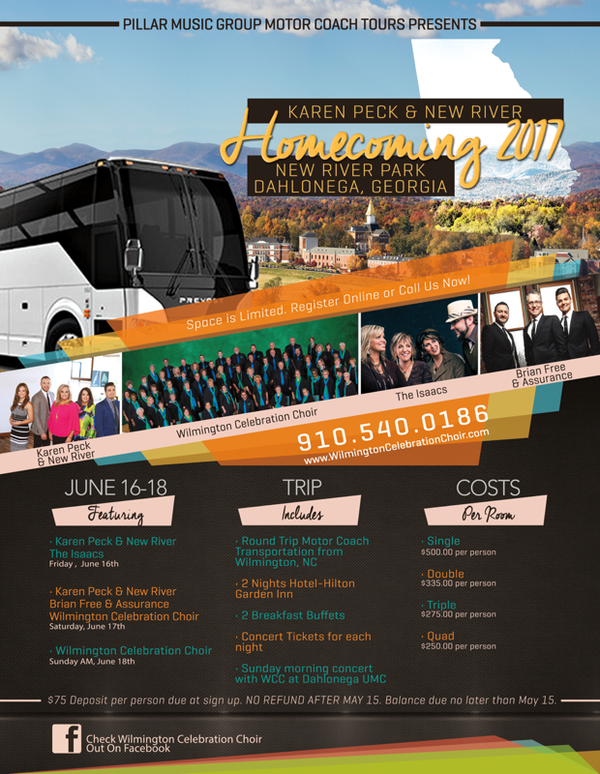 WILMINGTON, NC  Pillar Music Group Motor Coach Tours announces round trip motor coach transportation to Karen Peck and New River's 2017 Homecoming Sing held yearly at the picturesque, New River Park in Dahlonega, GA.
This tour will depart from Wilmington, NC on Friday, June 16, 2017 and will return on Sunday, June 18, 2017.
Karen Peck and New River's "Christian Music Nights" will host gospel greats such as the Issacs, Brian Free and Assurance and the Wilmington Celebration Choir during the two-day concert series. Making a guest appearance on Saturday night will be the New River Band. Host, Karen Peck and New River will perform nightly.
This tour also includes a performance by the Wilmington Celebration Choir on Sunday morning June 18th at Dahlonega United Methodist Church, Dahlonega, GA.
Round-trip tour includes:
2 Night Hotel Stay at the Hilton Garden Inn
2 Breakfast Buffets
Concert Tickets for Each Night
Sunday Morning Concert by The Wilmington Celebration Choir at Dahlonega United Methodist Church
Costs Per Room:
Single – $500 per person
Double – $335 per person
Triple – $275 per person
Quad – $ 250 per person
A $75.00 deposit is required per person upon sign up with remaining balance due on or before May 15, 2017. NO REFUNDS AFTER MAY 15, 2017.
Director Joey Gore states, "The WCC is so excited to offer this tour down to Karen's Homecoming.  This is the first time we have taken people with us on the road for a weekend tour.  We have limited space so call or go online and sign up today.  We hope you will go with us!"
To secure a reservation or for more information call 910-540-0186 or visit the Wilmington Celebration Choir's website at www.wilmingtoncelebrationchoir.com.
YouTube link of Karen Peck Gooch and Joey Gore sharing about this momentous event!  https://youtu.be/4o1_Fg4QtIg
Southern Gospel News HERE
Today's Gospel Music On The Radio HERE