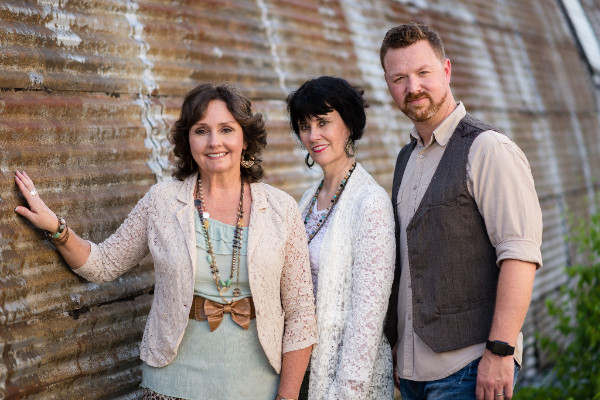 Nashville, TN (February 14, 2017) Butler Music Group artist, Sacred Harmony, is having an incredible start to the new year. They released a new album, "Believe," in December and their first single, "Behind The Scenes" earlier this month.
Even though it's winter, their tour has been heating up with concerts in Florida, Georgia, and Tennessee in just the last few weeks. While in Atlanta, Sacred Harmony filmed a TV special for Atlanta's 57 WATC. They also had the chance to stop by several Southern Gospel radio stations including WCON and WGTJ. "It's wonderful to sit down with the DJ's who play our music. They are the backbone of our industry. They impact so many with their ministry. It's an honor to spend time getting to know them," stated Brian Scott.
This past weekend, Sacred Harmony returned to perform a sold out show with Country music superstar Larry Gatlin at the historic Palace Theatre in Crossville, TN. Sacred Harmony performed numerous songs off their new album, Believe. This appearance marked the second year in a row that the trio was invited to join Larry Gatlin at the Palace Theatre. "It is always great to be with Larry. It's a great opportunity to present the Gospel to a crowd that may otherwise never hear the Gospel," stated Janet Weaver of Sacred Harmony. "I am excited to see doors of opportunity like this open for Sacred Harmony. I know that when people hear their new project, more opportunities are on their way," added Les Butler, President of BMG.
Sacred Harmony has numerous exciting events on their schedule for this coming year. To see where they will be performing, go to www.sacreharmony1.com.
About Butler Music Group
Based in Nashville, Tennessee, Butler Music Group provides professional management and consulting services to Southern Gospel and Bluegrass artists including Three Bridges, Dunaways, Heaven's Mountain Band, Tammy Jones Robinette, Williamson's, Old time Preachers Quartet, Sacred Harmony, and Coffmans.
BMG subsidiary, Family Music Group, is the label and radio promotion division of BMG. Label artists include Dunaways, Williamsons, Old Time Preachers Qt and Jason Davidson. Radio Promotion artists include Canton Junction, Hagees, Jimmy Fortune, Oak Ridge Boys, Booth Brothers, Larry Gatlin, and many others.
Les Butler has been actively involved in Southern Gospel Music for 39 years as a musician, producer, manager, former publisher of the Singing News, and as a nationally syndicated radio host. Butler started Butler Music Group in 1978, and purchased Family Music Group in 2003. He is a past March of Dimes AIR award, as well as winner of the Paul Heil Broadcasting Award in 2011. Butler's syndicated radio show, Les Butler and Friends, is heard across America and abroad. Butler's playing and production credits include Palmetto State Quartet, Joe Mullins and the Radio Ramblers, Fairfield Four, Steeles, Dunaways, Crabb Family, Easter Brothers, Marksmen Quartet, Earl Scruggs, Bowling Family, Jimmy Fortune, Marty Raybon, Larry Gatlin and many more. Butler's publishing companies are Hurry-Up Publishing/BMI and Hush Jean/ASCAP. He continues to host a daily Southern and Bluegrass Gospel video blog at southerngospel365.com.
For more Gospel music news click here.